With the rise of technology, calendars have evolved from paper-based systems to sophisticated software on mobile and computer devices. Among the several options available, Google Calendar has become the go-to option for many individuals due to its user-friendly interface and useful features such as event tracking, sharing capabilities, setting reminders, sending invitations, etc. Additionally, it offers all these benefits at no additional cost. Despite its many advantages and popularity, Google Calendar may not be the ideal scheduling solution for everyone. Hence, in this article, we will compare a selection of other calendars to Google Calendar to determine if they can surpass or provide an alternative solution to Google Calendar.
Cozi vs Google Calendar
Setting Reminder
Cozi allows you to set one reminder whereas on Google you can set as many reminders as you want. In terms of selecting types of overview and resolution, Google is more flexible. 
Overview
Google has a box overview where you have the picture of the entire week. You can see very clearly when events start and when they end and which calendar they belong to. But Cozi by contrast only has the schedule overview where you see in a nutshell what's happening on a given day but you don't have that overview of the upcoming days. 
Flexibility
Also, you're able to drag and drop with the box overview in Google to move an event or reminder somewhere else. Unfortunately in Cozi, you can't do that – you have to click, and then change the time, date, and everything.
Shopping and To-Do List
In terms of a shopping list and a to-do list, Cozi has a nice feature within the app that's really intuitive and simple to use. Whereas, you won't get a shopping list incorporated into Google Calendar itself. You need to integrate Google Suite in order to avail this feature. Again, creating a to-do list on Google is not as simple either as you have two options: Google Tasks and Google Keep. However, once you learn to navigate through them, Google's to-do list can offer additional features like voice memos, pictures, and handwritten notes.
Lastly, the Cozi Calendar gives you one central hub to organize your family's schedules, appointments, activities, and other important events in a very intuitive way. It's specifically designed for families with lots of different schedules and activities. Google Calendar, on the other hand, is a lot more powerful but it also has a much steeper learning curve. And it's ideal for maintaining your own personal calendar.
TimeTree vs Google Calendar
Scheduling Appointments
To make sure you don't miss any important appointments, TimeTree allows you to set timeouts for events. For instance, you can set a 30-minute timeout for events you're going to attend or a one-hour timeout for the events that are important. Google Calendar also has timeout but they work a bit differently. It has a busy-hour feature so instead of setting a timeout for individual events, it automatically reschedules or cancels an event during busy hours. 
Overview
In Google Calendar, you can view the schedule in a grid or list and invite others to events, whereas TimeTree only has the calendar format and doesn't have the invite option. 
Creating Event
Adding events in TimeTree is time-consuming as you have to enter time, location, and attendees, whereas in Google Calendar you just have to enter an event title.
List and Notes
However, TimeTree offers a convenient way to organize share lists such as wish lists, shopping lists, memos, and more, even outside of events. It's a great tool for recording ideas and keeping yourself organized. Google also has a built-in to-do list and meeting notes that are not connected to the events.
Hence, if you're looking for a calendar dedicated to keeping your meetings and schedule organized chronologically then TimeTree is ideal for that. However, Google Calendar also does a great job of keeping your appointments, events, and to-do-list organized, and on top of that, it has many features that TimeTree lacks.
DigiCal vs Google Calendar
Ease of Scheduling
DigiCal is a sleek and user-friendly calendar application that seamlessly integrates with all other calendar servers. DigiCal and Google Calendar both have weekly planner features, however, DigiCal offers a more easy and detailed overview according to your weekly plans. This feature lets you efficiently schedule your appointments so you can plan the upcoming week better.
Accessibility
Google Calendar provides the option to export app data to an email address or an ICS file, allowing users to create a backup and transfer events between different calendar apps. DigiCal can give you access to detailed weather info and also has a built-in location search feature.
Unique Feature
DigiCal offers the ability to organize tasks into projects or folders and mark the status of tasks as "active", "postponed", "complete", etc., which is not available in Google Calendar. 
While Google Calendar is a great cross-platform calendar app that works well for most people, DigiCal emphasizes on the real-world environment surrounding appointments. With weather forecasts and a location search, making it a great tool for elements, such as event planning or traveling sales. 
Doodle vs Google Calendar
Event and Meeting
Doodle is mostly popular for organizing and scheduling group meetings. By creating an event, users can initiate a meeting and specify details such as description, location, and various time options. To respond, invitees can use email. Doodle's Schedule Event feature lets you choose multiple dates and times. When you accept a suitable time and location, the appointment is added to the calendar. You can also update the time and date. To schedule a meeting with multiple people in Google, add guests and click "Find a Time."
Unique Features
The meeting organizer will then display a calendar view of the availability for each guest, along with suggestions for the most suitable time for both the host and guests. When a meeting is scheduled, the Doodle Polls feature prompts your colleague, friend, or client to respond to calls, messages, or emails. Google Calendar doesn't have this feature. 
Google Calendar offers a wide range of unique features, such as collaborative calendars, four scheduling modes, distinct sharing permissions, a world clock, software integration, and many more.
If you're looking for a dedicated meeting schedule app that puts great focus on the content of the meeting, then Doodle should be your choice. However, if you want more than just making appointments to organize your daily tasks, then Google Calendar will provide more benefits and features.
Evernote vs Google Calendar
Organizing Features
Compared to Google Calendar, Evernote has more organizing features. After logging into Evernote, you'll find a dashboard page filled with clippings, notes, lists, and starred notes from the web. 
Creating Notes
Evernote supports notebooks and on each notebook, you can add notes. However, in Google Calendar, you need to create an event and enter the title, time, guests, and other details to add any notes. 
Features
In Evernote, members of a team can effortlessly record their thoughts in notes, voice, and pictures, and share them with one another, preventing any loss of upcoming deadlines or tasks. The tool functions as a central hub for notes, ideas, lists, and reminders. Users can monitor multiple projects from various devices, including offline access, ensuring effective management of projects, deadlines, clients, and meetings. On the other hand, you can use the Google Calendar app offline and then find events, create, edit tasks or make any changes, and set reminders but the changes won't show in your computer or others' calendars unless you're online.
You can also customize the Evernote screen for improved visibility and quicker entry points into subjects. But you need to get the paid version for that.  Whereas you can customize the Google  Calendar for free. 
In summary, Evernote is a better option for note-taking and organization, while Google Calendar is better for scheduling and managing events and appointments.
Cron vs Google Calendar
Events
To add events in Google, you can drag the timeline to create a dialog box with various options that appear on a new screen. For Cron, simply drag the timeline and type. Corn and Google Calendar both offer basic features such as event creation, deletion, timezone, visibility, reminder, and repeat.
Overview
Google Calendar also offers a side-by-side view of schedules to identify available time slots. In contrast, Cron displays a week view in the center, a small month view in the corner, and a list of active calendars on the left. 
Ease of use
Compared to Google Cron has an easier navigation process. Cron's "command menu" allows easy access to any feature, and the most prominent Cron feature is availability sharing in just one click. 
Accessibility 
Google Calendar can be accessed from any device with an internet connection, whereas Cron Calendar is a desktop application and can only be used on the device it is installed on.
If you're looking for a calendar app that's really easy to navigate then Cron should be your choice. For instance, Cron has a command menu that makes it simple to create an event. You can start scheduling the event and other things by using a keyboard shortcut. Whereas Google Calendar offers great accessibility, and much more features but has a bit of a learning curve. Ultimately, the choice between the two will depend on the specific needs and preferences of the user.
Google Calendar vs Any.do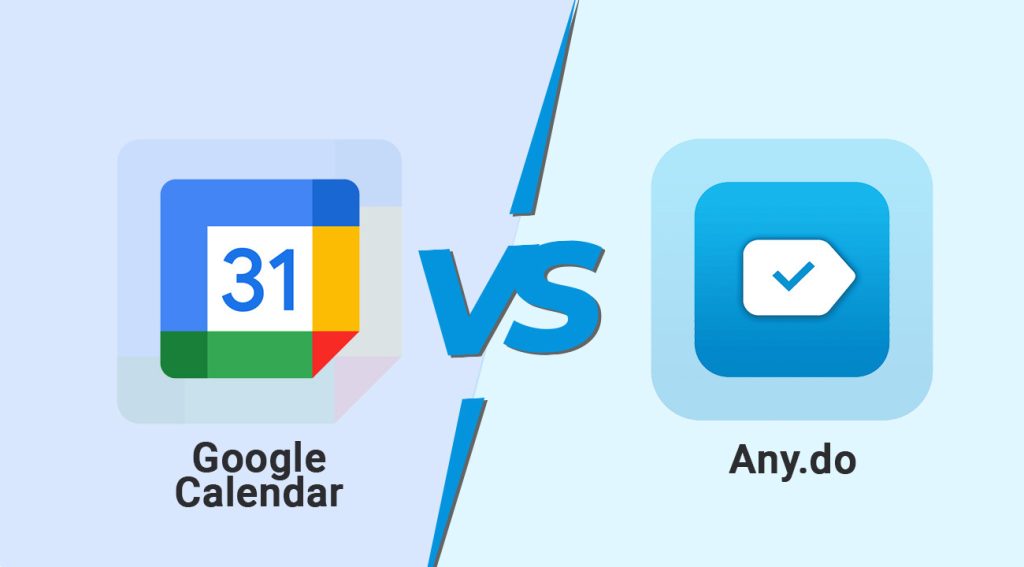 List and Task
The app Any.do is specially built for organizing everyday tasks, to-do lists, and repetitive tasks. Google calendar supports repeating tasks daily, weekly, monthly, and yearly. Both Google calendar and Any.do can add the travel time to location-based events, support file attachments, and searchable tags, create lists for both personal and work use, share tasks, and set priorities. 
Flexible
Moreover, to use Google Calendar you need to have a Google account but Any. do is flexible as you can use your Google or Facebook account. If you don't have either, you can use your email address. 
Additional Features
Compared to Google, Any.do has an intuitive interface that makes listing and task management easy that lets you split a complex or lengthy project into sub-tasks to get it done easily. Additional features like customizable themes, Whats app integration, location-based reminders, recurring reminders and many more can be found in Google Calendar at a free cost. However, Any.do doesn't provide these features for free. And that's a major drawback.
Any.Do is a powerful list-based app that will help you keep track of what you need to do on a daily basis. However, if you need more than just checklists then Google calendar should be your choice. 
Google Calendar vs Fantastical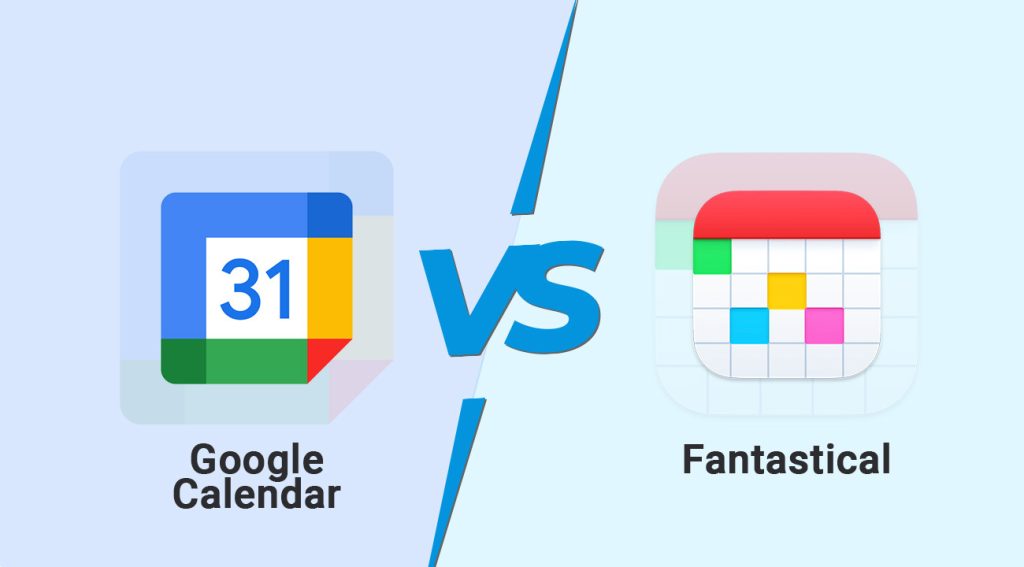 Platform
When it comes to cross-functional platform availability, Google calendar wins as it's available on Android, iOS, and the Web. Thanks to the iOS widgets and long-tap functions, Google Calendar can rapidly add new events, reminders, and objectives without doing much. Whereas Fantastical only supports iOS and macOS.
Customization and Features
Fantastical has full of customization options. In Fantastical, you can customize the theme, app icons, and badges. It offers DayTicker and Calendar views to provide a brief overview of your schedule, while full-screen views are available for detailed information on your day, week, month, quarter, or year. Additionally, you can swiftly attach documents or photos to your iCloud, Google, or Exchange events directly from Fantastical.
Google Calendar possesses a Goal feature that can help you cultivate habits, meditate, and reserve leisure time for yourself, family, and friends. You can specify the frequency of a goal per week, and the app will adapt the activity to accommodate your busy schedule for the month. When it comes to additional features they both are pretty good. 
If you're looking for a more customizable calendar app dedicated to iOS and macOS that comes with smart scheduling, templates, AccuWeather integration, and more, then Fantastical is the right choice for you. Whereas, Google Calendar is a good choice for those who want a free, simple, and integrated calendar app. 
Wrapping Up
The fast pace of modern life often results in busy schedules. Maintaining an effective calendar can be your savior. By understanding the differences between the top players in the market, you can choose the best calendar for scheduling purposes.