Since the iPhone 5, Apple has remained loyal to the Lightning port, despite much of the industry moving over to USB-C. Well, now it seems Apple is finally switching to USB-C. The tech giant is rumored to adopt the USB-C port instead of the Lightning port for their upcoming iPhone. But not the next iPhone, the one after that. That's right! The iPhone 15 is now rumored to finally make the switch over to what's basically the industry standard of charging for most modern electronics. 
Overview
Rumors and speculation about Apple adopting USB-C for the iPhone have swirled for years. Bloomberg's Mark Gurman reported that Apple has been testing iPhones that ditch the company's signature Lightning charging port in favor of USB-C. And according to Apple analyst Ming-Chi Kuo, Apple will abandon its proprietary Lightning port and switch to USB-C on all or possibly some of the iPhone 15 lineup, which is destined to launch in the second half of 2023. Kuo also noted that USB-C would improve transfer speeds on the iPhone, as well as charging rates.
Now there are many reports that actually contradict these claims — saying that Apple is planning to stick with Lightning for the foreseeable future with no intention of switching to USB-C. And some rumors even indicate that the company might ditch all the ports, relying only on MagSafe for both charging and data transfers. So guess we'll just have to wait and see which rumor stands true.
But the biggest question is, why is Apple considering this change now? Well, there is one big reason for this sudden switch, and that's the pressure being placed on Apple by the EU. Yes, the policymakers at the European Union continue to move forward with passing new legislation that would enforce Apple to adopt USB-C on all iPhones, iPads, and AirPods sold in Europe. If this legislation is passed, it would require Apple to either ship specifically designed USB-C equipped models to Europe while keeping the rest of the world stuck with Lightning. This certainly doesn't sound economically feasible, does it? So, Apple thinks a better alternative would be to adopt USB-C for all its products globally.
Why USB-C is better?
According to the EU, the variety of chargers on the market can be hazardous to the environment. Since different devices use different ports, the average consumer needs multiple chargers, which can be inconvenient and increase the amount of e-waste each person generates. A standardized USB-C charging port on all devices would undoubtedly alleviate this problem.
And if you follow along with technology at all, then you already know that such a change would offer a multitude of benefits to the users as well. It would mean you could use the same charger for all your different phones, laptops, tablets, and so on. Besides that, USB-C also charges and transfers data more quickly than Lightning.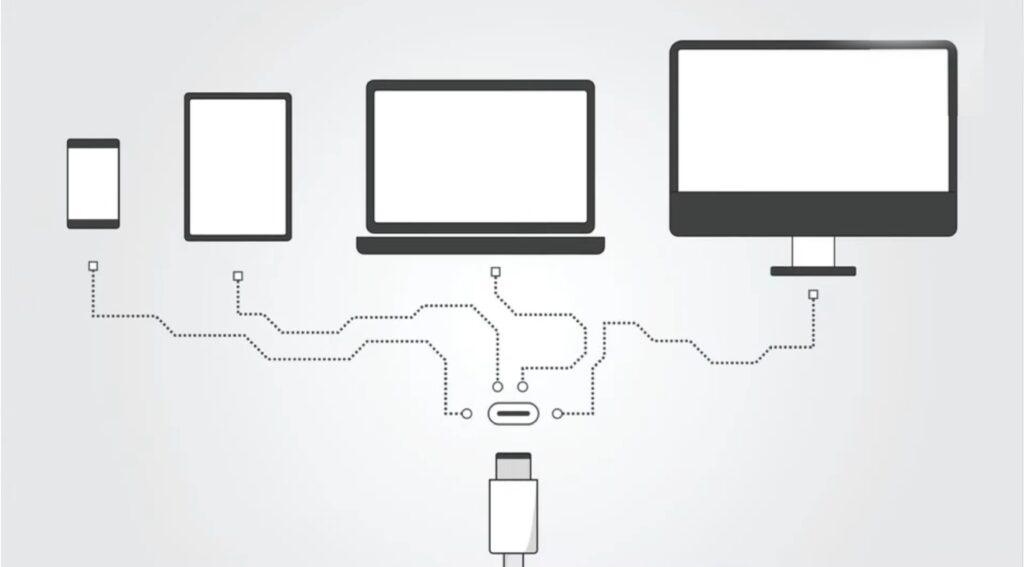 Most of the smartphone industry has embraced the reversible USB-C standard. Apple has got partly on board by adding USB-C to its recent iPads and using USB-C-compatible Thunderbolt ports on many Macs. The recent iPad lineup now has faster transfer speeds from accessories such as cameras or external SSD thanks to this upgraded port.And for photographers and cinematographers, a demographic that Apple has actually been targeting a lot lately with its high-end iPhones, the Lightning port is certainly a bottleneck for transferring large videos and photos. However, a change to USB-C would ease this workflow and make it much more efficient to transfer files and be supported by a broader ecosystem of USB-C accessories.
The only downside is that Lightning cables or other peripherals like headphone adapters and car chargers you own would immediately become useless. But, regardless of any short-term headaches that this change might create, this would be one of Apple's most customer-friendly moves in years. 
However, Apple might not do it. Why? Well, many still believe money is the prime motivator behind Apple's commitment to Lightning. The company would lose revenue from every Lightning cable and accessory that works with the iPhone because of the MFi Program. They wouldn't get royalties from companies like Anker or Baseus, key players in Apple's MFi Program with products ranging from cables to power banks and everything in between.
User retention is also a factor, as the Lightning port motivates customers to keep buying iPhones in the future since they would work perfectly with all of the charging cables, docks, and other accessories they've bought over the years. Not only that! They would lose control over what iPhone owners can do with their devices outside of Apple's tight ecosystem. 
Another reason why Apple doesn't want to switch to USB-C might be because they believe that the policy will stifle innovation, which the tech giant is known for championing. But if the trillion-dollar tech giant wants to adopt USB-C ports, they most definitely can. As they have previously shown with their latest iPad models. The iPad Mini has an A15 Bionic chipset, the same as the iPhone 13, yet it incorporates a USB-C port, whereas all the iPhone 13 models still come with a Lightning port. This clearly shows that Apple is just not willing to change.
Final Say
As we mentioned earlier, Apple is also planning to replace the burden of charging and file transferring through wireless methods, like MagSafe, which was implemented into iPhones back in 2020. But now, the pressure is being placed by the EU. They may have forced Apple to reconsider its plan and the timeline for moving entirely portless. Thus, requiring the company to comply with possible upcoming regulations and move the iPhone to USB-C in the near future.
Looking back, when Apple first introduced the Lightning connector in September 2012, Phil Schiller called it "a modern connector for the next decade." Well, now, it's August 2022, and the decade is almost up. The switch to USB-C makes a whole lot of sense as it will be environmentally friendly and because no one wants to carry a bunch of cables anymore to charge various devices. But it remains to be seen what Apple will do in response to the EU's proposal.