With the reveal of Sennheiser Momentum 3, Sony apparently has good competition in their hands. As a direct upgrade to their widely popular Momentum 2, the Momentum 3 promises excellent audio performance, ANC that mimics the sound of the void, and stellar battery life. But, can it compete against the reigning king of earbuds, the one, the only, WF-1000XM4? Or is Sennheiser just trying to hitchhike to the success of the Momentum 2? Find out in this blog!
Appearance
Sennheiser, as always, gets top grades for visuals. I mean, just looking at the case itself gives you an idea of how Sennheiser stays at the center of attention! The case is wrapped in a high-quality fabric that gives you a firm grip and negates accidental drops while having a super premium appearance, although a bit on the chunky side. Sony, on the other hand, goes with their signature matte color scheme with an overall minimalist approach. With both earbuds, you get a variety of color options to choose from, and none of them looks visually overdone!
Earbud Tips
One of the notable differences between these two earbuds is how Sennheiser Momentum TWS 3 comes packed with small, medium, and large ear-fin sets, while Sony comes with their very own noise-canceling earbud tips. This variety gives you a deciding factor, for if you want a better grip on your ears, Momentum 3 TWS is the way, or if you rather prefer solid Noise-Isolation, Sony, as always, has your back.
Noise Cancellation
Now, let's come to one of the most important facets to judge a pair of earbuds by nowadays, the ANC. Sony WF-1000XM4 comes integrated with the powerful Processor V1, which results in a deep and satisfying level of voice canceling that has long been a gold standard for earbuds everywhere. They also come with Automatic Wind Noise Reduction Mode, which detects windy weather and automatically mutes it. 
The Sennheiser Momentum TWS 3, on the other hand, comes with Next-Generation Adaptive Noise Cancellation that automatically adjusts the amount of noise canceled according to what kind of environment you're in. 
With both of these earbuds, it seems like automated ANC will be a standard in the future earbuds, and we love the sound of it! In terms of environmental awareness, Momentum TWS 3 allows you to stay in touch with your surroundings with a simple touch, thanks to Transparency mode. Now Sony calls this Ambient Sound Mode, providing a more natural listening experience while being more aware and connected to your environment. Potato, PO-TA-TOH, you get the drift.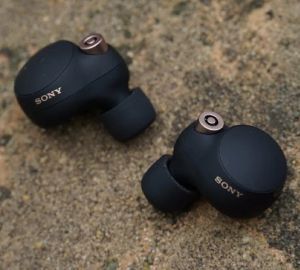 Sound Quality
Sony WF-1000XM4 supports High-Resolution Audio Wireless, and the specially designed 6mm drivers produce a heartwarmingly dynamic sound from their surprisingly compact bodies! Moreover, the high compliance diaphragm reproduces a rich and deep bass, while the aforementioned processor V1 enhances quality while reducing distortion. 
On the flip side, with Sennheiser Momentum TWS 3, you'll be able to enjoy superior, high-fidelity sound with deep and punchy bass, courtesy of Sennheisers very own TrueResponse Technology. For High-Resolution Audio, aptX Adaptive codec is there for you to make you hear and experience every little auditory detail. Of course, we understand how different people perceive audio differently, which makes it very hard to pick a solid winner. Still, with both earbuds having a dedicated equalizer, you can get custom tune both of them to fit your individual needs.
Voice Transmission
In terms of communication, with the Momentum TWS 3, you'll be able to talk with a crystal clear voice, courtesy of three Advanced Noise Canceling Microphones placed on each earbud. This setup assures that people you're talking only to hear your voice and not your surroundings. On the other hand, Sony uses Precise Voice Pickup Technology that uses beamforming microphones and a bone-conduction sensor that allows the WF-1000XM4 to receive your voice in a drastically accurate manner. Moreover, since these microphones are noise-canceling, it won't matter if you're in the coffee shop or the library, as they will only pick up the sounds from your mouth and nothing more.
Battery Life
Battery life is one of those impactful features that most people are on the lookout for in the earbuds market. And with that in mind, for charging, both of the earbuds support Qi-Wireless charging for convenience. You'll get around 8 hours of battery life from a Sony WF-1000XM4 with another 16 hours of backup in the case, cashing in at a total of 24 hours. And, when you're in a rush, a 5 min quick charge can provide up to 60 mins of playtime! On the other hand, the Sennheiser Momentum TWS 3 has a clear advantage over Sony, as with that, you can enjoy 7 hours of battery life from a single charge and an additional 21 hours of power backup; summing up to an incredibly long-lasting 28 hours! So watch out, Sony; it seems Sennheiser is bringing out the big guns!
Bottom Line
So, the verdict? Since you can get the Sony WF-1000XM4s on sale right now, you'll be able to get your hands on these pristine earbuds at almost the same price as a Momentum TWS 3. With such similar pricing and almost identical specs, it's hard to choose which one trumps the other. But Sennheisers do come with a relatively longer-lasting battery life, which gives them a slight edge over Sony. The added wing-tips could also be a game-changer for some people. However you see it, though, it's obvious at this point how Sony has a real competitor against them, as Sennheiser is more than ready to drop Sony from the tightrope they've been effortlessly walking for the past few years.