With our hectic everyday lives, a doorbell that doubles as a security system is a true lifesaver. Not only does it make it easier to monitor visitors and deliveries, but it also adds an extra layer of safety to your smart home.
When it comes to smart doorbells, there's one name that stands out—Ring. The company has now released the latest addition to its lineup, the Ring Battery Doorbell Plus, boasting some new features compared to the previous model Ring Video Doorbell 4.
Ring's new next-generation doorbell, Ring Battery Doorbell Plus, is somewhat similar to and slightly better than the previous Ring Video Doorbell 4. In this article, we are going to go through the intricate differences between these two versions of the doorbells.
However, both of these doorbells come with some similarities as well as some uniqueness of their own.  So, if you are in a dilemma about which one to get, you've come to the right place.
In this review, I'll share my hands-on experiences with the features, installation, video quality, and more to help you decide if the Battery Doorbell Plus or Doorbell 4 is better for your home security needs.
Ring Battery Doorbell Plus vs. Ring Video Doorbell 4 – Specifications Matters!
The easier way to understand the difference between two products from the same line is by looking into the modification the newer one came up with.
Let's look into the specification and features of both Ring Battery Doorbell Plus and Ring Video Doorbell 4 to understand better:
| | | |
| --- | --- | --- |
| Specification | Ring Battery Video Doorbell Plus | Ring Video Doorbell 4 |
| Video resolution | 1536p | 1080p |
| Field of view | 150 degrees horizontal, 150 degrees vertical | 160 degrees horizontal, 84 degrees vertical |
| Wi-Fi connectivity | 2.4GHz | 2.4GHz & 5GHz |
| Live View | Yes | Yes |
| Two-way Talk | Yes | Yes |
| Advanced Motion Detection | Yes | Yes |
| Night Vision | Yes, colour | Yes, color |
| Battery | Rechargeable, removable | Rechargeable, removable |
Ring Battery Doorbell Plus Overview
The Ring Battery Doorbell Plus was released recently (April 2023) as an upgraded version of the original Ring Doorbell. It runs off a rechargeable battery pack and captures video in HD 1536p resolution with a 150° diagonal field of view.
Some key features of the Battery Doorbell Plus include:
Removable battery pack for easy charging
Color night vision with 8 infrared LEDs
Customizable motion zones
Two-way talk through the doorbell
Alexa integration to announce visitors and show the live feed on Echo Show devices
One unique capability is the package detection feature, which sends alerts when delivery packages are left within the camera's view.
Overall, the aim of the Ring Battery Doorbell Plus is providing complete head to toe coverage in high quality HD video with smart home integration.
What's New in the Ring Video Doorbell 4
The Ring Video Doorbell 4 is Ring's previous battery-powered smart doorbell model, released in May 2021. It looks very similar to the previous generation Ring Doorbell 3 in design.
Some new features that the Video Doorbell 4 adds include:
Color Pre-Roll – When motion is detected, the doorbell records a 4-second color video preview from before the event. This gives you a glimpse of what led up to the motion trigger.
Quick Replies – You can now select from preset quick reply messages to instantly respond to visitors at your door by playing an audio clip.
Improved Battery – Ring says the battery life has been improved over the previous model for longer operation before needing to recharge.
Otherwise, the core specs are similar to the Ring 3, with 1080p HD video, infrared night vision, two-way talk, and motion alerts.
Comparing the Video Quality
One of the most important factors for a security camera is the video quality. You want sharp footage with enough detail to clearly see visitors' faces and packages.
Here's how the Ring Battery Doorbell Plus and Ring Video Doorbell 4 compare:
Resolution – The Plus captures video in 1536p HD resolution, while the Doorbell 4 is 1080p. Those extra pixels make a difference in sharpness.
Field of View – With its 150° diagonal field of view, the Plus can see an entire person from head to toe at your door. The Doorbell 4 has a slightly narrower 160° horizontal field of view.
Night Vision – Both use infrared for night vision. But the Plus also offers a "color night vision" mode that shows some color in low light instead of just black and white.
Pre-Roll – The Doorbell 4 introduces color pre-roll, but only in 720p quality. The Plus doesn't have pre-roll.
In my testing, video from the Ring Battery Doorbell Plus appeared sharper and more detailed, especially for faces. The wider view was also useful to see packages on the ground. The color night vision on the Plus delivers a big upgrade over black and white night video.
While the Ring Video Doorbell 4's color pre-roll is a nice bonus, the lower 720p resolution resulted in blurry footage that I wouldn't rely on to make out details of people's appearances.
For video quality, the Ring Battery Doorbell Plus is the winner in my book.
Features Comparison
Ring packs its video doorbells with lots of smart features beyond just security camera capabilities. Here are some of the core features of the Battery Doorbell Plus and Video Doorbell 4 and how they compare:
Motion Alerts – Both can detect motion and send notifications to your phone with video clips. The Plus may use more advanced detection with its 3D Motion Detection radar.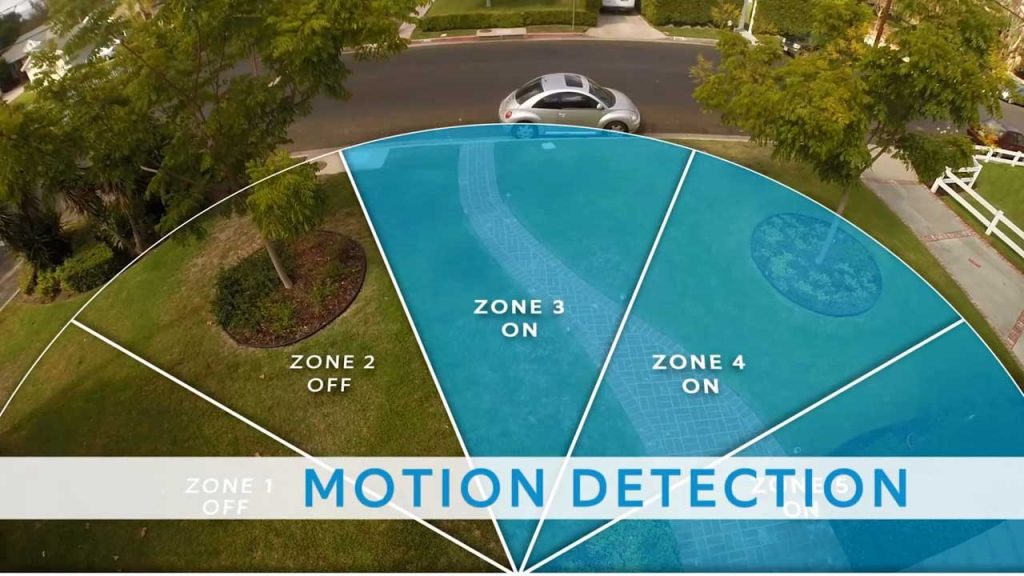 Customizable Motion Zones – You can set activity zones where you want motion to be detected and ignored. The Plus has separate zones for people and packages.
Two-Way Talk – You can have conversations with visitors through the doorbell thanks to the built-in microphone and speaker. Audio quality sounded similar on both models.
Quick Replies – Only the Doorbell 4 has the new quick reply feature to play pre-recorded messages to greet visitors.
Alexa Integration – They work with Alexa-enabled displays like the Echo Show to announce when someone is at the door and show the live feed.
Package Detection – A unique capability of the Battery Doorbell Plus is its intelligent package detection with custom zones. The Doorbell 4 lacks this option.
Overall, the Ring Battery Doorbell Plus offers a few more specialized features like package detection. But both models have the core capabilities you'd expect like motion alerts, two-way audio, and smart home connectivity.
Installation and Setup Process
Installing and setting up the Ring Battery Doorbell Plus and Ring Video Doorbell 4 were nearly identical processes. Both are meant for easy DIY installation.
Here are the steps I followed with both models:
Download the Ring app on my smartphone
Create a Ring account
Remove the faceplate on the doorbell and insert the rechargeable battery pack
Scan the QR code on the back to connect to Wi-Fi
Mount the doorbell outside using the included hardware
Adjust the motion detection zones in the app
Total installation time was under 10 minutes for both. The Battery Doorbell Plus includes a special "security screw" that helps deter theft of the device.
One difference is that the Video Doorbell 4 can optionally be hardwired to your existing doorbell wiring if you have that set up. This allows it to draw power from the wires, so you don't have to charge the battery as often.
But for most homes without existing doorbell wiring, the battery-powered versions are equally easy to install.
Alexa Compatibility
Both doorbells are compatible with Alexa-enabled devices and offer integration for custom voice announcements and live video feeds. With a Ring Protect Plan subscription, Alexa can show live video feed on an Echo Show, Fire TV, or Fire Tablet when either doorbell detects a person or package.
Battery Life
One concern with any battery-powered security camera is how often you'll need to recharge it. Ring claims improved battery life on the newer Video Doorbell 4.
In my testing, I found battery life depended on usage factors like:
Number of visitor alerts per day
Length of live view sessions
Temperature conditions
With moderate usage, I was able to get 2-3 months on a single charge with the Battery Doorbell Plus. The Battery Doorbell 4 seemed to last me closer to 4-5 months under the same conditions.
So, the newer model does appear to have slightly longer battery life thanks to efficiency improvements. But for both, you can expect to charge them every couple month with typical usage. The removable battery pack makes recharging simple on both models.
Connectivity 
Both doorbells offer complete control from the Ring app, real-time mobile notifications, and live view whenever someone presses the doorbell or triggers the motion sensors.
However, Battery Doorbell Plus stands out from the others with its Package Alerts. This exclusive Ring Protect subscription feature sends you notifications when a package is detected in a specified zone.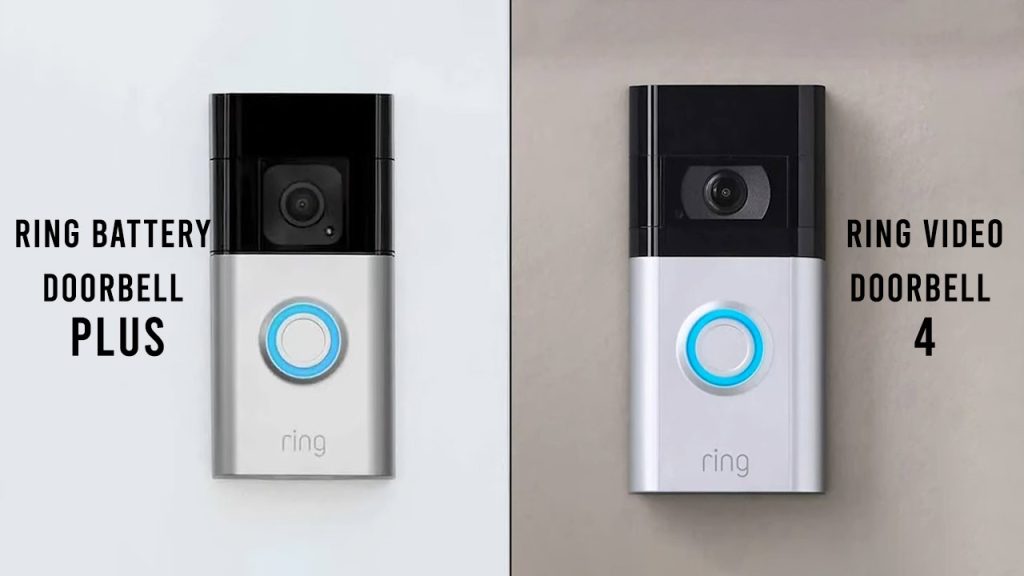 Apart from that, Both doorbells come with the option of subscribing to the Ring Protect Plan, which allows you to record all your videos, review missed events for up to 180 days, and share photos and videos.
The Video Doorbell 4 takes it up a notch by allowing you to save and share photos and videos with an optional Ring Protect Plan.
Cost Comparison
Ring Video Doorbell 4 costs a little less than the Battery Doorbell Plus. Here's a look at the retail prices:
However, you can often find them discounted on Amazon or in holiday sales.
You should also factor in the Ring Protect subscription plan if you want to save, share, and review video recordings. This starts at $3.99 per month per device or $10 per month to cover unlimited Ring cameras at your home.
Overall, the Ring Battery Doorbell Plus does offer better video and features over the Ring Video Doorbell 4. So the extra $20 cost seems justified for the upgrade in my opinion.
My Final Recommendation
Based on my hands-on testing and comparison, I give the advantage to the Ring Battery Doorbell Plus as the better smart video doorbell overall for the enhanced video quality.
The higher 1536p resolution and wider field of view make a noticeable difference in seeing more details at your front door. I also love the color night vision on the Plus for brighter low light footage. And the package detection can come in really handy.
The Ring Video Doorbell 4 is a solid budget option. But for only $20 more, the Ring Battery Doorbell Plus gives you significantly better video. Unless you really need the latest quick replies feature, I think the Plus is easily worth the small price premium for most homes.
I hope this detailed breakdown of how the Ring Battery Doorbell Plus and Ring Video Doorbell 4 compare helps you decide which model is right for your needs! Let me know if you have any other questions.