Home security cameras have come a long way in recent years. With advanced technology like high-resolution video, artificial intelligence, and sophisticated apps, the latest models offer features that would have seemed like science fiction just a decade ago. 
One of the most exciting new security cameras is the Eufy Indoor Cam S350, released by the popular smart home brand Anker. In this in-depth guide, we'll explore all the details of this innovative camera and how it can protect your home.
Overview: Key Features of the Eufy Indoor Cam S350
The Eufy S350 stands out for its dual-lens system with both a high-resolution 4K ultra HD wide-angle lens and a 2K HD telephoto lens. 4K means it has approximately 4 times the number of pixels as a 1080p HD camera, resulting in extremely clear and detailed video footage.
The 4K lens gives you a big-picture view of an entire room. When you want to see a specific object or person more closely, you can switch to the 2K telephoto lens and zoom in up to 8 times closer than the wide angle view. This hybrid system essentially gives you two security cameras in one.
Other key features include:
360-degree horizontal panning – The camera can rotate a full 360 degrees, eliminating any blind spots.
75-degree vertical tilt – Tilt up 75 degrees to see directly overhead, and down to view low areas. Combined with the panning, this allows a complete 360-degree view of the room.
Color night vision – Infrared LEDs enable sharp nighttime video in full color, not just black and white. The night vision is effective for distances of up to 20 meters (65 feet).
AI person, pet, and object tracking – Built-in artificial intelligence can identify people, pets, cars, and other objects, keeping them in frame as they move around. This auto-tracking ensures you never lose sight of what's important.
HomeBase 3 connectivity – Link the S350 to Eufy's HomeBase 3 hub to enable features like facial recognition, smart home integration, and easy video playback. More on this below.
Local storage – Footage can be stored locally on a microSD card, keeping your video secure without requiring a monthly subscription plan.
Two-way audio – Hear what's happening in your home and talk to visitors using the camera's speaker and microphone.
With these cutting-edge features, the Indoor Cam S350 is engineered to provide maximum home security awareness and convenience. Next, let's look at some of the key benefits this camera offers compared to other options.
Benefits: How the S350 Improves Home Security
The Eufy Indoor Cam S350 has several advantages over earlier-generation smart security cameras:
Prevent crimes before they occur – With its ultra-high 4K resolution, night vision, and intelligent tracking features, the S350 will detect any intruders immediately upon entry, alerting you and likely scaring them away before they can do any harm.
Eliminate blind spots – The 360-degree viewing angle means there are no corners or areas blocked from view, removing spots where intruders could hide.
Keep eyes on what matters – Whether it's watching your kids play, replacing your nanny camera, keeping tabs on pets, or monitoring any room from anywhere, you'll enjoy complete, detailed coverage.
Receive alerts instantly – With real-time notifications, you can take quick action as soon as any unwanted entry or incident occurs.
Peace of mind – Have confidence that your home is protected day and night by one of the most advanced security cameras available today.
No monthly fees – There are no recurring charges to use the S350's basic features. Optional cloud storage plans are available.
Compared to a traditional single camera system, this Eufy dual cam lens' zoom, 360-degree view, and tracking give you profoundly better home surveillance. Let's now do a deeper dive into some of the S350's capabilities.
Spotlight on Key Features and Functions
4K Ultra HD Video
The Indoor Cam S350 records video at a resolution of 3840 x 2160 pixels. This allows it to capture over 8 million individual points in the image. That's 4 times more detail than 1080p HD (1920 x 1080 pixels). This ultra-high fidelity enables detecting and recognizing faces, license plates, clothing logos, and other fine details that might be unclear at lesser resolutions.
4K resolution results in incredibly sharp, crystal clear video under any conditions. And with HDR (high dynamic range), footage quality is optimized in challenging lighting environments like backlit rooms.
Intelligent Zoom and Tracking
A standard security camera with digital zoom simply enlarges the pixels, resulting in distorted, pixelated images. The S350 avoids this problem with its hybrid zoom technology.
When you zoom in, it intelligently switches from the 4K wide-angle lens to the 2K telephoto. This optical zoom maintains full resolution and focus. Going from 4K to 2K while zooming 8x closer results in a similar number of pixels focused on your subject for clear, detailed shots.
The AI person and object tracking work hand in hand with the zoom. When it detects a person, pet, or object, it can follow their movements automatically, ensuring they remain cleanly in the frame even while zoomed in. The algorithms are optimized to avoid jittery panning and tilting as subjects move. This auto-tracking gives you "set it and forget it" security monitoring.
Night Vision in Full Color
Many security cameras rely on infrared LEDs for night vision. This usually results in black-and-white footage which lacks details. The Eufy S350 produces full-color night video thanks to Starlight CMOS sensor technology and advanced AI algorithms. This makes identifying people and objects much easier in low-light conditions.
The night vision is equally effective outdoors and indoors at distances up to 20 meters (65 feet). Whether you have a large indoor space or expansive outdoor property, you'll enjoy 24/7 coverage. The camera automatically switches between color and night vision modes depending on ambient light.
HomeBase 3 Connectivity
While the S350 functions as a standalone camera, connecting it to Eufy's HomeBase 3 hub unlocks additional capabilities. The HomeBase 3 acts as a central controller for security devices and sensors throughout your home. Key benefits of linking the S350 to HomeBase 3 include:
Enhanced motion alerts – Get notified only when people, cars, or pets are detected – reducing false alerts.
Facial recognition – HomeBase 3 can learn faces and notify you specifically when family members, friends or unrecognized individuals appear.
Alexa and Google Assistant integration – Voice control your camera using smart speakers. Ask to see live video on your TV with Chromecast or Fire TV.
Automated search – Quickly find clips with specific people or objects. Great for reviewing footage.
Remote access – Securely view your camera from anywhere via the mobile app. No need for port forwarding or VPN.
If you have an existing Eufy security ecosystem, adding the S350 is a seamless way to increase coverage.
Local Storage and Encryption
The Indoor Cam S350 has a microSD card slot supporting cards up to 256GB. This enables local recording that keeps all your footage secure and private, with no risks of hacking. There are no recurring monthly fees just to access your own video, an advantage over cloud plans.
All local storage is encrypted end-to-end by advanced AES technology. You set a personalized password that is needed to decrypt and view the video. This prevents unauthorized access if someone physically removes the microSD card.
Of course, Eufy does offer the option of supplementing your local storage with their cloud service called Eufy Security. Plans start at just $2.99 per camera per month for 30 days of video history. But cloud storage is entirely optional based on your needs and budget.
Privacy Zones to Block Sensitive Areas
One extremely useful feature of the Indoor Cam S350 is the ability to set customizable privacy zones.
Privacy zones let you block out specific areas in the camera's field of view to prevent recording or motion detection. This is ideal if the S350 is positioned near windows, doors, fences, or any other spots where you want to preserve privacy.
For example, if your living room window overlooks your neighbor's house, you can set a privacy zone overlay on the camera feed to keep their property out of sight. Or if your front door is visible to the camera, mask it off with a privacy zone so visitors aren't unknowingly recorded.
You can set up as many independent privacy zones as needed to block off doors, windows, walls, or any object. And zones are easily editable later if you need to adjust or remove them.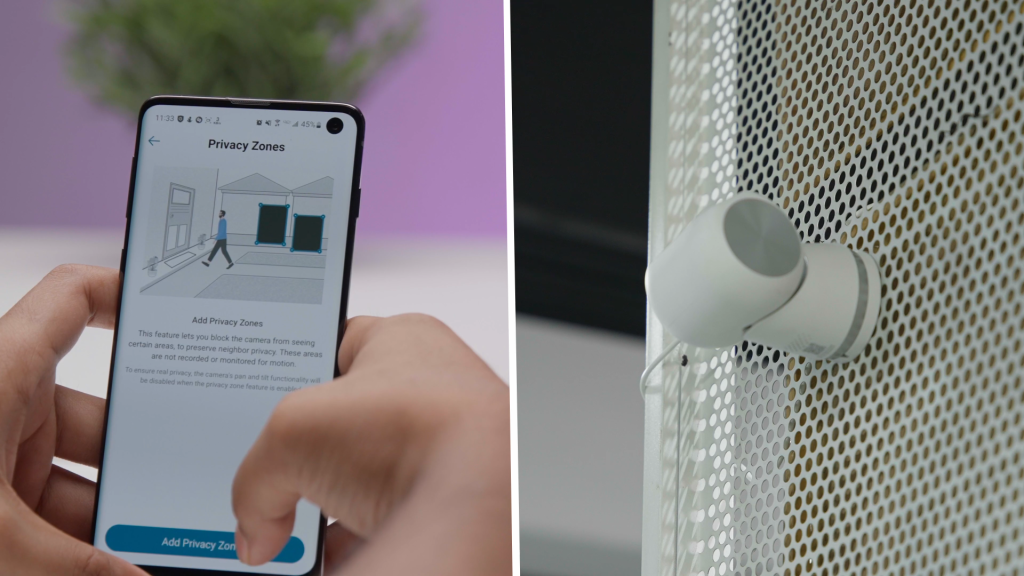 Durability and Power
The Indoor Cam S350 is built from durable high-grade plastics that withstand bumps, drops, and tampering. The camera module is also protected by metal alloy housing for extra reinforcement. Surprisingly compact at just 4 inches long, it blends into any room discreetly.
Despite its small size, it incorporates beamforming microphone arrays and a powerful speaker for crisp two-way audio. Plus dual noise-cancelling algorithms ensure your voice comes through clearly.
The camera can be powered continuously via the included 5 ft USB cord. For flexible placement, you can use power over Ethernet (PoE) to eliminate the power cable entirely. The S350 is highly energy efficient, consuming just 4.5 Watts of electricity.
Overall, Eufy built the S350 to provide years of reliable service with its rugged design. Next, let's see how it stacks up to other Eufy indoor cameras for home.
Comparison to Other Eufy Indoor Cam Models
Eufy has an entire lineup of indoor security cameras. The Indoor Cam S350 sits at the high end in terms of features and pricing. Here's how it compares to the Eufy Indoor Cam 2K models E220 and C120:
| | | | |
| --- | --- | --- | --- |
| Feature | Eufy Indoor Cam S350 | Eufy Indoor Cam E220 | Eufy Indoor Cam C120 |
| Resolution | 4K + 2K dual lens | 2K | 2K |
| Zoom | 8x hybrid zoom | 4x digital zoom | 4x digital zoom |
| Field of View | 360° pan, 75° tilt | 360° pan | 125° fixed |
| Night vision range | 20 meters | 15 meters | 15 meters |
| WiFi connectivity | WiFi 6 | WiFi 5 | WiFi 5 |
| Smart assistant integration | Google, Alexa | No | No |
| Price | $129.99 | $54.99 | $42.99 |
[Disclaimer: Product price may vary depending on when and where you're checking from. Visit the official website for updated pricing.]
While the E220 and C120 are more affordable 2K options, the S350 clearly leads the pack when you consider its 4K clarity, intelligent zoom and tracking, full 360-degree coverage, WiFi 6 speeds, and smart home connectivity. The premium pricing gets you vastly upgraded features and performance – this is not your average indoor security camera.
Release Date, Pricing, and Where to Buy
The Eufy Indoor Cam S350 officially launched on September 25, 2023. The regular manufacturer's suggested retail price (MSRP) is $129.99 in the United States.
However, Eufy is currently offering a holiday deal price of $99.99 from November 25th onwards for Black Friday and the busy holiday shopping season. This indoor security camera is a great gift idea for an affordable nanny camera or general indoor camera for home use.
You can get an additional $30 off the Indoor Cam S350 by using the promo code "WS24BFT8416" at checkout (from the official website).
You'll be able to buy the S350 at this discounted price through:
Even at its normal $130 MSRP, the S350 delivers strong value considering its premium video and AI features. It costs a fraction of what higher-end cameras from Nest, Arlo, and Ring would charge for similar abilities.
But with the Black Friday promos, it becomes an even more affordable way to get advanced 4K and object tracking abilities without paying for a higher-end security camera system. While not the cheapest indoor camera around, it brings premium functionality to the mass market.
Final Verdict: An Impressive Flagship Camera from Eufy
With the launch of the Indoor Cam S350, Eufy has cemented itself as a leading innovator in home security. The S350 represents a huge leap forward from earlier generations, with 4K clarity and advanced AI delivering intelligent tracking and optimal detail. No competitor camera packs as many cutting-edge features at this price point.
If you already own Eufy products like the HomeBase 3, the S350 neatly complements your ecosystem. But it also functions great as a standalone camera. The extensive local storage, color night vision, 360-degree view, and more make this a remarkably capable security workhorse for monitoring any area of your home.
In a crowded market of smart cameras, the Eufy Indoor Cam S350 stands out as one of the most technologically advanced and best-valued options available today.