Finding a decent gaming mouse while on a tight budget has always been difficult for gamers. While there are loads of options available online, most of them lack performance or gaming aesthetics. So is it actually possible to find affordable gaming mice that are decent in every way?
E K S A, EM 100 and EM 200 gaming mice might just be the thing that ticks all the checkboxes. They are unbelievably affordable have decent overall performance and RGB aesthetic that most gamers are into. They are sleek, have amazing aesthetics, and have decent performance. However, choosing between these two can be quite a challenge as they are sorta similar while having particular feature sets of their own. In this article, we compare them head-on to help you decide which one you should go for.
Design & Build
At first glance, the EM100 looks really nice and feels quite sturdy. We have a couple of buttons in the center, including a DPI adjustment and LED button. We also have two additional buttons on the side that feel clicky and are easier to reach.
Another cool thing about this mouse is its small triangular cutouts on both sides, which makes it easier to grip and less likely to slip. It also reduces hand sweat as a bonus, an instant plus for people with slippery hands.
Unlike the EM100, the EM200 looks really stylish. The white and black color scheme is really impressive and has a premium vibe to it. It also comes with an additional white shell and a red braided cable which is a nice touch for a mouse this cheap. The red accent further stretches to the center and side buttons, which goes really well with the overall design language.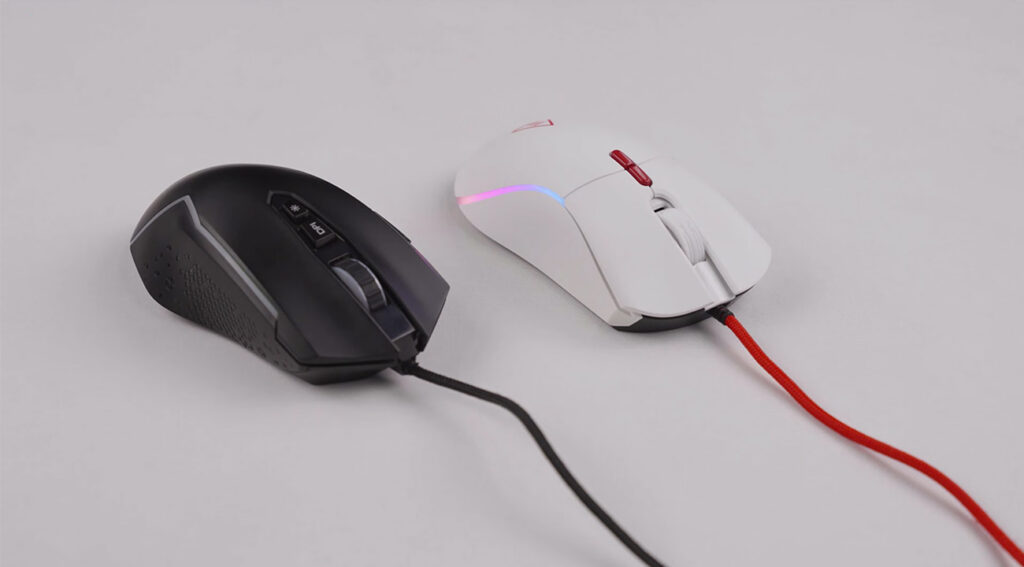 The black top completely comes off, revealing the tunable weights underneath. You can swap it with the included white top for a snowy outlook.
Visual Features
Both of these affordable mice from EKSA happen to support RGB illumination.
The chromatic RGB lighting on the EM100 looks super clean. Upon pressing the light button, you can cycle through 6 different lighting modes and choose the one that you prefer the most. The all-black accent along with the vibrant RGB effect is likely to go well with almost any type of setup.
As for the EM200, it is simply stunning. Although the white and black combo looks good, we personally prefer the white top as it looks perfect with the chromatic lighting effect and the red buttons.
Both of these mice have dedicated software that you can use to fine-tune them exactly the way you prefer.
Performance
Performance-wise, EM100 has 6 DPI modes that range between 800 and 8000. You can seamlessly switch between them with the DPI button or through the dedicated software that we mentioned earlier.
The EM200 however has a maximum DPI of 12000 which gives it a slight upper hand over the EM100. On top of that, the tunable weight makes it highly customizable and gives you precise accuracy in FPS games. Whether you prefer a lightweight or heavier mouse, EM200 has got you covered.
Final Verdict
So which of these EKSA gaming mice are the true budget king? Honestly, that is highly debatable. EM100 looks minimal, has a decent amount of customization, and most importantly, it has ergonomics for a better overall grip. On the other side of the spectrum, EM200 has the best of both performance and aesthetics. The higher DPI range gives you more room for accuracy while the weight and top adjustability is a great feature to have.
Nonetheless, both of these mice are outstanding in the budget gaming arena as they have lots of value to offer for the price you will be paying. Why go for an expensive gaming mouse while you can do just fine with either of these two?