An external recorder is one of the most widely used gadgets in production houses and professional filmmaking. Though most cameras these days come with exceptional video recording capability, why do we need an external recorder? Moreover, they are not cheap either. So why would video shooters invest in those expensive external recorders? If those questions have ever bothered you, this article is just for you. This article will explain how an external recorder helps you shoot videos in higher quality and ease up your filmmaking workflow.
Longer Shooting Time
With the change in time, digital cameras are getting more and more capable of shooting high-quality videos internally. However, most of those cameras come with a ceiling duration of 30 minutes or so to record videos with maximum resolution. For example, according to the official claims, the Canon R5 is a fantastic 8k shooting camera, except that you can't record 8k videos for more than 30 minutes. But in the real world, the overheating issue of the R5 can't let you record more than 15 to 20 minutes. However, if you plug in an external recorder like an Atomos Ninja five-plus, it will let you shoot 8k videos on the Canon R5 for as long as you want, with no overheating issues.
Simplifying Post-Production Workflow
An external recorder lets you do much more than what you could have done with a typical DSLR or mirrorless camera. For example, say you want to apply a LUT in the post-production. But there is no way of viewing how your footage will look after applying the LUT in most consumer-grade digital cameras. So you are left with a lot of guesswork for the proper exposure and other settings. On the other hand, most of the external recorders come with the facility to load custom LUTs so that you can see how your final footage will look right on the field and adjust exposure and other settings instantly while shooting.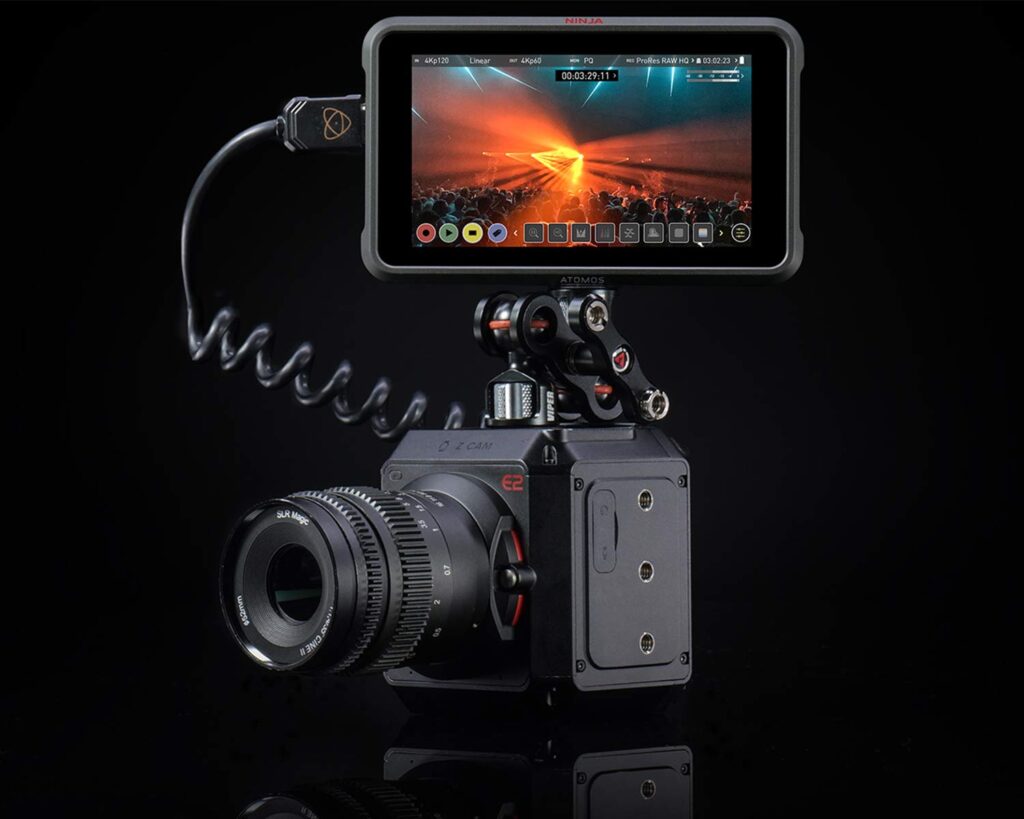 Another crucial feature is the false color, which hints at how much different parts of your footage are saturated. But unfortunately, most regular mirrorless and DSLR cameras don't include this feature. However, most external recorders come with false colors and offer you greater control over colors while shooting. Besides, cameras usually record videos on H264, which is more intensive on your GPU and processor. On the other hand, an External recorder usually records on Prores or DNX, which is less taxing on your computer.
Work as a High-Res Monitor 
The display that most cameras feature these days are of lower resolution and lower refresh rate. Those are good when you are casually shooting indoors and don't want to look into every detail of the frame. Typically cameras feature a 3 inch or so display screen. And in that tiny screen, you have to look at your framing and exposure and other settings simultaneously, which is not ideal when you want precision in your shooting.
For that, you need a bigger screen, of course, which can accommodate all the settings without being cluttered. Additionally, an External recorder usually features a more bright and larger screen than the inbuilt display of digital cameras. For example, Atomos Ninja Flame comes with a 7-inch display with about 1500 nits brightness, which gives you a more detailed and high res view of what you are shooting. Moreover, an external recorder is a must when you are shooting for professional filmmaking. It lets the cinematographer be at a distance, look at the shots, and observe if everything is going according to the shooting plan. 
More Quality 
Usually, cameras come with a recording quality limitation. It is because cameras have a lot to process. It has to read the signals from the sensor, process them, compress them and write them in the memory cards. For this reason, many cameras can't use the full potential of its sensor. But when you attach an external recorder to your camera, many tasks previously handled by the camera now go to the external recorder's end. Such as, the videos are now processed by the external recorder and saved on the external recorder's memory. 
And now, as the camera processor has a lesser burden, it can involve itself more in the quality improvement of the videos. You might have noticed that many cameras can record videos at 8 bit 4-2-0. But with the help of an external recorder, the camera suddenly becomes capable of recording at 10 bit or even 12 bit 4-2-2. 
Final Verdict
So that was all about why you need an external recorder. Overall, an external recorder is a helping hand for a camera that improves the video quality and offers you many features that were not available on the cameras. So are you happy with the recording ability of your camera? Or are you planning to buy an external recorder?