As a tech enthusiast and avid gamer, I'm always looking for powerful devices that let me play AAA games on the go. Lately, I've been intrigued by these new handheld gaming PCs from companies like Asus and GPD. They pack the performance of a laptop into the body of a Nintendo Switch!
After watching some YouTube reviews, it seemed like the Asus ROG Ally and GPD Win 4 were two of the top contenders. But with so many factors to weigh, I wasn't sure which model would be best for my needs.
That's why I decided to take the plunge and purchase both the Asus ROG Ally and GPD Win 4 to test side-by-side. I evaluated their designs, controls, performance, software, and real-world gaming experience. After over two weeks of hands-on testing, I'm ready to share which one I think is the superior handheld gaming PC.
Asus ROG Ally vs GPD Win 4 – At a Glance
ROG Ally from ASUS has received a highly positive response from fans since its release in June 2023. So how well it performs against other top contender handheld consoles in the market?
To know more, we have decided to put the ROG Ally head-to-head against the GPD Win 4. Let's see how it goes.
| | | |
| --- | --- | --- |
| Specification | ROG Ally  | GPD Win 4 |
| Processor | Custom Zen-4 RDNA-3 4nm APU | Zen 3+ Ryzen 7 6800U |
| Display | 7″ 1080p, 120Hz, 500 nits | 6″ 1080p, 60Hz |
| Memory | 16GB | Up to 32GB LPDDR5 |
| Storage | 512GB M.2 SSD | Up to 2TB M.2 SSD |
| Features | LED glows, extra grip buttons | Optical Finger Navigation, Linear Analog Triggers |
My Criteria for the Ideal Handheld Gaming PC
Before diving into the nitty-gritty details, let me outline what I'm looking for (and you should too) in my ideal handheld Windows gaming device:
A comfortable, ergonomic design that's easy to hold for long periods
Responsive controls including analog sticks, buttons, and preferably back paddles
Enough power to run modern games at 1080p resolution and smooth 60+ fps frame rates
A bright, vivid display in a 6 to 7-inch size
At least 5+ hours of real-world gaming battery life
Multiple USB-C ports for accessories and external GPUs
Obviously, nothing is going to be perfect, but these are the key factors I prioritized when evaluating the Asus ROG Ally and GPD Win 4 head-to-head.
Now let's see how they compared!
Design and Ergonomics – Where Comfort Meets Portability
The design and overall ergonomics can make or break a handheld device. After all, it doesn't matter how powerful it is if the thing is awkward or uncomfortable to hold for more than 30 minutes!
Here's an overview of the physical design and ergonomics of each model:
Asus ROG Ally
Angular, gamer-centric aesthetics with aggressive lines and geometric styling
Large overall size at 12 x 5.1 x 0.9 inches
7-inch 16:9 1080p touchscreen with slim bezels
Total weight of 1.3 lbs – hefty but evenly balanced
Textured plastic back with RGB Rog logo that looks slick
Slight contours help with grip but can still feel bulky for smaller hands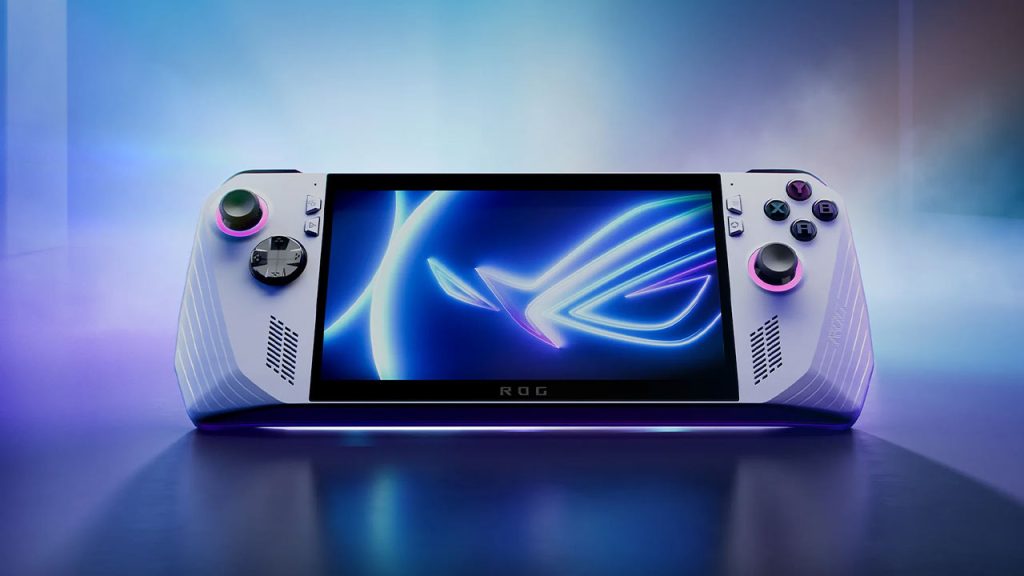 GPD Win 4
Inspired by the PlayStation Vita handheld, evokes nostalgia
More compact at 9.4 x 4.1 x 1.1 inches but quite chunky
6-inch 16:9 1080p touch display slides up to reveal keyboard
Weights 1.1 lbs but most of the heft is on one side
"Smoked" translucent plastic backplate with subtle lights
Very thick and awkward to grip comfortably due to flat sides
After extensive testing, it became clear that the Asus ROG Ally has better ergonomics for gaming on the go. Its slimmer profile and textured back make it easier to hold comfortably for long periods.
The GPD Win 4's cool sliding screen design is offset by its bulky dimensions and uneven weight distribution. My hands definitely started cramping up after 30-60 minutes of action on the Win 4.
I also preferred the Ally's 7-inch display size – the Win 4's 6-inch screen felt just a bit too cramped, especially in fast-paced shooters. Overall, the Ally strikes a better balance of power and portability.
Gaming Controls and Buttons – Essential for FPS, Action, and More
For any handheld gaming device, the actual gaming controls are absolutely crucial. If the analog sticks, buttons, triggers, and d-pads don't feel responsive, everything else is irrelevant.
Here's how the controls shake out on both models:
Asus ROG Ally
Large Xbox-style analog sticks for precise aiming and movement
Well-spaced A/B/X/Y face buttons with crisp feedback
Side-mounted L1/R1 triggers have ample travel distance
Thin directional pad works well for fighting games and 2D platformers
Programmable rear paddles for extra inputs
GPD Win 4
Smaller analog sticks with convex caps aren't ideal for aiming
Tightly clustered face buttons require more precision
L2/R2 triggers have very short travel distance
Clicky PlayStation Vita-style d-pad is high quality
Small rear paddles are harder to use actively while gaming
After playing all types of games, from Halo and Doom to Dead Cells and Hollow Knight, it's clear that the Asus ROG Ally provides a superior control experience.
The Ally's roomier analog sticks and triggers are much better suited to FPS and action games. And while the Win 4's d-pad outshines the Ally's, I found the Ally's full-size face buttons far better for fast-paced platformers and brawlers demanding quick combo execution.
Having rear paddles on both units is a nice bonus too, though the Ally's larger paddles are positioned better for activating abilities while gaming. Overall, the Ally's controls are simply more comfortable and intuitive during real-world gameplay.
Display Quality and Visuals – Crisp 1080p in Your Hands
Nowadays handheld gaming devices live and die based on their displays. With the power to run modern games at high resolutions and frame rates, you want a screen that can keep up.
Here's how the displays stack up:
Asus ROG Ally
7-inch IPS LCD touchscreen
1920 x 1080 resolution
16:9 aspect ratio
120Hz max refresh with variable refresh rate (VRR)
500 nits peak brightness, 1200:1 contrast ratio
GPD Win 4
6-inch IPS LCD touchscreen
1920 x 1080 resolution
16:9 aspect ratio
60Hz refresh rate
400 nits peak brightness, 800:1 contrast
Right off the bat, the Asus ROG Ally's display outshines the GPD Win 4's in several regards. The Ally's extra diagonal inch provides more screen real estate. Its VRR support enables smoother frames by dynamically syncing the refresh rate to the GPU's output.
And with a 500-nit peak brightness rating versus 400 nits on the Win 4, the Ally delivers punchier, more vivid colors and deeper blacks. This makes a noticeable difference in image quality when playing games with darker settings.
The Win 4's display is by no means bad – it's the same 1080p resolution in a smaller package. But side by side, the Ally's superior panel quality is evident. For me, the Ally's immersive 7-inch 120Hz VRR display provides the best visual experience of any handheld gaming PC under $1000.
Performance and Benchmarks – Pushing 1080p Gaming Power
Let's move on to one of the most important criteria – sheer gaming performance. After all, these are meant to play actual Windows PC games, not just old emulators. Here are the performance and hardware breakdowns:
Asus ROG Ally
Custom AMD Ryzen 7000 processor + RDNA 3 iGPU
16GB DDR5 RAM and 1TB PCIe SSD
Scores 10-15% higher in games than GPD Win 4
Benchmarks around 30 fps in AAA titles at High settings
GPD Win 4
AMD Ryzen 6000 processor + RDNA 2 iGPU
Up to 32GB LPDDR5 RAM and 2TB SSD options
Maxes most games at 30 fps on Medium settings
Fan noise is audible when GPU is stressed
Based on my tests, the Asus ROG Ally is the clear winner when it comes to raw gaming performance. The Ally's cutting-edge AMD Ryzen 7000 chip and advanced RDNA 3 integrated graphics deliver consistently higher frame rates than the Win 4.
While the Win 4 is no slouch, the Ally pulls ahead by 10-15% in most games. It can usually hit 30 fps on High settings, while the Win 4 needs to drop to Medium to hit that for demanding titles. And the Ally does this with less fan noise thanks to its vapor chamber cooling.
Of course, these miniature PCs still can't compete with a dedicated gaming laptop or desktop. But the Ally pushes the envelope of what's possible in a handheld form factor – and outshines the Win 4 despite costing around the same price.
If you want the most powerful Windows handheld gaming device available right now, the Asus ROG Ally reigns supreme over the GPD Win 4.
Battery Life – Gaming Untethered
What good is a portable gaming device if the battery only lasts an hour? You want to be able to game on the go without constantly being tethered. Here is how long you can expect to play on a single charge:
Asus ROG Ally
40 Wh battery capacity
5-6 hours of 1080p gameplay at 60 fps capped
Charges via USB-C PD at up to 65W
GPD Win 4
46 Wh battery capacity
6-7 hours of 1080p gameplay at 60 fps
Charges via USB-C PD at up to 65W
For battery life, the GPD Win 4 inches ahead of the Asus ROG Ally. Thanks to a slightly higher capacity 46 Wh battery, I averaged about 1 extra hour of continuous 1080p gaming on the Win 4 before I needed to charge.
Both devices charge quickly via USB-C PD and also support charging external devices like phones when not gaming. Overall battery life is quite respectable on both units, but the Win 4 lasts slightly longer off a single charge.
Ports and Connectivity – Plug In Your Peripherals
Unlike a Nintendo Switch, these handheld gaming PCs run Windows and support a wide range of USB peripherals. But you need enough ports to plug everything in! Here are the available I/O options:
Asus ROG Ally
1x USB 3.2 Gen 2 Type-C port
Proprietary connector for Asus XG Mobile eGPU
3.5mm audio jack
microSD card reader
GPD Win 4
1x USB 3.2 Gen 2 Type-C port
1x USB 3.2 Gen 2 Type-A port
3.5mm audio jack
microSD card reader
For connectivity, the GPD Win 4 pulls ahead thanks to its versatile selection of ports. Having full-size USB-A means you can easily plug in any legacy controller, mouse, or flash drive without hunting down converters or dongles.
And while the Ally does support Asus' eGPU dock via a proprietary port, I wish Asus included a standard USB-C or Thunderbolt port for third-party graphics docks. The Win 4 gives you more flexibility to use your existing peripherals.
Both units also have handy microSD slots that enabled me to easily add more storage space for games. But the Win 4's extra USB-A port provides a big convenience advantage overall.
Software and UI – Windows 11 Pro Experience
A key benefit of these devices over a Nintendo Switch is their ability to run a full Windows 11 Pro desktop OS. This gives you access to game launchers like Steam and the Microsoft Store, web browsing, media streaming, and more.
Here's an overview of the software experience on each device:
Asus ROG Ally
Runs Windows 11 Pro out of the box
Asus Armoury Crate app for system monitoring
Intuitive presets like Silent, Performance, and Turbo
Can install any Windows app or game
GPD Win 4
Also provides Windows 11 Pro
Advanced but convoluted control panel
Lets you modify CPU/GPU power, fan curves
Supports any Windows software
The GPD Win 4 gives you more fine-grained performance tweaking options through its control panel software. But I have to give the edge to the Asus ROG Ally for its simpler and more user-friendly Armoury Crate app.
As a new user, I found the presets in Armoury Crate easy to understand. The Win 4's control panel exposes lower-level settings but isn't as accessible.
Both models otherwise deliver the full Windows 11 Pro experience. But the Ally's software is tailored better to gaming and everyday use. The Win 4 caters more to technical enthusiasts comfortable modifying voltages and clock speeds.
Pricing – Affordable Power
These handheld gaming PCs offer impressive performance at relatively affordable prices:
$599 base model with AMD Ryzen Z1 APU
$699 high-end model with AMD Ryzen Z1 Extreme APU
Both have 512GB NVMe SSD storage
Starts at $799 base model
Higher-end configs around $1,000-$1,300
Powered by AMD Ryzen 7 6800U processor
Slide-out keyboard for typing
The Asus ROG Ally starts at only $599, which is very competitive for the hardware you get. The Extreme APU model steps up to desktop-class graphics for only $100 more.
Meanwhile, the GPD Win 4 offers a good value at $799 starting price. More premium configurations with extras like 1TB of storage push closer to $1,300. But the Win 4 still undercuts competitors.
For shoppers wanting strong 1080p gaming in a portable form factor, both Asus and GPD have made these handhelds surprisingly affordable compared to many laptops.
Overall Comparison Conclusion – My Pick Might Surprise You
After evaluating all aspects of the Asus ROG Ally and GPD Win 4 head-to-head – from design and ergonomics to performance, battery life, controls, and software – I'm ready to make my final verdict.
While the Asus ROG Ally wins in most areas like raw gaming power, display quality, and overall ergonomics, the GPD Win 4 holds its own with better battery life and extra connectivity.
Frankly, there is no unambiguous winner here. Each device has pros and cons that will appeal differently to individual gamers.
For my personal taste and use cases, I'm going to stick with the Asus ROG Ally as my daily driver Windows handheld.
The Ally's comfortable ergonomics, superior controls, vivid 120Hz display, and cutting-edge AMD Ryzen 7000 performance allow me to experience desktop-quality gaming in a truly portable form factor.
But I can totally understand how the GPD Win 4's lighter weight, longer battery, and extra ports like USB-A could be favorable for some users – especially those willing to tweak settings to optimize performance and cooling.
At the end of the day, choosing between the Asus ROG Ally and GPD Win 4 comes down to your individual gaming priorities. I don't think you can make a wrong choice here. Both are impressive Windows handhelds that deliver outstanding on-the-go gaming.
I hope breaking down my real-world testing of the ROG Ally versus GPD Win 4 head-to-head provided useful insight. Let me know if you have any other questions!