The AMD RX 7900 XT and the RTX 4070 Ti are two of the most recent high-end graphics cards available in the market. Nvidia went through a lot of criticism due to the fact how overpriced their new flagship RTX 40 series graphics cards were. Especially with the 4070TI, which they initially branded as an RTX 4080 when it first came out. AMD, however, successfully managed to keep feet balanced for their new flagship RX 7000 model GPUs in terms of both price and value. And, with the rebranding of Nvidia's RTX 4070Ti GPU, AMD's lower RDNA-3 variant, the "RX 7900 XT," has achieved even more credits.
RTX 4070 Ti Vs AMD RX 7900 XT: Which One Is Better?
The short answer is – "The RTX 4070 Ti offers better ray tracing performance, while the AMD RX 7900 XT offers better computing performance. Additionally, the RTX 4070 Ti tends to be more expensive, while the RX 7900 XT offers better value for the price."
In today's in this article, we will be comparing Nvidia's RTX 4070Ti head-to-head against AMD's RX 7900 XT and find out, which one values the most in terms of performance and price. 
RTX 4070 Ti vs AMD RX 7900 XT
RTX 4070 Ti and AMD RX 7900 XT are two well-known graphics cards among game lovers. Let's look into an in-depth comparison between the two.
Graphics Card Specs
| | | |
| --- | --- | --- |
| Specifications | RTX 4070 Ti | RX 7900 XT |
| Architecture | Ada Lovelace | RDNA 3 |
| GPU | AD104 | Navi 31 |
| CUDA Cores / Stream Processors | 7,680 | 5,376 |
| Tensor Cores / AI Accelerators | 240 | 168 |
| RT Cores / Ray Accelerators | 60 | 84 |
| Stream Multiprocessors / Compute Units | 60 | 84 |
| Memory | 12GB GDDR6X | 20GB GDDR6 |
| Memory speed | 21GT/s | 20GT/s |
| Memory bandwidth | 504GB/s | 800GB/s |
| Clock speed (base/boost) | 2.3GHz / 2.6GHz | 1.5GHz / 2.4GHz |
| Power connector (reference) | 1x 16-pin (12VHPWR adapter) | 2x 8-pin |
| TDP (TBP) | 285W | 315W |
RTX 4070 Ti vs AMD RX 7900 XT
Benchmark 
According to Digital Trends, it shows that the RX 7900XT has about a 10% lead against the 4070Ti on 3DMark Port Royal. Also, when it comes to the Raytracing performance, there wasn't much difference either, as it shows only 3% better performance than the RX 7900XT. And at a higher 4k resolution, the RTX 4070Ti also seems to lack behind by showing 11% slower performance against the RX 7900XT GPU.
However, while playing Ray Traced games like Cyberpunk 2077, Metro Exodus Enhanced Edition, and Bright Memory Infinite at 1440P resolution, Nvidia's RTX 4070Ti somehow manages to take the lead with an average of 68.6 frames per second against RX 7900XT GPU's 57.9 frames per second, which is quite an improvement. 
In most cases, we can see that RTX 4070Ti struggles to keep up with AMD's RX 7900 XT GPU. But then again, the latest DLSS-3 and the frame generation technology work really well in this card. So, even though RX 7900XT stays ahead in terms of performance, there aren't any huge differences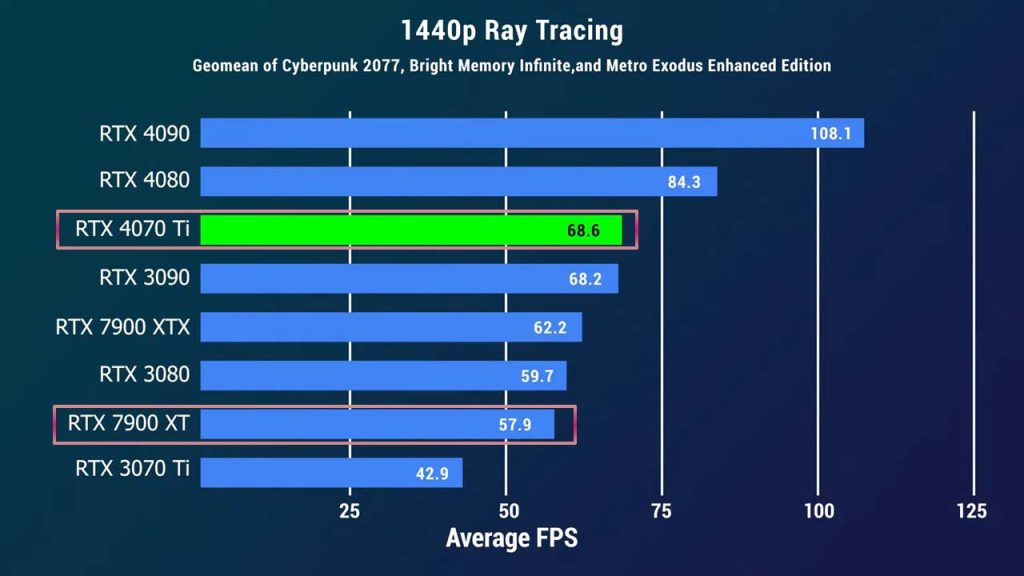 Specs
As we jump into the internal specification, we can see that RTX 4070Ti holds about 7,680 Cuda Cores, 80 RT cores with a base clock speed of 2,310 megahertz, and a boosted cock-speed of 2,610 megahertz. It also includes 12GB of VRAM along with 192 bits of bus width and 285 watts of total board power consumption. 
AMD, on the other hand, has the 7900XT, which comes with 5376 Cuda Cores and 84 RT cores, including a base clock speed of 1395 megahertz and boosted clock speed of 1695 megahertz. But the best part is, it has a staggering 20GB of VRAM, which is quite an impressive number judging by the 12GB VRAM of the RTX 4070Ti offers. Additionally, it also comes with 320 bits of bus width, including 300 watts of total board power consumption.
As we can see, both GPUs come with great internal specifications. While the 4070 Ti delivers more Cuda Cores and clock speed, the RX 7900 XT brings you more VRAM power, which gives this card a major performance boost. And, even though 4070Ti has less VRAM, It still is a decent card, all thanks to the new DLSS technology and higher Cuda cores, which shows excellent ray tracing performance. But, what makes the RX 7900 XT a big deal is its Display port 2.1, which Nvidia's RTX 4070Ti doesn't have, not even in their flagship RTX 4090 model. So if you want to try gaming on a next-gen monitor with AMD's card, you will be able to do that as well.
Wrapping Up 
Both RTX 4070 Ti Vs and RX 7900 XT are incredibly versatile and powerful graphic cards that are capable of delivering good performance in numerous games and applications. Even though RTX 4070 Ti has better traditional rasterization-based performance and has access to other NVIDIA-exclusive features, the RX 7900 XT will likely perform better in ray-traced games because of its infinity cache technology. At the end of the day, it all depends on the individual choice of which one a user thinks is suitable for him or her.