With stunning performance and a reasonable price tag, the Prembot P3 Robot Vacuum is better than your expectation and an ideal example of a budget robot vacuum cleaner. It has all of the essential functions, such as wide-angle visual scanning, intelligent navigation, strong suction, app control, auto recharging, and much more, at a minimal cost. In today's video, we're going to talk about an in-depth review of the Prembot p3, so that being said, let's jump right into it!
Form Factor
To start with the design, this smart robot comes in a round design that has some similarities with the Next-Gen Robot Vacuum Cleaner, the Roborock S7. From bottom to top, the height of the Prembot is 7.5-centimeter only, allowing it to navigate your home and around furniture easily. It has a two-in-one tank as well as an individual dust tank to keep water and dust safely inside the robot. It also comes with two main brushes, a pre-built floating roller brush, and a charging dock station. All are combined to feature a minimalistic design with a good value. However, its glossy exterior is not resistant to fingerprints, but using a soft fabric or paper napkin, you can bring back the shine again!
Cleaning Efficiency
Coming to the cleaning performance, well, with the two times more suction power, the Prembot P3 did an impressive job at this affordable price tag, which left its competitor falling behind. In addition, its three preset suction Gears are designed for specific cleaning applications. And, with the Nidec Brushless Motor, your robot can complete the cleaning tasks quietly so that you or other family members can experience disturbance-free sleep even day and night.
Mapping & Routing
Another thing that you might want to know is the mapping and routing. Well, to be honest, we're expecting better navigation from the Prembot, as we're living in the Ultra-modern world where technology is developing rapidly. We've done a side-by-side comparison between the Prembot P3 and roborock s7, where we saw that when we press the Home button, the P3 struggles to find out the route to the dock station, but the S7 impressively reaches the station without any fuss.
However, its built-in infrared sensors allow it to vacuum in complete darkness while also helping it to recognize the ground texture precisely so that it can switch the suction according to floor type.
Mopping
When it's time for mopping, it does a really good job. This robot vacuum can hold up to 240-milliliter (up to 240 ml) of water into the electrical control water tank, and its soft fabric mop can effectively swipe out coffee or liquid stains from hardwood to tile surfaces. But, if you forget to clean the mop when cleaning is done, the stain will set permanently. To get rid of it, all you have to do is, clean it gently with a cloth detergent or soap, and it will look like the new one.
Battery Runtime
Battery runtime is also super impressive compared to other robot vacuum cleaners. Because its superb 2600 milliamp-hour battery (2600mAh) can clean up to 120 square meters (120 m²) area on a single charge. And when the P3 is low on battery, it will automatically dock itself to load the battery bar.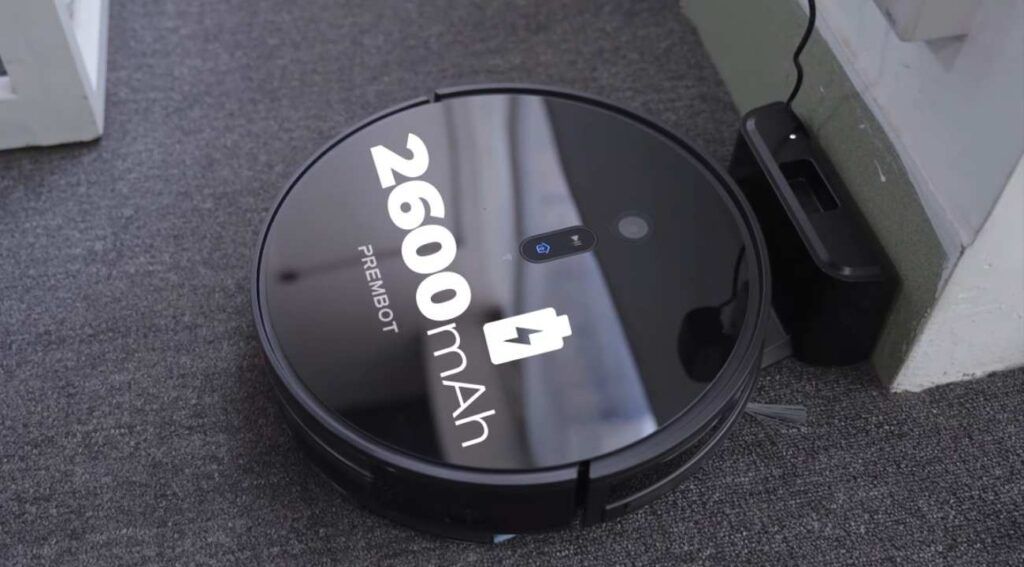 Extra Features
Alright, coming up next, let's talk about something that can make your life more convenient and helpful than before. Because you can smartly and magically control your Prembot P3 just using your voice commands as it's compatible with the Amazon Alexa. So, ask Alexa to start, pause or stop cleaning your rooms without leaving your comfort zone! Beyond that, you can also control it remotely from your smartphone or just cut the chase by using its additional remote control.
Final Thoughts
Overall, the Prembot P3 is an amazing robot vacuum cleaner that will take care of your entire house on its own and save you from the hassle of keeping your floors clean. At the same time, considering its price tag, it is surely a good deal if your pocket does not respond to purchasing a premium robot vacuum.