The iPhone Lens Filter System is an innovative accessory designed for mobile photographers looking to enhance their photography experience. You can add a variety of filters to the iPhone camera lens for more creative control over the appearance and feel of your images. The iPhone Lens Filter System helps to advance your mobile photography, whether your goal is to create gorgeous landscapes, portraits, or anything in between. The iPhone Lens Filter System is a need for everyone who wishes to improve their mobile photography abilities due to its convenient design and small size.
Pan's Snap Filter All Filter Bundle Attachment Lens is a set of filters designed to enhance the photography experience on mobile devices. The filters are designed to clip onto the lens of a mobile device and can be easily interchanged to achieve different effects. 
Pan's Snap Filter Lens Review
The Pan's set typically includes a range of filters such as a circular polarizer, neutral density, starburst, and macro lenses. But what exactly do these filters do? Well, they alter certain factors like light intensity, exposure, shadows, contrast, or flare amount to help you take better photos or shoot mind-blowing videos. Moreover, these filters are ideal for both amateur and professional photographers who want to elevate the quality of their mobile photography. With the Pan's Snap Filter All Filter Bundle, you can achieve stunning results by adjusting the light, color, and focus of your photos.
Specification:
Brand: Guedieo
Maximum Focal Length: 1.00 millimeters
Lens Design: Zoom
Weight: 2.07 pounds
Filters: 8
Water Resistance: No
Design
The team behind Pan's snap filter has demonstrated a strong commitment to excellence and meticulous attention to detail. This snap filter is perfect for iPhone 12 and 13.
This dedication has resulted in the successful creation of 5 prototypes, each one subjected to a rigorous battery of over 20 rounds of testing. The outcome of these tests is a filter system that not only boasts an intelligent design but is also crafted with the utmost precision thanks to the use of highly accurate machinery. As a result of these efforts, users of Pan's snap filter can have complete confidence in the performance of the system, knowing that it will never produce ghosting on their images.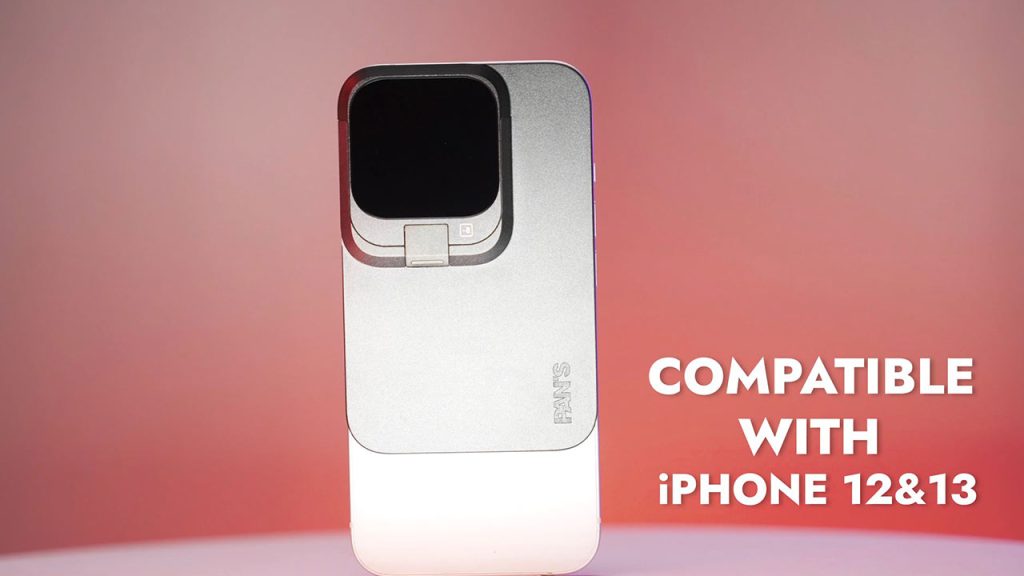 Ease of Use
Pan's snap filter comes built-in magnetic mount. So, gone are the days of having to deal with clunky clamp filters that obscure your phone's screen and hinder its operation. With the new insert-in design, simply insert your phone and you're good to go, without having to endure the frustration of having to adjust the clamp filter.
Moreover, the Snap Filter carry case is designed to store 8 filters and a filter base with ease. To use, simply drop the filter base into the case, and it will securely snap in place. The windows of the case are designed to allow you to easily identify the type of filter you're carrying, as the filter icon is clearly visible.
Different Filters
To promote enhanced cinematographic quality it includes an ND filter set, Gold Streak Filter, Blue Streak Filter, Black Mist Filter, and Cross-star Filter Set. 
The purpose of an ND filter is to decrease light for slow shutter speed photography or motion blur in videography. It comes with 2/-4/-6/-8 stop filters that adjust to different exposures and features a precise color coating to prevent color shifts.
Anamorphic Lens Style adds glowing blue/gold streak flares on the highlights of the image which is similar to flare shots using an anamorphic lens, including two Streak filters that adapt for the horizontal and vertical shoot. 
Blue Streak Flare effects are ideal for the sci-tech style and for a warm California style, use Gold Streak Flare effect. Make night scenes shine with a Cross-star filter that turns circular light sources into stunning cross-star effects, adding glamour to images.
Wrapping Up
Overall, the Pan's Snap Filter is a truly unique filter set that will allow you to create beautiful memories and capture some retro-themed photos with your favorite iPhone. The Pan's Snap Filter All Filter Bundle is a smart investment for photographers of all levels. Whether you're looking to capture stunning landscapes, portraits, or anything in between, this bundle has you covered, making it a must-have for anyone serious about mobile photography. Using these filters is so easy! Just put your snap filter base on the back of your phone, and you are good to go! Unlike traditional clamp filters, they won't cover your screen or affect your phone's operation, which is a plus.