Unfortunately, homeowners and renters who are already immersed in the Apple ecosystem, or more specifically, Apple's HomeKit automation, don't have a plethora of options for video doorbells. However, in the short-list of the HomeKit video doorbells, Logitech Circle View is one of the popular names, but it has some downsides too. This is why consumers are looking for a more reliable and robust video doorbell, and Belkin impressively takes that opportunity by introducing the Wemo WDC010 Video Doorbell. So, we'll share a feature comparison between these two rivals: The Logitech Versus Wemo video doorbell.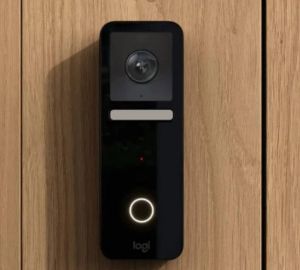 Logitech Circle View
| | | |
| --- | --- | --- |
| | Pros | Cons |
| Heating Issue | | Yes, Required Shed |
| Installation | | Complex & Time Consuming |
| HomeKit Control | | Little Hard |
| Impact Resistance | IP65 | |
Similarities
Well, let's get started with the similarities between these step-brothers. Both of these video doorbells have a glossy black exterior, a stunning camera with a microphone, and a little lightbar. Even they offer versatile mounting options for any type of entrance. Not only that, but the video resolution is also similar; these HomeKit Video Doorbells feature 1200 by 1600 HD video recording to ensure if any event happens, you can see them clearly.
Differences
Well, the similarities between the Logitech circle view and the Wemo WDC010 video doorbell end here. If we talk about the Field of view, Wemo offers way better viewing than the Logitech. But, the interesting thing is that Logitech has super impressive nighttime visibility for its users. Its night vision with color night provides almost day-like visibility even in the complete darkness so that you can see your nighttime visitors clearly. However, the fact that may irritate you is the installation process of Logitech, which is not so easy. It's more complex than the Wemo video doorbell and time-consuming also.
We like to share a quick spec sheet with you guys to keep things short, and here it is.
| | | |
| --- | --- | --- |
| | Logitech Circle View | Wemo WDC010 |
| Resolution | 1200 x 1600 | 1200 x 1600 |
| Camera | 5 Megapixel | 4 MP Premium Zoom |
| Field Of View | 160° | 223° Diagonal |
| Night Vision | Yes, with color night | Yes, Gray |
| Wi-Fi Connectivity | 2.4 & 5 GHz | 2.4 & 5 GHz |
| Face Recognition | Yes | Better than Logitech |
| Weight | 5.33 | 4.00 |
Final Thoughts
Coming to the final thoughts, that was all about the Logitech Circle view versus Wemo WDC010. So, which one should you get? Well, it depends on your perspective. If you don't want to create a hole in your pocket and are ready to consider some features, then the Logitech Circle view will be fair enough. And if the expensive price tag is not a big deal and you don't want to compromise with the features and added benefits, then The Wemo smart video doorbell is the right option to choose.