This is the TOTEM 180 Panoramic Conference Camera from IPEVO that we recently got our hands on. It's compact, has an elegant look and feel to it, and has plenty of built-in intuitive controls. There is also a beamforming speakerphone for it that goes by the name IPEVO VOCAL with lots of perky features underneath. It focuses on simplicity, Auto Switch functionality that automatically detects the best camera, two tests in one shot.
IPEVO TOTEM 180 Panoramic Conference Camera
The camera comes in this plain-looking box, and inside the box you'll find a user manual with plenty of info about how to set it up and what other features we can expect from it. You'll also get the microphone snuggly enclosed inside a styrofoam shell, and just beneath it is a user manual and a separate box that contains a 16 feet long USB-C to C cable. So will the Totem 180 and VOCAL live up to that? Well, let's dive deep into it. 
Specification
Resolution and Frame Rate: Panoramic 4K" (4640 x 1456) at up to 30 fps
Number of Lenses: 2
Image Sensor: 2 x 1/3″ CMOS sensor
Field of View: 180° 120°
Design 
The top portion resembles an owl, which is a subtle hint of its long field of view. Then there is this switch in the middle that we could flip up or down to adjust the camera's viewing angle. As for the ears of the owl, those are actually two omnidirectional microphones. Below all of these are two separate buttons. The orange one is there to adjust the field of view, while the smaller red button can be used to mute or unmute the mic. The USB-C port is located at the bottom, while we also found a Kensington lock on the opposite side, which is there to prevent theft. But that's not all, there is even a thread underneath the camera that will come in handy in pairing it up with our tripods and camera mounts. As we hold the camera, it feels almost weightless, given its 0.8 pounds of weight.
There comes the Vocal Speakerphone which looks like a clone of the Totem Conference Camera but with an entirely different feature set. Unlike the Owl shaped top portion of the Totem, this one has an upward-facing microphone with a wind filter baked on it. The speaker holes are located at the bottom and completely surround the entirety of the device. There is a press-to-mute button at the center, while we also found a USB-C port at the back, followed by the power and Bluetooth buttons. There are also two AI buttons for the Mic and Speaker, as well as a dedicated switch for shifting between Omni and directional modes. Switch to the directional mode, and VOCAL will only capture sound at a 120° angle, utilizing beamforming technology to eliminate sounds from all other directions.
Easy Set-Up
Setting up the camera is pretty straightforward as all you have to do was plug it in using the included USB-C cable, and that's it! And then there is the dedicated software for it named IPEVO that you should install.
Thanks to its seamless integration, this conference camera is highly compatible with popular communication platforms like Microsoft Teams, Zoom, Skype, Google Meet, and more. What makes it truly exceptional is that you can use this without requiring any additional downloads. You can simply plug and play, and it automatically works on any of these communication platforms, offering the users unparalleled ease of use.
Unlike the IPEVO Totem, Vocal operates wirelessly via Bluetooth. To connect it to laptop, first, hold down the power button for a couple of seconds and the Bluetooth switch started to blink. And then go to the Connect menu by hitting Windows+K, and from there, click on IPEVO VOCAL. And just like that, it will work as your laptop's speaker. However, this method is only applicable to Windows 10 and Windows 11. The better way is to pair with "IPEVO VOCAL" by selecting it from the device's Bluetooth settings.
Cameras & Built-in Mics
The two independent cameras have 4 Megapixel sensors on each, which work in tandem using the Video Stitching Tech. It automatically stitches two separate footage streams and creates a wide and immersive viewing angle of your entire meeting room, cramming everyone in the meeting room within the frame. The button for switching between 120 and 180 degrees field of view was also pretty convenient as it enables to adjust the framing depending on whether you're using small or large meeting room.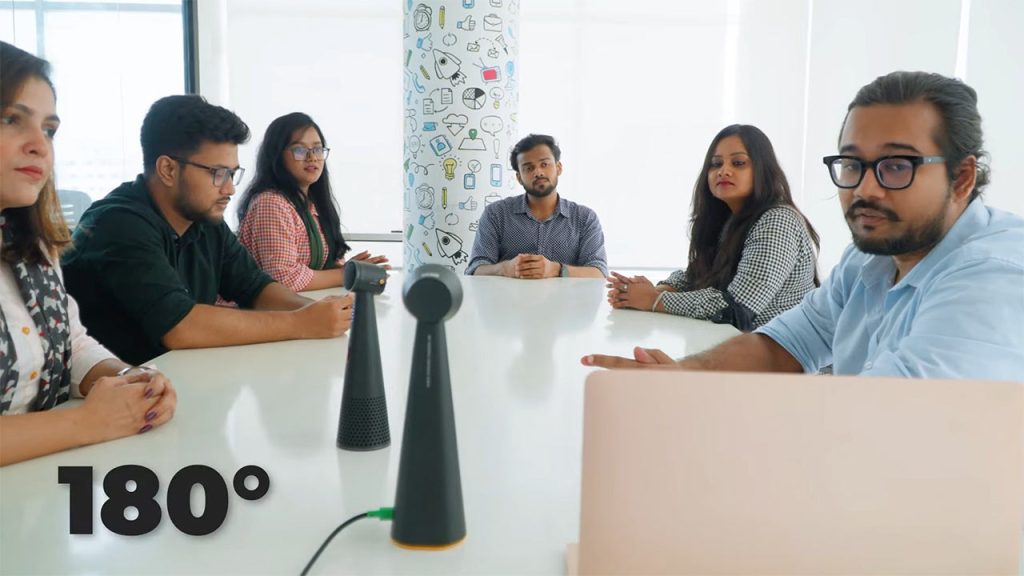 And then we found out that the AI integration takes this convenience a step further. The camera's intelligent system automatically managed the switching process and all we had to do was tap the Yellow button once. In addition to that, IPEVO has also included an AI Stage Auto Framing feature, which works similarly to Apple's center stage. It automatically widened the camera position. However, one thing that we found bothersome is that the camera sometimes got too close to participants while zooming in. It's not a dealbreaker, but we just wanted to let you know.
Then there are the Omnidirectional Microphones, and honestly, they did a pretty good job thanks to their Auto Noise Reduction. To test this feature, we have conducted a meeting with a vacuum cleaner turned on in the background to get the idea of how well the feature actually works. Small talk and minor sounds should not be a problem with this camera.
IPEVO VOCAL
Combining the Camera with the Vocal Speakerphone makes the entire experience feel like a complete unit. The speaker on this thing sounded crispier and less bass-heavy, while the 360-degree nature of it came in handy for everyone in the room to be able to hear what was being said from the other side of the screen. But that's not all, the microphone at the very top was pretty impressive as well. But that's not all, the microphone at the very top was pretty impressive and features a Two-Way AI Noise Reduction as well. It also comes with a 40-hour Battery Life.
The best part? Omnidirectional Mode that captured voices no matter where a participant was talking from. Although there was a slight bit of background noise at first, but when we turned on the AI mic the noise was barely noticeable. As for the battery backup, It was enough to cover 3 meetings that were conducted within a day so that was pretty helpful as well. And last, but not least, the portable form factor made passing around the mic easier when a specific person was giving an update on their project.
IPEVO EyeStage
Everything that we have talked about so far can be manually tweaked and precisely adjusted through the dedicated IPEVOEye Stage software. It's available on their website and completely free to download. As an initial impression, the interface looked clean to us and most of the features were labeled at the center, just beneath the live feed. There are plenty of additional AI features such as Face Tracking that came in handy to inform our Team Lead on the other side of the globe about who was actually talking in a room full of participants. The two separate Source Customization enabled us to keep all the participants on one side of the screen while showcasing a weekly report slide on the other. But what we really liked was the Advance customization for each source that we used to precisely tweak the Brightness and Contrast among other things. But if you find it confusing, you can just let the AI do its job.
Our Takeaway
So does the IPEVO duo live up to our standard? It surely does. We mean, how often do you get to see this amount of feature-packed inside of a unit this compact? On top of that, it was a nightmare to cover the whole meeting place with our previous camera but now with this, that problem is gone! We really loved the Owl-Themed Design and both the camera quality and Noise Cancelling mic lived up to our expectations. If you are in for a minimal yet feature-rich IPEVO TOTEM 180 conference camera for small to medium-sized meeting rooms, be sure to check this one out. The IPEVO VOCAL speakerphone was a sweet touch as it made the entire interaction between meetings seamless.