Garmin and Apple are two of the biggest names in the smartwatch industry. Garmin has announced their latest smartwatch Fenix 7, which is mainly designed for users who love to get a thrill from the competition and want to push themselves to hit a new height. Even the Apple Watch 7 comes with several new health and fitness monitoring capabilities and has a plethora of useful features for sports fans. There are quite a few similarities between the Garmin Fenix 7 to the Apple Watch 7. However, there are some significant differences as well. In this article, we will be comparing the Garmin Fenix 7 with another great smartwatch, Apple Watch Series 7 to find out which one is the best. So let's get started.
Design
Starting with the design, both Smartwatches come with a stainless steel bezel to increase their durability. The Fenix 7 is more of a rugged smartwatch, offering a sleek design for resisting drop, shock, and bump damage. However, it also comes in three sizes, 42MM, 47MM, and 51MM, whereas Series 7 comes in two sizes, one is 41MM, and another one is 45MM. Moreover, the Fenix 7 comes with three editions: standard, solar, and sapphire solar. It also comes with a shiny hands-free LED flashlight, which will help you during nighttime activities. In terms of bands, Apple Watch Series 7 offers a lot of options for its users than the Garmin Fenix 7.
Display
The biggest change with the Garmin Fenix 7 is now you can use both touchscreen and physical buttons based on your preference. If you don't feel like using the touchscreen, you can turn it off from the setting option. The Fenix 7 comes with a 1.2-inch Transflective memory-in-pixel display, which is also visible in bright sunlight. On the other hand, Watch Series 7 comes with an always-on Retina display, which is nearly 20 percent bigger than Series 6 and will provide you with vivid color and brightness to see all the stats clearly.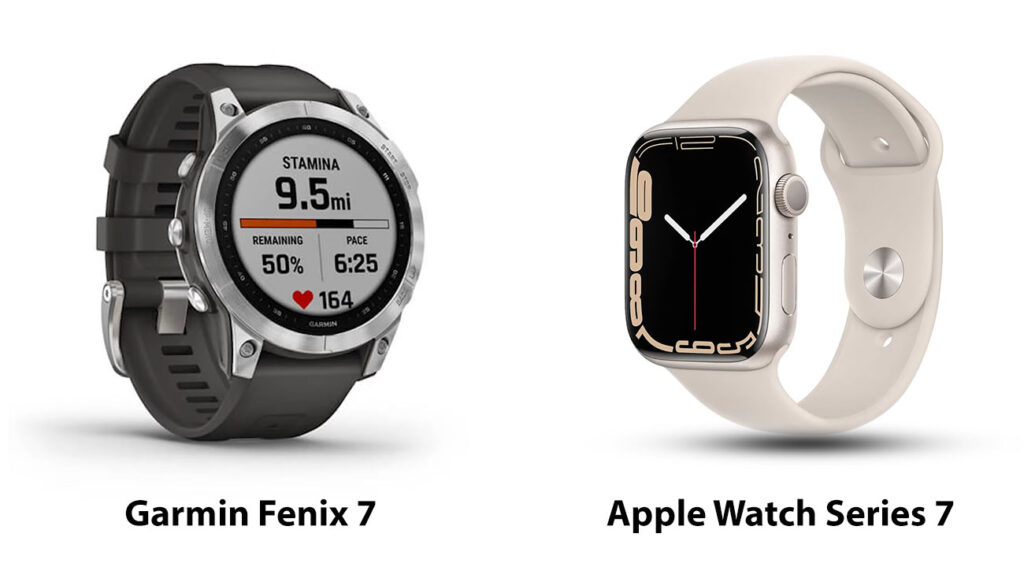 Battery
The Garmin Fenix 7 offers up to 11 days in smartwatch mode and with the solar edition, it can be extended to up to 14 days. While using GPS, the watch will offer up to 37 hours, and with the solar edition, it can be extended to up to 46 hours. On the other hand, the Apple Watch Series 7 offers up to 18 hours, considering things like checking the time, receiving notifications, using apps, and doing a 60-minutes workout. So, in terms of battery life, Fenix 7 will provide you with larger battery life than the Series 7.
Fitness and Health
Smartwatches are mostly used for tracking fitness and health conditions, which allow us to see how well our body is performing. The Garmin Fenix 7 and Apple Watch Series 7 offer almost similar features, including Abnormal Heart Rate alerts, Pulse OX blood Oxygen saturation, Sports mode, and many more. The Series 7 has an ECG analysis app, to measure your body composition anytime and anywhere. Though Fenix 7 doesn't offer an ECG app, it comes with its own features like Hydration and Health Snapshot, which will record key stats including Heart rate and daily fluid intake as a reminder to stay hydrated. The Garmin Fenix 7 also comes with a real-time stamina tool to help you compare potential stamina.
Smartwatch Features
There are lots of smartwatch features that are always important to compare when looking at different watches. These include GPS, communication, timers, and general features that enhance the everyday user experience.
If you are looking for full smartwatch features then Garmin Fenix 7 might be for you over Apple Watch Series 7. Both Garmin Fenix 7 and Apple Watch Series 7 come with tracking systems like GPS, Galileo, and GLONASS but the Fenix 7 offers highly accurate tracking. The Fenix 7 also offers contactless payment with Garmin pay and you can also stream music from Spotify, Deezer, or Amazon Music without needing a smartphone. You can also connect your wireless headphone with Fenix 7 for phone-free listening. Besides, you will have preloaded maps with Fenix 7 Sapphire edition, so you can access maps without an internet connection.
On the other hand, if you want accurate health information then Apple Watch Series 7 might be a good choice. The watch also comes with Emergency SOS and International emergency calling, which will help you to get emergency medical service in no time. The Series 7 also comes with a built-in microphone, speaker for receiving and making calls. You can also make contactless payments with the Apple Pay service.
Price
There are three types of price tags for three different editions of Garmin Fenix 7. You can buy the Fenix 7 Standard edition at 699.99 US dollars, the Solar edition at 799.99 US Dollars, and the Sapphire Solar edition at 899.99 US Dollars. Whereas, you can buy Apple Watch Series 7 for 449 US Dollars with GPS. So we can see that Series 7 is offering less price than Fenix 7 with almost the same features.
Final Say
The Garmin Fenix 7 and Apple Watch Series 7, both offer a range of high-tech features and premium services. Regardless, there are some key differences between both watches. For sports, fitness tracking, and accurate GPS tracking, Fenix works perfectly. However, if you are a solid Apple user, then the Watch Series 7 is better for its display, Navigation, and Health sensors like ECG. So, what do you think? Which one seems better for you? We would love to hear from you.