Switching to a wireless mechanical gaming keyboard is a good idea whether you want to keep your desk neat or enjoy gaming from the couch. Not to forget, it also comes with the benefits of clicky or linear switches. 
There was a time when wireless mechanical gaming keyboards didn't have long-lasting batteries and caused high latencies, but with time, wireless mechanical gaming keyboards evolved a lot. Nowadays, not only have they become quick as any other keyboard, but you'll be getting all the macro controls and high-speed switches you would normally expect from a high-end set of keys. 
However, when selecting a wireless keyboard, determining the switch type, connection type, size, and other functions is just as crucial as picking a wired one. Moreover, a keyboard with illuminated keys is what you need if you work or play late into the night without being able to turn on overhead lights. While a single light hue may do the trick, RGB backlighting offers more variety.
So, the EKSA Glimmer Wireless RGB Mechanical Gaming Keyboard is looking pretty good. These keyboards are known for their speed, reliability, connectivity, build quality, and much more.
EKSA Glimmer Wireless RGB Mechanical Gaming Keyboard
The first thing you'll notice after you take it out of the box is the cool design with orange accents on a few keys and side switches.
Specification
Material: Aluminum
Connectivity Technology: Bluetooth 5.0/2.4G/Wired
Compatible Devices: Laptop, PC, Gaming Console, Tablet, Smartphone
Backlighting color support: RGB
Runtime: up to 36 days
Battery: 3000 MAh 
USB Storage: Yes
Ergonomic Design
Here's EKSA's new low-profile mechanical keyboard, which has a compact 65% layout and is designed for gamers in general. If you frequently travel and would like more typing freedom than having a hot box on your lap, you can pack this little keyboard up. You can carry it wherever you go, as it would fit into almost any laptop bag without any hassle.
The ergonomic height and thickness of the small keyboard aid in the comfort of your wrist. Typing is more comfortable even without a palm rest because of the inclined bottom frame and two-level adjustable feet. Rubber feet provide good stability while playing complex video games.
Switches
It has 68 keys with ultra-thin keycaps. These linear red switches have a lifespan of around 50 million keystrokes, providing an unrivaled tactile response. The smoother movement also makes the switches quieter, making this keyboard ideal for office workers as well.
The switches or keys have been made with a no-conflict design, you can push the FN + Win key, and the Win key will be locked out from use.
RGB
The dynamic per-key RGB backlight is customizable and supports up to 18 backlight lighting effects, 4 side light modes, 5 brightness levels, and 3 levels of speed settings. It also comes with power-saving sleep mode, which means when there is no key operation within five minutes, the RGB keyboard will automatically sleep, and the backlight will be turned off to save power.
Triple-Mode Connection
This mechanical keyboard has multiple connectivity options, including 2.4G Wireless, Bluetooth 5.0, Type C wired mode, and a one-click switch between Win/Mac OS. With one click on the right side of the keyboard, where you'll find the connection-mode switch and the operating-system switch. So switching between Mac OS and Windows has never been this easy.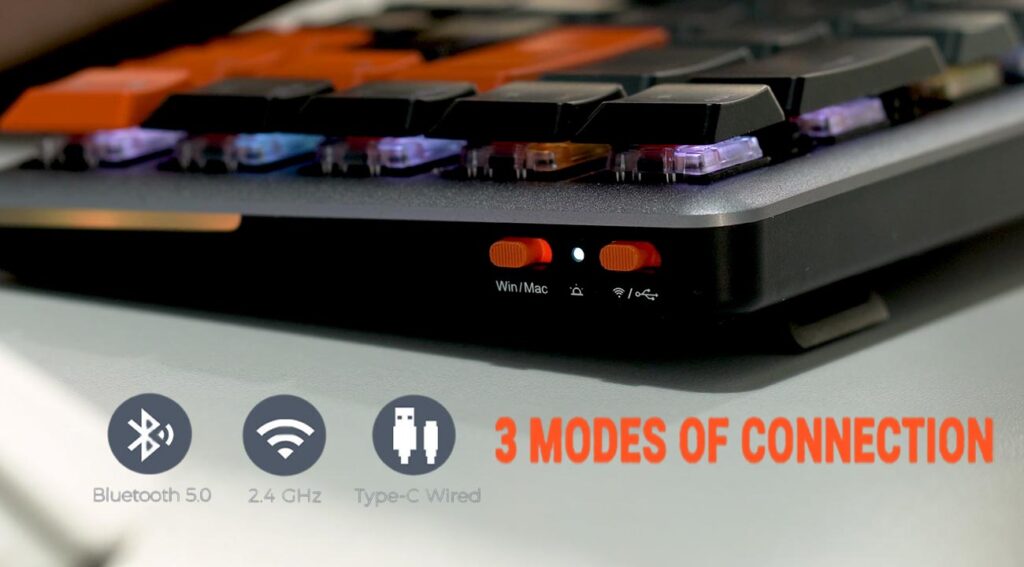 Battery
The battery life is one of the main reasons why many people feel skeptical about wireless mechanical keyboards. But you don't have to worry about this one. This mechanical keyboard comes with a built-in 3000 MAh rechargeable battery. With the attached Type-C cable, it takes 2 hours to charge up the keyboard fully. When you switch to light-free mode, the battery stays up to 36 days, and in Bluetooth connection mode, it's 18 days. Turning off the light mode during the day can greatly extend the usage time.
Volume Slider
Unlike other mechanical keyboards, the EKSA Glimmer Wireless RGB Mechanical Gaming Keyboard doesn't offer a traditional button or wheel for volume adjustment. There's also a volume slider on the left that you can use to effortlessly control the audio without pausing your game.
Wrapping Up
If you are looking for a very thin, light, reduced-layout mechanical keyboard that also s great for ergonomics and portability, then EKSA Glimmer Wireless RGB Mechanical Gaming Keyboard will serve you well. The switches are very stable, with smooth keystrokes and the lights are super customizable as well. All in all, the EKSA Glimmer is an awesome low-profile mechanical keyboard that offers great versatility, whether you're gaming or working.