DJI Mavic 3 has just been released, and it has introduced many impressive features for drone lovers. It comes with improved camera specs, allowing for high-end still and video capturing ability, better obstacle avoidance technology, and whatnot. It is a bundle of features that any drone lover would want in a package. But there are some aspects where the Mavic 3 falls short. And in this article, we will discuss all the significant features and downsides of the DJI Mavic 3. So with that being said, let's begin. 
Specification of DJI Mavic 3
The DJI Mavic 3 features a 20 megapixel four-thirds CMOS Sensor. And a sensor size this large is something that we haven't seen in DJI consumer-grade drones. A larger sensor also improves the quality of both stills and videos, as it lets more light enter the sensor. This, in turn, results in better low light performance and high dynamic range. Speaking of dynamic range, the DJI Mavic 3 offers 12.8 stops of dynamic range, providing more vivid color into your footage, particularly in highlights and shadows.
It also comes with a 24mm equivalent lens with an aperture of F-2.8 to F-11, offering a field of view of 84 degrees. This lens also lets you zoom digitally upto 4 times. 
On top of that, there is another camera for the explore mode. And this mode features a 12-megapixel half-inch sensor and a 162mm equivalent lens with a fixed aperture of F4.4. And this telephoto lens allows for up to 28 times digital zoom. However, we expected optical zoom in the Mavic 3 as the digital zoom will hurt the video quality.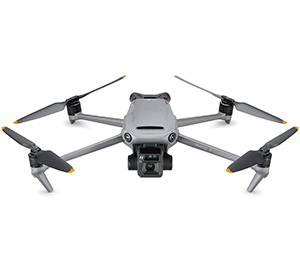 As for videos, this drone is capable of 5.1K videos at 50 frames per second. This high-res shooting ability gives incredible details to your footage. In addition, it offers more freedom in the post-production to crop in your footage without losing quality. Moreover, it can also shoot DCI or UHD 4K at a whopping 120 frames per second for about 4 times slow-motion footage. And for more slo-mo videos, you can also opt for Full HD videos at 200 frames per second.
You can also use both H.264 and H.265 recording modes. Using H.264, you can record at a speed of 200 megabits per second. And for H.265, the speed is 140 megabits per second. One of the most striking features of the Mavic 3 is the inclusion of the Apple ProRes 422 HQ codec. However, it is available in the Cine version only.
Apart from that, you can also take pictures in both RAW and JPEG format. This drone lets you shoot at 10-bit D-Log for intuitive color grading and post-production edits. And with the HDR video, you can introduce more vibrant colors to your footage. And even if you are not into post-editing, the Mavic 3 got you covered, as the Hasselblad Natural Color Solution gives you professional-grade colors right out of the camera.
Mavic 3 also offers a flight time of about 46 minutes, which is adequate compared to other competitive drones in the market. And for storage, the standard version of the Mavic 3 provides you with 8 GB of internal storage. And when you are using the cine version, you will get a massive 1TB of internal storage. 
The standard version of the Mavic 3 includes an RC-N1 Remote Controller, while the cine combo version includes a more advanced RC Pro Controller. The RC Pro controller offers a 5.5-inch display with 1000 nits of brightness so that you can shoot on a bright sunny day effortlessly. Moreover, the O-3 plus video transmission lets you transmit videos from as far as 15 kilometers. And with the Advanced Pilot Assistance System (APAS) 5.0, which includes 6 fish-eye and 2 wide-angle cameras, this drone can sense obstacles from almost all directions. And combined with the Active Track 5.0, it lets you track fast-moving subjects safely and accurately, even in complex environments.
So that was all about the new DJI Mavic 3. Undoubtedly, the Mavic 3 has introduced many new features, making it one of the most powerful drones in the market. However, it also comes at a hefty price tag. So what are your thoughts about the DJI Mavic 3?