AYA NEO brought so many amazing handhelds this year. And if you look at the AYA NEO NEXT, it definitely is an amazing-looking handheld with great internal specs. Moreover, it also comes with really beefy internal hardware compared to Steam Deck. 
AYA NEO Next vs Steam Deck Review
So, does AYA NEO Next have enough potential to beat Steam Deck? Let's find out by comparing them side by side.
| | | |
| --- | --- | --- |
| Specs | AYA NEO Next  | Steam Deck |
| Processor | AMD Ryzen 7 5825U | AMD APU |
| Display | 7.0 Inch LCD IPS | 7.0 Inch Optically bonded IPS LCD  |
| Resolution | 1280 x 800px | 1280 x 800px |
| Brightness | 500 nits | 400 nits |
| Battery | 3.85V 4100mAh * 3, Li-ion | 40Whr battery |
| Mic Jack | 3.5mm | 3.5mm |
| Connectivity | AMD Wi-Fi solution "RZ608", 6GHz and 3.6 Gbps. | Dual-band Wi-Fi radio, 2.4GHz and 5GHz, |
Design
Let's jump into the design of both these consoles right away. If you are familiar with AYA NEO consoles, then you might have noticed that each of their lineups got a unique shape and design. Similarly, the AYA NEO NEXT also came out with its own design, while maintaining the standard aesthetic at the same time. This console weighs around 720 grams, and it got a really nice ergonomic shape with curved corners on both sides for comfortable grips.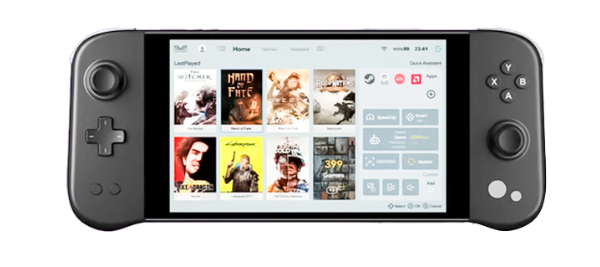 On top of that, this handheld uses the hall effect sensors for both joysticks and triggers, making it more durable and accurate for gaming. Also, thanks to its removable modular design, you will be able to replace the joystick with your own custom module. Besides that, it also has a 2-in-1 power button with a fingerprint sensor, and it works really well. 
Steam Deck, on the other hand, weighs 669 grams, which is noticeably less weight, and it is a lot bulkier than the AYA NEO NEXT. But, even though it comes in a bigger shape, it has really comfortable grips on the back. Additionally, you will also find four extra remap buttons at the back. Besides that, the natural placement of both analog sticks and D-Pad buttons is positioned perfectly for long gaming sessions. Another interesting feature that Steam Deck has, is the trackpads on both sides. Gamers who love playing RTS games can definitely take advantage of it. 
Specs
As we move on to the specs, we see that the AYA NEO NEXT comes with really great internal specifications compared to Steam Deck. It uses 8-core 16-thread Ryzen 7 5825U processor with a maximum boosted frequency of 4.5-gigahertz, and for GPU, it uses Radeon Vega 8 graphics chipset. Besides that, it also has 16GB of LPDDR4 RAM. So, you can say that it pretty much ensures decent performance for most modern games.
When it comes to internal storage, AYA NEO NEXT is available with up to 2 terabytes of SSD storage for you to store storage-demanding games and apps. And thanks to its 4100-milliampere battery, you can easily play games for up to 6 hours straight, depending on the game. 
In comparison, Steam Deck is equipped with a 4-core, 8-thread Zen 2 processor with a boosted frequency of up to 3.5-gigahertz. And it uses the RDNA 2 graphics chipset at 1.6-gigahertz maximum clock speed, which is also powerful enough to handle most modern PC games. Yes, it does have a lower processor compared to AYA NEO NEXT, but most importantly, it is equipped with 16GB LPDDR5 RAM. And thanks to this powerful RAM, the RDNA 2 chips on this handheld got the upper hand in terms of graphical performance against the AYA NEO NEXT. As for internal storage, by default, it comes in three separate versions – 64 GB, 256GB, and 512 GB. But you can always add an additional microSD card extending up to 1 terabyte at max. And the 5,313 milliampere battery, can deliver a maximum of 8 hours of gameplay. 
Display
It seems that both of them are using a 7-inch IPS panel display with the same resolution. But, while the Steam Deck has only 400 nits of brightness, the AYA NEO NEXT comes with 500 nits of brightness, which is 100 nits more compared to the Steam Deck. So if you are looking for crisp visuals, then AYA NEO NEXT seems a great choice in this case. But regardless of the brightness level, both handhelds are capable of delivering decent image quality.
Can AYA NEO Next Beat Steam Deck?
To Conclude – Steam Deck does have some additional features, which the AYA NEO NEXT lacks. But, what makes the AYA NEO NEXT exception in terms of the design, is the removable modular design, hall sensors, and fingerprint sensor. Even though the AYA NEO NEXT has the most advantage in terms of internal hardware, thanks to the RDNA 2 chip, the graphical performance on the Steam Deck got a major boost against the AYA NEO NEXT. 
Lastly, the price gaps between these two handheld consoles are huge. The AYA NEO NEXT costs almost double the maxed-out version of Steam Deck. But with that amount of money, you are also getting better internal hardware and a sleek-looking handheld console. On the bright side, Steam Deck comes in a very affordable price range, which is really hard to beat. In the end, it depends on what you want from the handheld. Would you prefer the AYA NEO NEXT over the Steam Deck?