Soundcore recently released their brand new entry to the portable speaker lineup titled Soundcore Motion X600 with a promise of taking high-fidelity audio with you anywhere you go! Given its track record, the Motion X600 should offer a nice balance between sound quality and value for money. However, portable speakers are not a rare tech to find these days, and with Bose Soundlink Revolve II being available as an option, choosing one between these two could get a bit complicated. So, Soundcore Motion X600 vs Bose SoundLink Revolve II: which one is better?
In short – "The Soundcore Motion X600 is better for those who prioritize high-fidelity audio, ruggedness, and EQ functionality at a slightly lower price. The Bose Soundlink Revolve II is better for those who want excellent sound quality, water resistance, and compatibility with other Bose speakers."
| | | |
| --- | --- | --- |
| Specification | Soundcore Motion X600 | Bose SoundLink Revolve II |
| Sound Output | 50-watt amp, 5 drivers (2 woofers, 2 tweeters) | Downward-firing driver, 2 passive bass radiators |
| Direction | Spatial sound directed upwards | Omnidirectional 360-degree sound |
| Battery Life | Up to 12 hours | Up to 13 hours |
| Waterproof Rating | IPX7 (Waterproof) | IP55 (Water and dust-resistant) |
| Port | USB-C | Micro-USB |
Soundcore Motion X600 vs Bose SoundLink Revolve II
So, in this article, we're going to pit these portable speakers against each other in order to find out which one yields better results and value for money. So, without further ado, let's begin!
Features and Powerful Audio
The Soundcore Motion X600 boasts a design that exudes a delightful sense of wholesomeness, reminiscent of vintage radios without feeling cheesy. Crafted from sturdy aluminum, the speaker's rugged build ensures durability and makes it suitable for use around the house or as a reliable companion for outdoor activities like picnics. While it lacks a carrying case, the sturdy handle adds to its portability.
In terms of features, the Motion X600 offers a dedicated Soundcore app for easy EQ customization, allowing users to tweak voice, treble boost, balance, and the signature "Soundcore Signature" (bass boost). Despite seeming modest, this speaker packs a punch with its 50-watt amp, five drivers (including two woofers and two tweeters), and the SKY DRIVER speaker system that projects audio upwards, resulting in an optimal, sonorous, and enjoyable spatial sound. It impressively rivals home systems, especially when facing it directly.
The Bose SoundLink Revolve II maintains its appealing compact cylindrical shape with rubber ends, offering shock and impact absorption. The smooth aluminum middle houses a convenient circle of buttons for power, source, volume, and Bluetooth control. It even features a hidden NFC chip, making pairing effortless and quick.
While not much has changed internally from its predecessor, the Revolve II delivers impressive audio quality with its downward-firing driver, two passive bass radiators, and an omnidirectional acoustic deflector, providing an above-average 360-degree sound experience. Bose, known for its commitment to sound quality, ensures the Revolve II remains a top pick for a wide range of music genres. The "Party Mode" feature allows for seamless pairing with other SoundLink speakers, amplifying the fun. Moreover, it is compatible with Siri and Google Assistant, provided you have a compatible device.
Battery Life and Protection
The Soundcore Motion X600 houses a robust 6400 mAh battery, offering up to 12 hours of playtime at 50% volume. With its reliable IPX7 rating, the speaker is almost immune to liquid hazards, making it perfect for outdoor adventures.
On the other hand, Bose SoundLink Revolve II boasts an improved battery life of around 13 hours. However, the presence of a Micro-USB charging port could be a drawback for some users. Nevertheless, the speaker compensates with its solid IP55 rating, ensuring resistance to splashes, water jets, and full dust protection.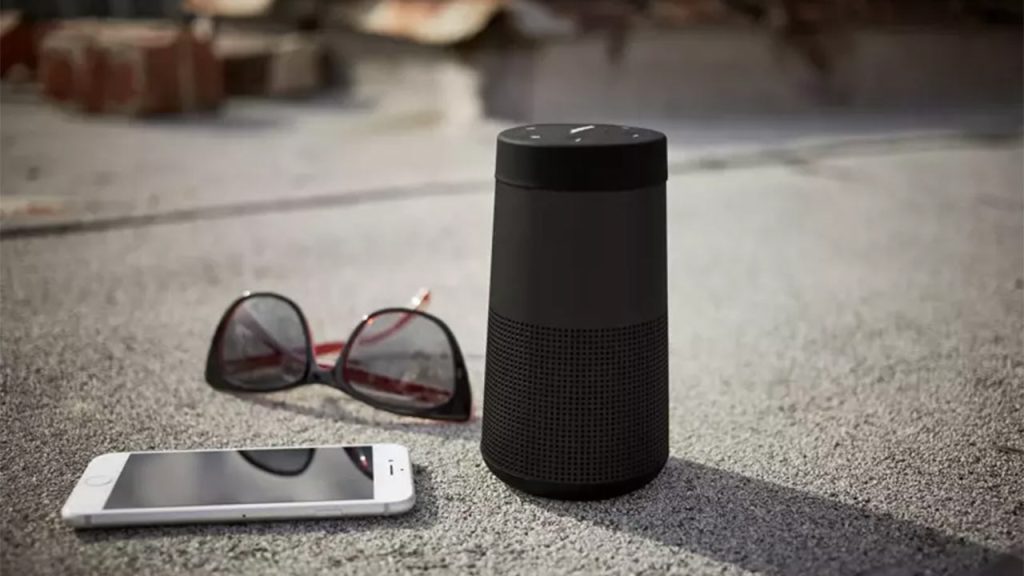 Final Verdict
The Soundcore Motion X600 impresses with its high-tier specs, retro-themed design, and EQ functionality, offering a worthy investment that will last a long time, all at a reasonable price point. In contrast, the Bose SoundLink Revolve II might seem similar to its predecessor, but its excellent build quality, commendable IP55 rating, and immersive sound experience make it a compelling choice, though priced slightly higher.
Choosing between the two depends on individual preferences. If sleek looks, EQ customization, and a slightly lower price are top priorities, the Motion X600 is a solid choice. However, those seeking robust audio, water resistance, and seamless compatibility with other Bose speakers should opt for the Revolve II, despite its Micro-USB charging aspect. So that was our comparison between the Soundcore Motion X600 Vs. Bose Soundlike Revolve II. Which one of these speakers would you be picking for yourself, and why?