In the world of professional filmmaking, choosing the right camera can make all the difference. Today, we're going to take a look at two popular options- the Sony FX30 and the Canon EOS R5C. While both cameras have their own strengths and flaws. But Sony FX30 vs Canon EOS R5C: which one should you go for?
In short – "The Canon EOS R5C excels in advanced cinema features and high-resolution capabilities but comes at a higher price, while the Sony FX30 offers affordability and portability without compromising on essential features."
| | | |
| --- | --- | --- |
| Specification | Sony FX30  | Canon EOS R5C |
| Sensor | Super 35 (APS-C) | Full-frame (35mm) |
| Resolution | 4K 4:2:2 10-bit | 8K 12-bit Cinema Raw-Light |
| Image Stabilization | 5-axis internal | Digital (1.1x crop) |
| Autofocus | 495 points with Real-time Eye/Face/Bird | Dual Pixel CMOS AF |
| Color Science | S-Cinetone | Canon Log, False color, LUTs |
| Connectivity | Dual CF Express Card Slots | HDMI, Dual Pixel CMOS AF |
Sony FX30 vs Canon EOS R5C
Let's dive deeper into Sony FX30 and Canon EOS R5C features and capabilities to help determine which one may be the better fit for your filmmaking needs. 
Design
The Sony FX30 and the Sony FX3 have very similar physical designs. This means that any accessories or cages made for the FX3 can also be used with the FX30. This makes it easy to attach the camera to various tripods and gimbals, even though it is small in size. The camera body has customized buttons and mounting points, which are ideal for attaching accessories. The LCD screen can be fully rotated, and the camera has a built-in fan to ensure that video recording is uninterrupted. Some other features of the FX30 include five-axis image stabilization, a zoom rocker, and dual base ISO.
On the other hand, The Canon EOS R5C has a body that is very similar to the Canon EOS R5, but it is slightly thicker and heavier because it has an extra fan at the back to improve cooling. Despite this, the difference in weight between the two cameras is not very noticeable. The R5C has buttons with two sets of labels, one for photo functions and the other for video functions. It also has a timecode in/out terminal that is dedicated and allows the LCD to move freely, even when connected to an external display via HDMI cable.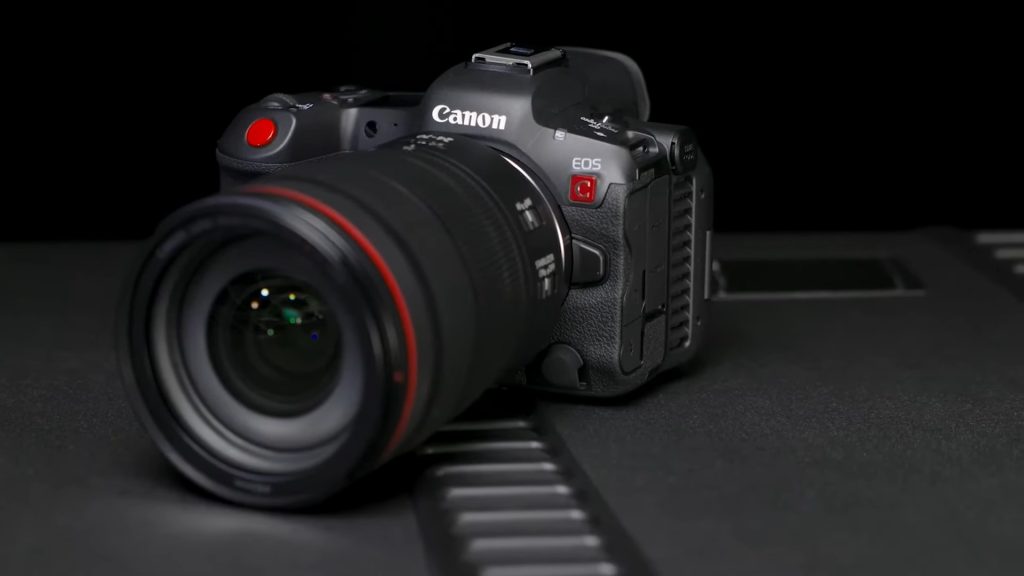 Performance
Now, let's talk about Sony FX30's performance. Sony FX30 comes equipped with a Super 35 sensor that can produce high-quality 4K 4:2:2 10bit footage by downscaling from 6K. It has a unique 26.1 APS-C sensor that can't be found in any other Sony camera. It's important to note that while the camera can shoot in 6K, it can't capture 6K video without a substantial 1.56x crop, so this is something to consider before choosing the FX30. However, the 6K sensor provides flexibility to crop footage and use Sony's "Breathing compensation" feature with newer lenses from the same brand. The camera can also internally record 4:2:2 10-bit footage and supports various shooting profiles that don't use line skipping or pixel binning.
Whereas, The EOS R5C is capable of recording in 8K at 60fps and also offers slow-motion recording in 8K, which is available in Canon's 12-bit Cinema Raw-Light format. You can choose from the recording format menu, between MP4 available in 8-bit H.264, or 10-bit HEVC up to 4:2:2. Additionally, the R5C oversamples all 4K up to 60p, resulting in exceptional video quality. However, it's important to note that the R5C does not have IBIS because it can cause sensor heat buildup. Instead, it offers a digital stabilization option that crops to 1.1x and stabilizes the image with IS lenses.
Feature
Upon looking closer at the Sony FX30, it's clear that Sony has made significant advancements in the color science field. The camera features S-Cinetone, the same color technology used in Sony's high-end cinema cameras like Venice 2. Additionally, the FX30 offers Cine EL, Cine FL, and quick log mode, providing users with more post-production flexibility. Sony is well-known for its autofocus system, and the FX30 has a powerful autofocus system covering 90% of the frame with over 495 points. This system can track human eyes, animals, and birds in real time. Furthermore, the camera features a 5-axis image stabilization system that delivers smooth footage. Finally, the dual CF Express Card Slots make it easy to transfer footage and files. The only major drawback of the FX30 is the lack of an EVF, particularly in outdoor or fast-paced filming situations.
And, if we see the Canon EOS R5C, it offers a variety of video shooting configurations, including Raw HQ, Raw ST, Raw LT, HDMI Raw, and XF-AVC YCC 4:2:2 10-bit, in addition to its 12-bit Raw HDR format. It is a professional-grade Cinema EOS device that can also capture high-resolution still images at 45 megapixels. The latest firmware update, version 1.0.3.1, has improved the camera's image quality and overall functionality for filmmakers and creators. The EOS R5C is a hybrid or dual camera with unique features, as its menu changes depending on which side the on/off switch is moved to. It shares many cine features with the Canon C70, such as false color, LUTs, waveform monitor, and more, which makes it perfect for professional cinematography.
Final Thoughts
The FX30 is a smaller and lighter camera that is more suitable for mobile filming, and it comes with a 5-axis internal image stabilization feature that the R5C doesn't have. Canon R5C is designed to connect Canon's mirrorless system cameras and the cinematic line, providing a high-resolution full-frame camera, even though it lacks built-in image stabilization. Recently it also got Netflix approval, which FX30 still lacks. And R5C also features a higher megapixel camera than the FX30, which has its own advantages like printing larger or more freedom in the crop. So, if you're a beginner in filmmaking, go for the Sony FX30, but for more professional work you better check out the Canon EOS R5C.