Let's paint a scenario where you're a professional photographer, who is suddenly faced with the urgency of retouching a photograph in a limited time. In such a circumstance, where time is of the essence, you'll be in search of an effective solution. 
Well, we might have the solution you are looking for! During our search for photo retouching software, we came across a program called Retouch 4 Me. From fine-tuning images to clean backgrounds, this AI-based standalone software brings the precision and artistry of a professional editor right to your fingertips. Reliving you from being burdened by unnecessary tools that come with a larger software suite
To get started, we need to sign up on this website and purchase the plugins we need. And the best part? Rather than spending a bunch of money on a suite of software, with this, you can go through each of these features and only choose to purchase the ones you might need in your workflow. And, once you're done editing, you can to load it into our Photoshop and saved it as a JPEG or Tiff file. Now let's check ou what features does this editing software offers:
Dodge and Burn Plugin
The Dodge and Burn plugin is your ticket to mastering the art of light and shadow manipulation. By a simple click, this tool transforms your images by removing nasolabial folds, under-eye circles, and other skin irregularities. What sets it apart is its remarkable ability to retain skin texture while enhancing the overall appearance. Unlike other solutions that blur the skin, the Dodge and Burn plugin enhances shadows and highlights while keeping the image's integrity intact. The intensity adjustment feature empowers you to tailor the effect to your artistic vision, resulting in a balanced yet natural-looking outcome.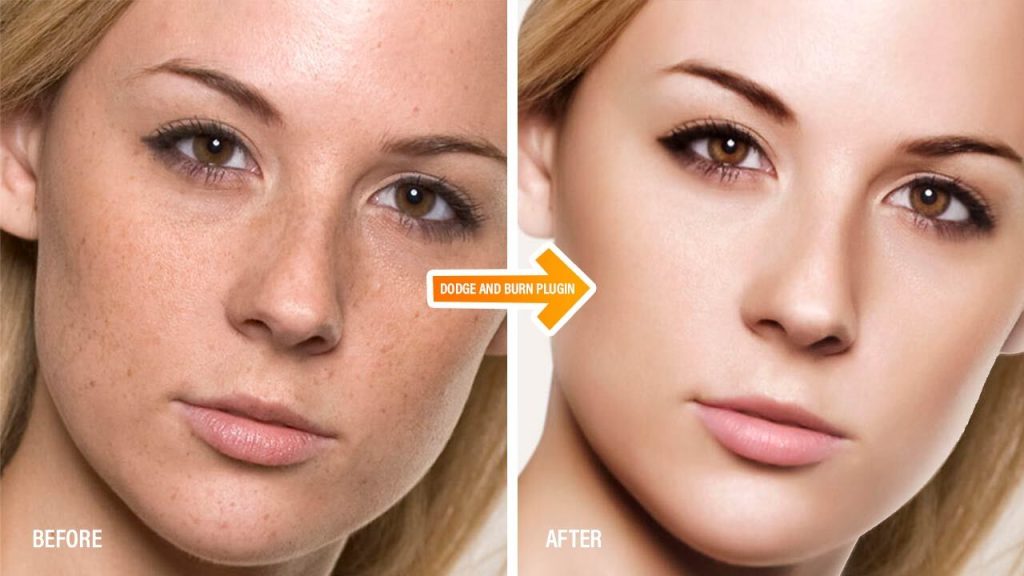 Skin Healing Plugin
The Skin Healing plugin within Retouch 4 Me is a game-changer in the realm of photo retouching. With a single click, this AI-powered tool effortlessly addresses minor skin imperfections, such as acne, blemishes, and enlarged pores. Say goodbye to tedious manual retouching – the plugin's automatic detection and correction capabilities ensure a smoother, more radiant complexion in seconds. But what truly sets this feature apart is its sensitivity adjustment, allowing you to fine-tune the retouching process for a natural look that retains the skin's authentic texture.
Skin Tone and Skin Mask Creation
Maintaining consistent skin tones across images is paramount for a cohesive portfolio. The Skin Tone and Skin Mask Creation plugin simplifies this task by automatically generating skin tone adjustments and masks based on your preferences. With a single click, you can achieve uniformity in skin tones across different images, streamlining batch editing and ensuring your work exudes professionalism.
Eye Enhancement Plugin
Eyes hold immense power in a photograph. The Eye Enhancement plugin magnifies this power by automatically enhancing and highlighting the eyes. Eliminate redness and blood vessels, and ensure that the eyes become the focal point of your composition. The feature is a must-have for portrait photographers aiming to capture depth, emotion, and connection through the subject's gaze.
Teeth Whitening Plugin
A captivating smile deserves nothing less than perfect teeth. The Teeth Whitening plugin takes this task in its stride. Using advanced AI, it automatically detects and brightens teeth in your photos. Say goodbye to the tedious task of individually retouching teeth – this plugin streamlines the process, delivering professional results within moments. Whether it's a portrait, headshot, or group photo, this feature ensures that smiles shine brilliantly and confidently.
Clean Backdrop Plugin
A clean and distraction-free background can significantly elevate your portraits. The Clean Backdrop plugin revolutionizes this aspect of retouching by eliminating dirt, folds, and other background imperfections. With a single click, your subject takes center stage against an immaculate backdrop. Photographers dealing with busy environments will appreciate the accuracy and convenience this tool provides. Elevate your images by ensuring your subjects stand out in a polished and professional manner.
Unlock the Power of Efficient Retouching
Retouch 4 Me stands as a comprehensive suite of AI-powered tools, each tailored to specific aspects of photo retouching. From perfecting skin to sculpting light, enhancing eyes, and refining backgrounds, these plugins empower photographers to achieve high-quality results quickly and efficiently. The ability to choose and apply individual plugins based on specific needs makes Retouch 4 Me an invaluable solution for professionals facing demanding timelines. Elevate your photo retouching workflow and save hours of post-production work with these powerful AI tools. You can also get a 20% discount from this link: https://retouch4.me/productstore.php?lng=en&promocode=Beproductive20&utm_source=Beproductive20