Looking for the best gaming laptop on the market? The latest Razer Blade 15 and Alienware x15 R2 are both pretty tough competitors when it comes to gaming laptops. Check out our today's comparison between these two and find out which gaming laptop suits you the most.
| | | |
| --- | --- | --- |
| Specification | Razer Blade 15  | Alienware x15 R2 |
| Processor | 12th Gen Intel® Core™ i9 Processor (14-core) | 12th Gen Intel® Core™ i9-12900H |
| Graphics Card | Up to GeForce RTX™ 3080 Ti Laptop GPU | NVIDIA® GeForce RTX™ 3080 Ti, 16 GB GDDR6 |
| Display | FHD 360Hz, QHD 240Hz (G-SYNC or OLED) or 4K 144Hz | 15.6″, QHD 2560×1440, 240Hz, Non-Touch, 2ms, Advanced Optimus, ComfortView Plus, NVIDIA G-SYNC |
| Memory | 16GB or 32GB RAM | 32 GB, LPDDR5, 5200 MHz, integrated, dual-channel |
| Camera | Windows Hello IR Full HD webcam 1080P (F/2 Lens) | Alienware HD (1280×720 resolution) camera with dual-array microphones and Windows Hello IR support |
| Keyboard | Per-Key RGB powered by Razer Chroma™ anti-ghosting backlit keyboard. | Alienware X Series thin keyboard with per-key AlienFX lighting ( |
Razer Blade 15 vs Alienware x15 R2
In the past two years, Razer has released a few more models for their iconic gaming laptop, Blade-15, which eventually made this laptop one of the most powerful gaming laptops on the market. 
On the other hand, Alienware came out with the latest x15 version of their gaming laptop called the "x15 R2", challenging the Razer blade straight ahead with incredible gaming performance and internal specs.
In this article, we will be comparing both these premium gaming laptops head to head and find out which one performs the best.
Design 
Design-wise, Razer Blade 15 has a very clean and thin chassis with a premium black matt finish. The glass trackpad is super responsive, and it feels very nice to hover around with a fingertip. Also, the keyboard is slightly larger than the old version, and it delivers a very satisfying typing experience, including fully customizable Chroma RGB lighting. 
Alienware, on the other side, has a very unique gaming design with sturdy white slim chassis. Underneath the hinge of the display, it has a really impressive LED light design, which is more than enough to differentiate the x15 R2 design from the Blade 15. The highly responsive keyboard is also powered by RGB LED lighting and it gives users a superior typing experience. Although the trackpad is a bit smaller than the Blade-15, it is still comfortable enough to control the whole interface with your fingertip.
Both these laptops are extremely good gaming laptops. But design-wise, Alienware x15 R2 definitely looks better than the Razer blade 15 with its stylish silky gaming looks. 
Ports 
As we move on to the connectivity, the Blade-15 comes with an SD Card Slot, a Thunderbolt-4 connection with a single USB-A Port along with one HDMI, and a Kensington Lock at the right panel. On the left panel, it has the power jack itself, along with one Type-C port and a 3.5 mm audio combo jack. For additional connectivity, Blade-15 also comes with a Gigabit Ethernet connection as well.
Similarly, Alienware x15 R2 has huge connectivity options as well, but, most of them are placed in the middle of the front cooling system. Here you will find, One USB Type-A port with one Thunderbolt-4 along with one Type- C port, a micro SD card slot, and an HDMI output. Moving on to the right panel, it has a global headset jack, and on the left panel, it has power input itself.
So, it is safe to say that, none of these devices are left behind when it comes to external connectivity options.
Display 
Now that we've learned about the design and connectivities, let's take a closer look at the display of both these laptops. 
The newer version of Blade 15 comes with 1080P resolution and a 360-hertz refresh rate. With an ultra-high refresh rate and 2-millisecond response time, an immersive gaming experience is now possible at any time, any place. Additionally, the 4k OLED Version of Blade- 15 is also available with a 240-hertz refresh rate.
In comparison, Alienware x15 R2 comes with a 1440p resolution and 240-hertz refresh rate. It also has a very low 2-millisecond response time, just like the Blade-15. Although the x15 R2 doesn't have any OLED screens, this display is much brighter than the Blade-15 with 434 NITS brightness. So gaming on this screen will surely be a breathtaking experience. 
So, Razer Blade-15 and Alienware x15 R2, both have stunning visuals when it comes to displaying. But, for an OLED display, Razer Blade 15 is still one step ahead. And, if you want more brightness with more resolutions on your laptop, then Alienware x15 R2 should your first choice.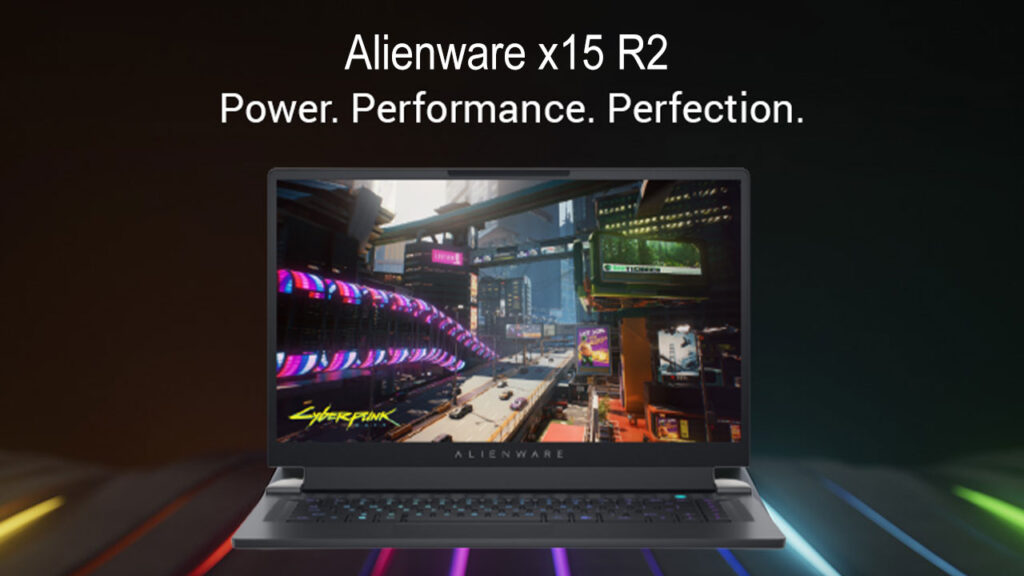 Internal specs 
Both Displays are incredible for stunning visuals, ultra-high refresh rates, and super low response time with crisp colors. But now it's time to find out about the internal specs comparing both these gaming laptops and decide which one is the strongest.
Let's start with the Blade-15 first. It has a 12th Gen Core- i9 processor with RTX 3080 TI along with 32GB DDR5 RAM and 1TB of SSD storage. Now, if we look at the Alienware x15 R2, this laptop is in no way left behind by the Blade-15. It also has the same specs as the newer version of Blade-15. A 12th Gen Intel Core- i9 processor with RTX 3080 TI graphics chip along with 32GB DDR5 RAM and 1TB of SSD storage. 
So performance-wise, both these gaming laptops are absolutely monstrous gaming machines with top-notch internal hardware and specs. None of these laptops will disappoint you if your main focus is gaming. 
Our Takeaway
"Both Razer Blade-15 and Alienware x15 R2 are amazing top-tier gaming laptops for sure. You can't really differentiate these laptops just by looking at the internal specs. But, there are a few differences between these laptops which are significantly noticeable. For example, the display itself. Blade-15 offers an OLED display which x15 R2 does not have. On the other hand, the x15 R2 display looks much better in bright places. Similarly, both these laptops cooling systems are different. For Optimal Thermal performance, Blade- 15 uses a Vapor Chamber cooling system to keep the system cool. And, the x15 R2 has Quad Fan Technology which provides maximum cooling for all the internal hotspots."