It seems like Steam Deck finally has found its competitor. Pimax Portal, the upcoming handheld, comes with an all-in-one gaming system, which many people are saying is a perfect deal for the value of your money. Pimax Portal, the upcoming affordable handheld, is almost here. And many handheld enthusiasts say it would make a great rivalry against Steam Deck. How well do you think it will perform against Steam Deck?
The short answer is – "The Pimax Portal's 4K QLED display is a significant advantage, particularly for those who prioritize visual quality. However, the device may not be suitable for running modern games due to its limited hardware capabilities. On the other hand, the Steam Deck is more expensive but offers powerful hardware for gaming, making it a better choice for gamers."
Pimax Portal vs Steam Deck
In this article, we will explore and analyze the differences and similarities between two devices, namely the Pimax Portal and Steam Deck, to help readers make informed decisions about which one would be a better fit for their needs.
Design and Aesthetics
Judging by the look of Pimax Portal's design, it does seem like it is heavily inspired by Nintendo Switch rather than Steam Deck. Because both sides of the handheld include detachable controllers. On the left side, you will find a D-PAD, Left-Trigger, and three Android functional buttons. Similarly, the right controller includes a right trigger on the top, ABXY buttons, and three additional buttons as key mapping, select and start. Other than that, each side holds two additional buttons, which you can later customize with any command you wish. Also, both left and right thumbsticks are equipped with beautiful LED RGB glow, which looks absolutely fantastic.
Steam Deck, on the other hand, follows more of a traditional handheld style, but with its own unique design layout. Although it doesn't have detachable controller support, both thumbsticks are beautifully designed with built-in capacitive touch sensors. And, the positioning of triggers including ABXY buttons and D-PAD, just in the right place as they should be. On top of that, both sides also include additional trackpads and grip buttons, making it more convenient and game friendly. Lastly, Steam Deck also includes a few other functional keys such as the View button, Steam Key, Menu, and Quick Access button. 
So aesthetically, we have to admit that Pimax Portal looks way more attractive compared to Steam Deck. 
Specs
As we move on to the internal specification, we see that Pimiax Portal is run by Android OS, while the Steam Deck is mainly using Steam OS, but it also supports Windows and Linux OS as well. 
Pimax Portal is powered by a Qualcomm XR2 processor with a boosted frequency of 2.84 gigahertz, Qualcomm Adreno 650 GPU along with 8GB RAM and 256 GB of storage capacity. The display on the other hand is fantastic, 5.5 inch display features 4K resolution using QLED+mini LED technology and 144 hertz of refresh rate, ensuring crisp colors and clean visuals. But what's even more impressive, it is fully compatible with the Portal View VR headset, which is why it got so many cameras at the back of each corner.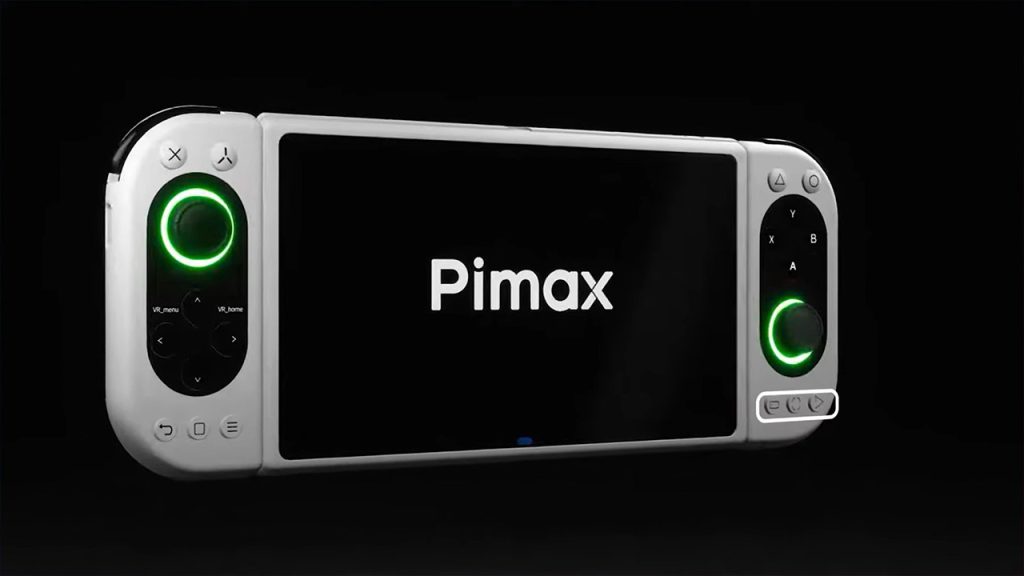 In comparison, Steam Deck comes with way powerful features and internal hardware support. AMD Zen 2 processor with 3.5 gigahertz boosted frequency, 8 Core RDNA 2 GPU with maximum 1.6 gigahertz of boosted frequency, along with 16GB RAM and up to 512 GB of storage capacity, which can run most of the modern AAA games. As for the display, it comes with a 7-inch LCD screen with 1280 by 800 resolution and 60 hertz of refresh rate, which seems less powerful than the Pimax Portal's QLED technology. 
So yes, Pimax Portal is not even close to Steam Deck's performance, since it is mainly designed to play retro and other modern 2D and 3D games. But, it does have dedicated VR headset support for an immersive gaming experience. 
Final Verdict
Pimax Portal vs Steam Deck: Which is better?
In conclusion, we are finally seeing a handheld, which comes in almost a similar price range as the Steam Deck. But, then again, Steam Deck is capable of running powerful modern games, while the Pimax Portal doesn't seem to have promising hardware to run these games. But, it does have 4K QLED display, which is also less expensive than Steam Deck.
Hence, if you want performance, Steam Deck gives you the most value for your money. On another side, if you want to enjoy some quality time playing video games with your family and experience VR at the same time, then Pimax Portal can be a great choice too.