Businesses and workgroups often need a reliable printer to get their jobs done efficiently. Not only it saves up much time but also helps to enhance productivity by a significant proportion. And HP Color LaserJet Pro M479fdw is not an exception. HP introduces this multi-functional laser printer that packs some strong features with solid print output that makes it ideal for most small to mid-range workplaces.
Inside the Box
Inside the box, you will get the printer itself along with a couple of cable accessories including a 6-foot power cord, a 5 foot USB 2.0 cable, a Phone Cord, and a couple of manuals.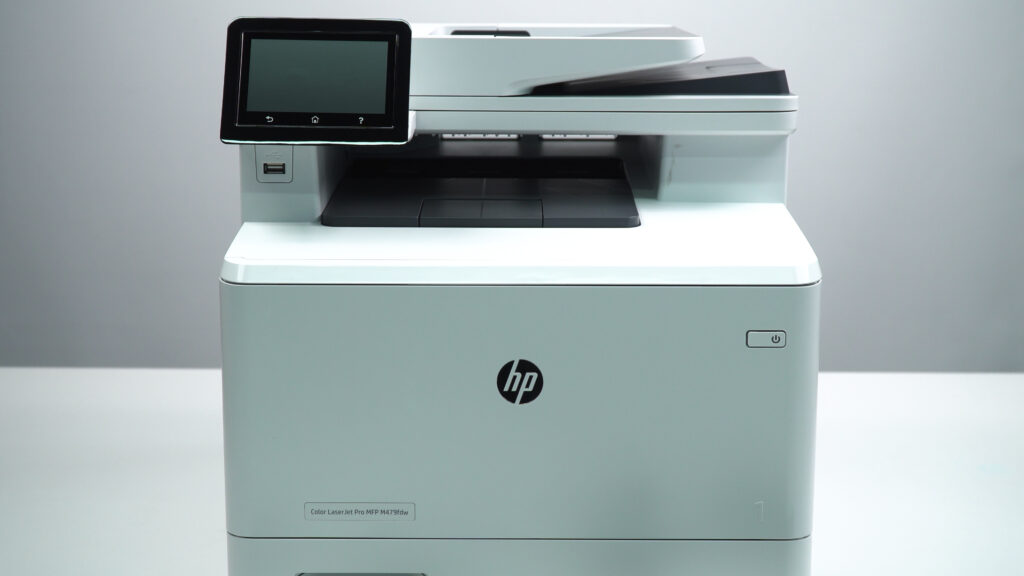 Physical Properties
The printer measures about 16.5 inches wide,18 inches deep with a height of about 15 inches. With that being said, you still have to ensure that enough space is available to accommodate the printer when the Top Lid, Paper Tray and Rear Access Panel is opened. The weight of the printer measures about 51 pounds after installation of everything that came with the package. The printer is indeed quite heavy and demands a lot of space to function properly.
Compartments
LaserJet Pro has plenty of doors and panels scattered throughout different regions. For starters, the location of the document feeder is at the top that can hold up to 50 pages. And then there is a document return tray just at the side of the printer. You can find the scanner photocopier right upon taking off the lid to get your printing tasks done.
Lastly, the interesting part about the lower paper tray is that it can hold a maximum of 250 sheets to keep you well-stocked. The Control Display is located at the front which is color and touch-enabled and can also be tilted backward for greater ease of use. A USB port is located just underneath the screen for seamless walk-up prints.
The Power button is located at the front side and just at the side of it is the front panel with a capacity to hold 50 sheets. To access the toner cartridge, you can bring down the entire front and install it in a blink by pulling out the tray. Cartridges are marked by their respective colors starting from black, cyan, red, and lastly yellow.
Cleaning and Maintenance
By opening up the access panel located at the back of the printer, anyone can clean and maintain the printer in a breeze.  You can even seamlessly clear paper jams along with other tweaks to keep it up and running the way it is supposed to.
Ports and Connectivity
A plethora of connectivity options can be found on the back end to accommodate you in your printing efforts. Such as a fax and telephone jack, a USB A, USB B, and the ethernet port for connecting the LaserJet Pro to your wired network as well as to your computer. To power the device up, you have to use the power port located at the bottom left corner and plug in your cable.
Setting Up the Printer
Once you are done plugging in the power cord, press the power button, head over to the touch panel, and go through the printer preference one by one. After that, head over to the HP website and from there, download and install the latest software update. Once done, connect the printer to your computer using the USB cable, load up the paper tray and you are good to go. You can also print without needing to connect it to your computer just by the convenience of a USB Drive.
Specifications
With everything aside, let's get down to some number crunches and see what this printer is actually capable of. This multi-functional printer is capable of printing, copying, scanning, and faxing documents that enables it to act as an all-in-one solution for your office work. With a printing speed of up to 28 pages per minute, you will be saving up much of your time and get to observe high-quality prints almost instantly.
Talking about quality, this printer can print at a resolution of 600 by 600 DPI with amazing color reproduction and accuracy for professional-grade color printing demands. Surprisingly, this printer also supports Duplex Printing on a single piece of paper that further cuts down your printing time and increases productivity.
Final Words
To sum things up, HP Color LaserJet Pro MFP M479fdw is indeed a remarkable AIO printer due to lots of perky features, high-quality prints, and a greater user experience that is designed for the modern workplace. Why even bother spending on different printing machines when you can cut the cost down and have all kinds of usability from a single printer? We highly recommend this printer for small to medium companies as they will find it a lot more effective and efficient.