Apple's MagSafe technology, a system of magnetic components, allows compatible iPhones to support wireless charging and accessory connectivity. It was initially introduced with the iPhone 12 series and is present on the iPhone 12, 13, and 14 smartphones. MagSafe uses a ring of magnets around the internal charging coil to securely hold accessories and provide efficient wireless charging.
Moreover, MagSafe charging can be twice as fast as traditional Qi wireless charging due to several reasons. Firstly, it supports 15W charging for iPhones, while the standard Qi charger only supports 7.5W charging. However, it should be noted that the charging speed for iPhone 12, 13, and 14 mini is 12W. 
Here, we have a 2-in-1 Foldable Magnetic Wireless Charger Stand from Hinyx, that's convenient, user-friendly, and offer fast charging speeds. 
Hinyx Magnetic Wireless Charger Stand Review
The Hinyx 2-in-1 Foldable Magnetic Wireless Charger Stand is a versatile and convenient charging solution that combines a wireless charging stand and a MagSafe charging station. It allows users to charge their iPhones and other compatible devices wirelessly, utilizing the power of magnetic induction to transfer energy. The wireless charger comes with Magnetic Wireless charger Stand, USB Type-C Cable, 20W Certified PD Wall Adapter and a user manual.
Specification
PD Adapter: 20W
Input Voltage: 9 Volts
Amperage: 2.22 Amps
Material: Zinc Alloy
Special Feature: Lightweight Design, Short Circuit Protection, MagSafe Compatible, Fast Charging, Charging Indicator
Design and Material
Unlike other charging stations, this magnetic charger stand is made of zinc alloy, which is more durable than aluminum alloy. They are less prone to scratching. The magnetic charger, equipped with 14 strong N52 magnets, offers a 1000g holding force for your phone, eliminating any slipping concerns. Simply snap on and the charging position will be accurately aligned, resulting in an instant charge and providing a fast, stable wireless charging experience. This charger has a multi-protect safety system as it's FCC certified, over-charge protection, quick heat dissipation, and circuit protection.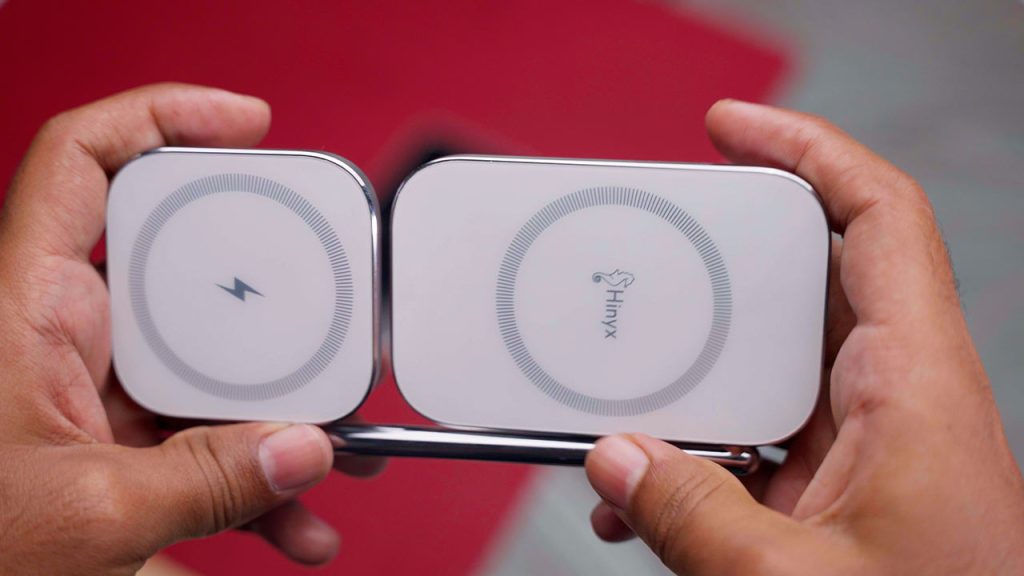 Portability
The Hinyx 2-in-1 Foldable Magnetic Wireless Charger Stand is designed to be portable and easy to carry. It has a foldable design that makes it compact and lightweight. This magnetic charger stand can fold flexibly 90 degrees into a flat charging pad, taking up very little room, and making it simple to slip in a suitcase whether traveling or on a business trip. It is smaller than a 4.7″ size telephone. Appropriate settings include the office, library, living room, bedroom, and other places.
Convenient
To experience wireless charging that works either vertically or horizontally, magnetically snap your iPhone 14/13/12 into position. The mag-safe charging station enables portrait chat scrolling, landscape video rotation, and up to 45° viewing angle adjustment with the movable ball to monitor communications. The sky blue indicator light illuminates for 3 seconds upon power-on and turns off after 10 seconds of charging, ensuring a disturbance-free sleep.
Compatibility 
Your iPhone, AirPods, and Android phones can all be charged at once with the mag-safe wireless charger.  Your AirPods 3, Pro 2, Galaxy Buds, and any other wirelessly charging devices, including the iPhone 11/11 Pro, Xs, X/8, Samsung S22/S21/S20/Note 20/Note 10, Google, LG, and others, could all be wirelessly charged using the bottom charging pad. 
When charging from the top, the magnetic charging station is ONLY compatible with MagSafe/Magnetic cases. Please maintain the case thickness under 6 mm if you charge your phone from the bottom to guarantee steady charging.
Wrapping Up
Overall, the Hinyx 2-in-1 Foldable Magnetic Wireless Charger Stand is an excellent choice for anyone looking for a reliable and convenient charging solution for their devices. With its built-in strong N52 magnets, the Hinyx 2-in-1 Foldable Magnetic Wireless Charger Stand provides a secure hold and fast wireless charging experience. The zinc alloy material offers greater durability than aluminum alloy, while the foldable design allows for easy storage and portability.