The next generation of computer memory specifically the DDR5 might be sooner than you might expect. Processors and Graphics cards have received huge architectural and performance upgrades and it is about time for the RAM to undergo some improvement as well. DDR5 is expected to deliver double the clock speed and memory bandwidth hence double the performance from the current generation of DDR4 RAM. The question is about compatibility.
Though you can also kick that concern out of your list as Intel has announced their Alder Lake-S series of CPUs which are flaunting DDR5 memory. Most likely Gen-4 processors of AMD will also have compatibility of DDR5 memory as well, competing head to head with Intel. Now that aside, let's jump into the DDR5 spec breakdown. Since DDR5 is just around the corner, we are going to break down the possible specs and performance capability of this new generation of computer memory.
As per the announcements of developers, we are likely to see impressive figures from the DDR5 memory. According to Wepc, the next generation of computer memory will get at least double the specs of what the current DDR4 is offering. Currently, DDR4 memory sticks are available at 16 GB per stick, and based on the assumption of double the spec, yup, you guessed it, DDR5 memory will at least accommodate 32GB on each stick. Just imaging the possibility of what these monstrous memories will be capable of doing in terms of performance speed and multi-tasking.
Now coming down to clock speed, by default, DDR4 memory will give you 2400 to 3200MHz of speed, and through effective overclocking, you might even crank that number to more than 5000MHz. But DDR5, as a default, starts from 4800MHz raw speed and will go as far as 6500MHz, allowing you to enjoy increased performance and boosted memory bandwidth. Just imagine how much the overclocking potential of these upcoming breeds of RAM will be.
And then we have the factor of power consumption. A standard DDR4 memory draws out about 1.2V of power and as SK Hynix claims, a standard DDR5 stick will consume about 1.1V and allow you to save up about 20% (20% Power Efficient) of power in the process. Pretty impressive, right? Double the performance with minimal power requirements— makes us wonder how far we have come in terms of consumer-grade memory improvements. The more intriguing fact is, you might not need to enter BIOS to enable the overclocking of a DDR5 ram, just as you do in the case of DDR4. Instead, your system will automatically (Auto-Config) switch to the highest clock setting after booting it, which is what Team Group expects.
As AMD and Intel are releasing more advanced CPUs with higher core counts, the RAM industry needs to keep up with these higher bandwidth demands for optimal performance. Wepc has also put together this nice little chart to give us a brief idea about the relation between memory bandwidth and core count over the decades.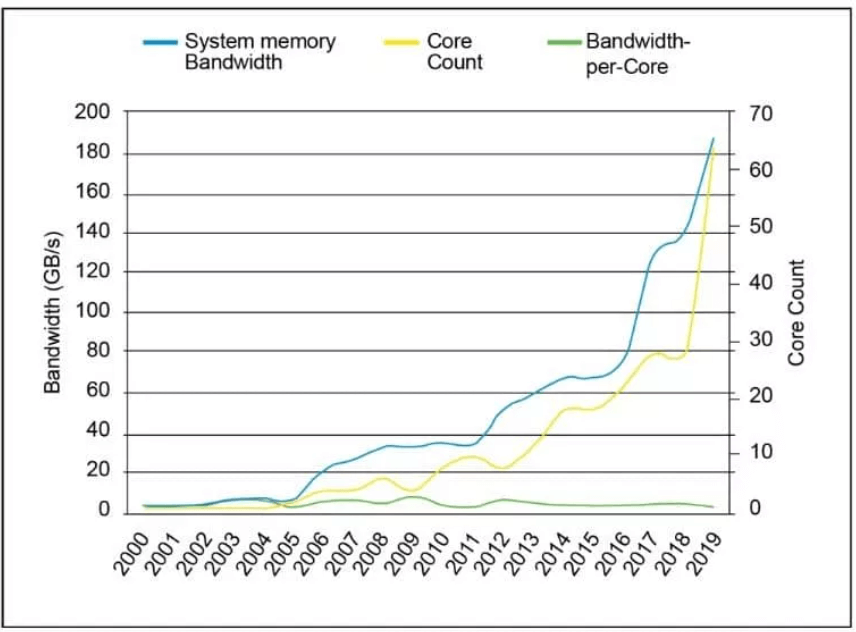 So, it is about time for the next generation of computer memory, the DDR5 to make its appearance on the market.
In March of 2017, JEDEC announced that they are working on DDR5 RAM and they would possibly be available within 2018. Three years later, it's 2021 and we still see no sign of the new memory beneath all the latest tech releases.
SK Hynix had also announced that they would release DDR5 by the end of 2019. Well? Another letdown? Absolutely not! According to The Verge, they have officially announced the world's first DDR5 memory module and expect them to sell in Q3 2021 as long as the latest systems are compatible with them.
Samsung is also planning to mass-produce DDR5 (DDR5 Mass Production) memory in 2021. They are planning to upgrade the current D1x process and replace it with D1a, which simply means paving the road towards DDR5.
Final Thoughts
Practically, these announcements won't matter that much to gamers or PC builders in general, as the immense speed or capacity of a RAM serves to a limited extent and doesn't do much good when the limit exceeds. And then, there are also the factors of availability, price, and compatibility that will impact the choice of getting DDR5 RAM for your system.
Eventually, systems are getting stronger. And, judging by the bandwidth requirements of most modern CPUs and similar types of components, DDR5 might make a difference to boost up the performance of your overall system.