Attention is the new currency, and platforms such as Facebook, Instagram, and Youtube know it REALLY well. While these platforms took a good amount of time to mature, TikTok, formerly known as Musically, became the most popular website overnight, even knocking down Google off of its throne. 
However, now, almost all digital platforms, including Facebook and Instagram, are following in TikTok's footsteps. But why? Why would already established brands want to become like TikTok? 
Why Facebook & Instagram is Trying to be TikTok Now?
In this article, we will go through some of the vital factors that might be the reason why popular platforms are adopting TikTok's content scheme.
Short Videos
At this point, almost all of us are familiar with how TikTok works. Users enjoy an endless stream of short videos that keeps coming as they swipe up. This alone was a huge hit as an individual's attention span shrunk rapidly over the decade.
According to a recent study, an average human has an attention span of about 8.25 seconds, And bite-sized videos on TikTok have a minimum length of only five seconds. Throw in AI algorithm in this, and we have one of the most addictive content consumption platforms ever created. 
The app became so popular that people downloaded it over 2.6 billion times on several platforms. Now, it has over 138 million active users in the U.S. alone! Platforms like Facebook and Youtube took note of this. They jumped onto the "Short Video Bandwagon" Instagram and came up with Reels. Facebook is undergoing several changes, such as shutting down their live shopping feature and focusing on reels.
Existential Threat
Another reason Facebook & Instagram want to become like TikTok is the existential threat they are facing. If we look at this data from Smart Insights, TikTok has been growing exponentially over the last couple of years where it had a growth rate of about 18.3% in 2021. Leaving Instagram in the middle with 3.7%, and Facebook at the bottom of the pit with a 0.8% growth rate.
Even Meta CEO Mark Zuckerberg acknowledged this issue as he stated that they are dealing with unprecedented competition from the Platform TikTok. Facebook predominantly makes money from advertising, which depends on how much reach and engagement they get. As TikTok is taking a huge portion of the audience away, this is a big threat for them. Meta doubled down on Instagram Reels and Facebook Play to generate more engagement.
Platform Users
As mentioned earlier, these are mature platforms with billions of active users. And the implementation of TikTok's addictive content scheme generated more engagement for both Facebook and Instagram.
According to Dev Shed, Insta Reels received more engagement than their regular video at a rate of about 67%. On top of that, Instagram Reels receives about 2 billion interactions each month, and the number is on the rise as per demandsage's reporting. 
On the other hand, Facebook is "working on" the TikTok concept as a leaked memo reveals they will bring massive changes to its algorithm, where users will be recommended content randomly. It is likely to work for Facebook as well as it did with Instagram. Thus, the growing engagement of these platforms is one of the reasons why Facebook and Instagram are making deliberate efforts to become like TikTok.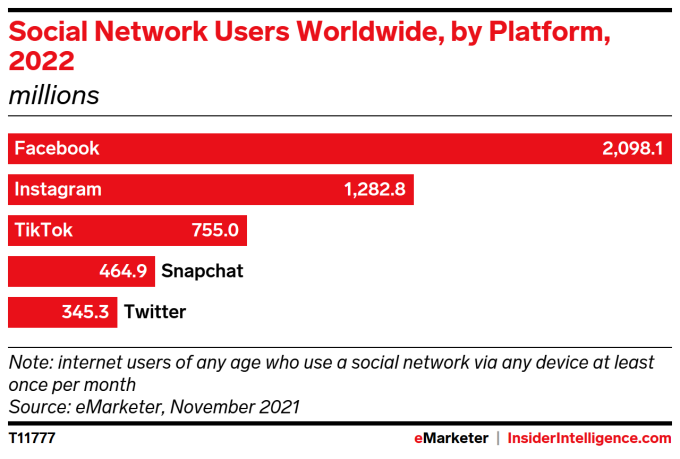 Backlash
However, Meta faces backlash for their attempt to become like Tiktok. Supermodels Kylie Jenner and Kim Kardashian, who have over 300 million followers on Insta, posted a story where they told Instagram to "stop trying to be TikTok". 
Countless Insta users are also upset as Instagram tries to copy TikTok. That is likely to carry toward Facebook as well. At the very core, Facebook is a social media platform, whereas Insta is popular for sharing photos. Copying TikTok will only make Insta and FaceBook lose their core fanbase. Thankfully, Meta finally realized that and rolled back several changes.
Final Words
Regardless, Zuckerberg argues that people are not interested in seeing posts from family and friends; if they did, they wouldn't have migrated to TikTok. Meta is also starting to lose profits as well as daily users, so it is more likely that they will do anything to hold their crown. And these might be the reasons why Facebook & Instagram want to become like Tik Tok.