Apple is a company that needs no introduction. It's a brand that has managed to establish itself as one of the most successful and influential companies in the world. However, despite its success, there is a common perception that Apple is always late to the game when it comes to innovation, adapting to changing trends, and productivity. However, this isn't necessarily a weakness, but rather a strategic decision. This approach has helped Apple establish itself as a leader in the tech industry, with a loyal fanbase and continued success in the market.
Here, we will explore why this perception exists, and how Apple manages to remain at the top of consumer loyalty despite these flaws.
Overview
Apple's perceived "lateness" in adopting certain technologies and innovations can be attributed to various factors. Apple is known for taking a more cautious approach, often waiting until the technology is more mature and has been thoroughly tested before incorporating it into its products. Despite being perceived as late to certain technologies, Apple's focus on design and user experience has helped the company create products that are consistently praised for their quality and reliability. While other companies may be first to market with certain features or technologies, Apple often takes the time to refine and perfect those features before incorporating them into their products.
So much so, that Apple Co-founder Steve Wozniak left the company saying there's less opportunity to innovate or improve. Wozniak always wanted to include as many ports and features as possible in Apple devices, but Steve Jobs had other plans. If this were done by any other companies, they'd be extinct by now. So, how did Apple manage to stay relevant over the decades? Let's start from the beginning.
Apple 1
Apple was not the first company to bring a personal computer to market. The first personal computer is generally considered to be the Altair, which was introduced by MITS (Micro Instrumentation and Telemetry Systems) in 1975. However, Apple was one of the early pioneers of the personal computer industry and played a significant role in popularizing the use of personal computers in homes and businesses. Apple's first personal computer was the Apple 1, which was released in 1976. It was designed by Apple co-founder Steve Wozniak and sold as a kit that users had to assemble themselves. It was the first PC that had a warranty.
The Apple 2, which was released the following year, was the company's first mass-produced personal computer and was a significant commercial success. Steve Jobs saw the opportunity to grab the fast-growing personal computer space. Being first wasn't behind the success here, it was the vision that kept Apple to enter the market and start ruling overnight.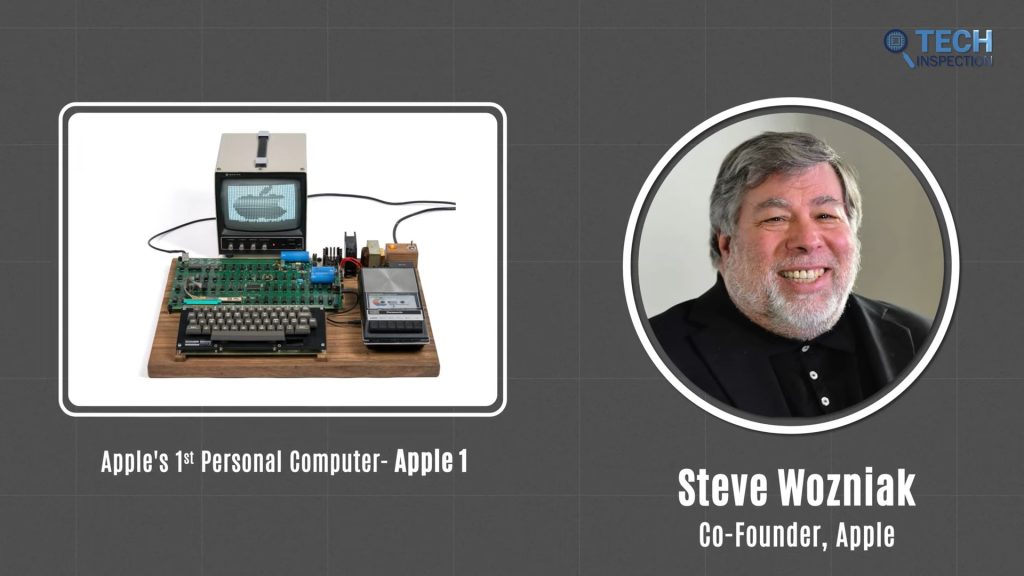 iPod
Portable music players had been around for several decades before the introduction of the iPod in 2001. Some early examples of portable music players include the Sony Walkman, which was introduced in 1979, and the portable cassette player, which became popular in the 1980s.
However, the iPod was the first portable music player to use a hard drive for storing music, which allowed users to store thousands of songs on a single device. It was also the first music player to use a click wheel for navigation, which made it easier for users to browse through large collections of music. The iPod was closely integrated with Apple's iTunes software, which made it easy for users to manage their music collections and transfer music to their devices. This integration helped to make the iPod a popular choice among music lovers and helped to establish Apple as a major player in the music industry.
iPhone
It's a common misconception that the iPhone was the first smartphone. In fact, smartphones had been around for several years before the iPhone was introduced in 2007. Examples of early smartphones include the BlackBerry, which was released in 1999, and the Palm Treo, which was introduced in 2002. However, the iPhone was a game-changer in the smartphone industry. It was the first smartphone to feature a large, multi-touch display, which made it easier to use and navigate than other smartphones at the time.
The iPhone also used a mobile operating system that was specifically designed for a touch interface, which was a significant departure from the traditional keypad-based interfaces of other smartphones. iPhone's design and user interface were intuitive and aesthetically pleasing, which helped to make it a popular choice among consumers. And its integration with Apple's App Store, allowed developers to create and distribute apps for the device, further cementing its position as a powerful and versatile device that could be used for a wide range of tasks beyond just making phone calls and sending text messages.
Reason Behind The Delay
By now, you should have a general idea, of how Apple works. The way they try to innovate and incorporate products is most unusual. So, what are the reasons behind this?
Quality vs Quantity
Apple is often seen as being slow to innovate because of its focus on design and aesthetics. Apple has always been known for its sleek and modern design language, which the company prioritizes over the speed of innovation. Apple's products are designed to look and feel good to use, and this often takes precedence over rushing out new features or technology. If you take a look at the last 4 generations of iPhones, you'll get the idea. No big improvements or drastic innovations, still sell the most smartphones.
Every year, Samsung and other Android smartphone manufacturers release multiple devices, whereas Apple just releases one device and some variants, that's it! "If it ain't broke, don't fix it" – Apple surely follows this motto. This means that Apple is often late to the game when it comes to new technologies and trends, but it also means that the company is less likely to make mistakes.
Eco-System
Apple has strict control over its ecosystem. It's known for having a closed ecosystem, which includes hardware, software, and services. This means that the company has complete control over everything that goes into its products, which can slow down the development process. Apple needs to ensure that everything works together seamlessly before releasing new products or features, which can take time. And this ecosystem is one of a kind. From PC to smartphones to smartwatches – you name it and Apple has it. There's no other company that can do better hardware and software optimization than Apple.
Where Android devices get at most 3 years of the software update, apple still provides the latest update to the iPhone 8, which was released nearly 6 years ago. But there's the other side of the coin, like the 2016's "Batterygate", which allegedly pushed software updates that were designed to slow the performance of the iPhone if the battery was deemed to be worn. Apple faced many backlashes over this and acknowledged the issue later.
And EU's recent approval of mandatory USB Type-C in all electronic devices from 2024 has also put pressure on Apple. It's been over a decade since Apple is using the lightning port on its devices and very complicated for the company to replace it, because of the eco-system. Apple with a heavy heart confirms that they'll follow the new EU USB-C law in future devices. 
Customer Loyalty
Apple has a reputation for providing excellent customer support. This has helped establish a loyal customer base willing to pay a premium price for Apple's products. It has created a seamless user experience that is hard to match. Users who own multiple Apple products can easily sync data and content between devices, creating a seamless experience. This has helped to establish a sense of loyalty among Apple users, who are unlikely to switch to other products or services.
Another reason why Apple has managed to maintain its position at the top of consumer loyalty because of its commitment to sustainability. Apple has made a commitment to reduce its environmental impact, and this has helped to establish the company as a leader in sustainable business practices. This commitment to sustainability has helped to establish a sense of loyalty among customers who care about the environment. Apple's marketing strategy is also a reason why the company remains at the top of consumer loyalty. Apple's marketing is often focused on creating an emotional connection with customers, rather than just promoting features and benefits. Its marketing is designed to create a sense of aspiration and desire, which helps to establish a loyal customer base.
Our Takeaway
Apple's focus on user experience and design has helped to make its products stand out in a crowded market. By taking existing technologies and refining them to create a better user experience, Apple has been able to establish itself as a leader in the tech industry. However, their tendency to be late to the game with certain innovations has also drawn criticism from some consumers and industry experts.
Apple also has a massive influence in the tech industry, like introducing a notch on the iPhone, removing the headphone jack, and not including the power adapter in the box. For better or worse, other companies follow Apple's footsteps. So, it's a big responsibility for them to make things right for both consumers and businesses. In the end, whether Apple's approach is viewed as a strength or a weakness may depend on individual perspectives and priorities. Some may appreciate the company's emphasis on design and user experience, while others may value being on the cutting edge of technology. Regardless, it's clear that Apple's approach has resonated with many consumers, as evidenced by its loyal fanbase and continued success in the market.