The Tozo NC7 wireless earbuds were first launched way back in 2020 and then updated in 2022 with the latest version of Bluetooth. But even now in 2023, they remain a top seller and fan favorite for budget noise-cancelling earbuds.
In this in-depth review, we'll look closely at the design, features, sound quality, and overall value of the Tozo NC7s. Are these earbuds still worth buying today, or are they outdated after 2+ years on the market? Let's find out!
Overview of the Tozo NC7 Earbuds
The Tozo NC7s are a set of completely wireless "true wireless" earbuds. That means there are no wires connecting them together or to your phone/music player.
Here are some of the main features packed into these petite earbuds:
Active noise cancellation – This uses tiny microphones to counteract external noise. It helps block ambient sounds like traffic, chatter, airplane engines, etc so you can focus on your music, calls, or media.
Transparency mode – This setting uses the microphones to let in sounds from your surroundings. It's useful for conversations or staying alert to your environment.
Bluetooth 5.3 – This is the latest Bluetooth wireless standard at the time of writing. Bluetooth is what connects the earbuds to your smartphone or other devices wirelessly.
72-hour battery life – You get up to 18 hours of playtime on a single charge of the earbuds themselves. The charging case provides an additional 54 hours of charge. This is above average and reduces the need to constantly recharge.
Wireless charging – The case supports Qi wireless charging pads. So you can plop it on a wireless charger rather than plugging it in.
IPX6 water resistance – This protects the earbuds from rain, sweat, and splashes. You can work out or use them outside without worrying about damage.
Auto-pause sensors – When you remove an earbud, your music or audio will automatically pause. Put it back in and it resumes playing.
Customizable controls – You can configure what tapping the earbuds does via the app. Change track, adjust volume, activate your phone's voice assistant, etc.
Unboxing the Tozo NC7 Earbuds
If you order the Tozo NC7 earbuds, here is what comes inside the box:
The NC7 earbuds themselves
Charging case
Short USB-C charging cable
6 sets of silicone ear tips in different sizes
User manual
Quick start guide
The earbuds have an all-plastic construction that feels a bit lightweight and hollow, but the matte finish has a smooth, premium look.
On the outer surface is a chrome Tozo logo. The earbuds are stemmed-less, going straight into the bud that inserts into your ear.
Flipping them over reveals the internal magnets and charging contacts. There are also two microphones on each earbud. These help with active noise cancellation and call quality.
The charging case is a petite oval shape that easily fits in a pocket. It's made of glossy plastic with a flip-top opening.
On the front are four LED dots that indicate the battery level when you open it. A USB-C charging port is on the back.
Overall, the case and earbuds look and feel a bit cheap compared to premium brands. But the design is perfectly functional and discreet for everyday use.
Comfort and Fit
The Tozo NC7 earbuds have a "mini" form factor without any stem or protrusion extending down. This makes them sit flush in your ear.
I found them very comfortable for extended listening sessions. The lack of a stem prevents any ear fatigue from contact pressure.
They are lightweight and hardly noticeable when worn. You can even lay on your side while wearing them.
To get a secure fit, make sure to test all the included ear-tip sizes. Twist them into your ear canal so the oval bud nestles inside the "bowl" of your ear.
The tip should form a tight seal for optimal sound quality and noise isolation. Without a good seal, bass will be diminished.
Setup and Connectivity
Connecting the Tozo NC7s to your phone or tablet is quick and painless. First, remove both earbuds from the charging case. This automatically puts them into pairing mode.
Next, on your phone, go into the Bluetooth settings and select "Tozo NC7" from the list of available devices. That's it! The earbuds will now connect to your phone whenever you remove them from the case.
The Bluetooth connectivity is rock-solid thanks to Bluetooth 5.3. I encountered no dropouts or cutting out within range.
Latency is also very low, meaning the audio is perfectly in sync with the video. Gaming and videos have no noticeable lag between sound and visuals.
One downside is the lack of multipoint pairing. This allows earbuds to connect to two devices simultaneously. So you can't be paired to both your phone and laptop at the same time.
Sound Quality
So how do the Tozo NC7 earbuds actually sound? The short answer is…quite good!
Tozo says they use a proprietary "Ori GX 2.0" audio technology to optimize vocals and mid-range. Music should sound "immersive" and layered.
In my experience, the sound profile is v-shaped with emphasized bass and treble. Mids take a bit of a backseat. This tuning gives music energy and excitement.
Bass has real punch and depth without muddying up the mix. Kick drums and synths have an impact. Even at high volumes, the low-end stays controlled.
Vocals and lead guitars sound clear for the most part. But some richness and body are missing from the mids compared to a more balanced sound.
Highs have ample sparkle and airiness. Cymbals shimmer and instruments have a sense of space around them.
Overall, the lively v-shaped sound makes most music fun and engaging. Bass lovers will especially appreciate the thump and rumble. Just don't expect audiophile-level neutrality.
Active Noise Cancellation
One of the NC7's biggest selling points is active noise cancellation. Also called ANC or hybrid ANC in this case.
This works by using the external microphones to detect ambient noise in your environment. The earbuds then produce an opposite "anti-noise" frequency to cancel it out.
So instead of hearing droning airplane engines, for example, your music continues uninterrupted. It's an effective way to isolate yourself or concentrate.
In my testing, the ANC blocked constant low rumbles excellently. It works well for planes, trains, cars, AC units, etc.
For nearby voices or variable noises, the isolation wasn't as complete. But it still reduced them to a whisper instead of blocking them completely.
You can choose from six ANC modes in the app:
Noise Cancellation – Maximum ANC
Transparency – Lets in ambient sound
Reduce Wind Noise – Good for calls outdoors
Leisure – Light ANC for moderate isolation
Normal – No ANC or transparency
Custom – Adjust ANC strength from 1-10
Having these options is great for tuning the ANC to your current situation. Just don't expect complete noise blocking like over-ear ANC headphones. For earbuds, the NC7s perform very well.
Mobile App
Tozo includes a mobile app for iOS and Android to customize settings:
The app has a slick interface with the earbuds visualized. You can see battery percentages for each earbud and the charging case.
The main sections are:
ANC modes – Toggle between the ANC modes
Sound effects – Select from genre-based presets like Classical, R&B, Rock, etc. There is no custom EQ though.
Play – View the current track and toggle play/pause
Find – Play a sound on the left/right earbud to locate it
Settings – Customize controls, update firmware, etc.
The app works well and adds functionality. I especially like reconfiguring the touch controls to my preference. But competitors often have more advanced features like customizable EQ, wear detection, spatial audio, and more.
Still, just having direct control over ANC levels is a big perk.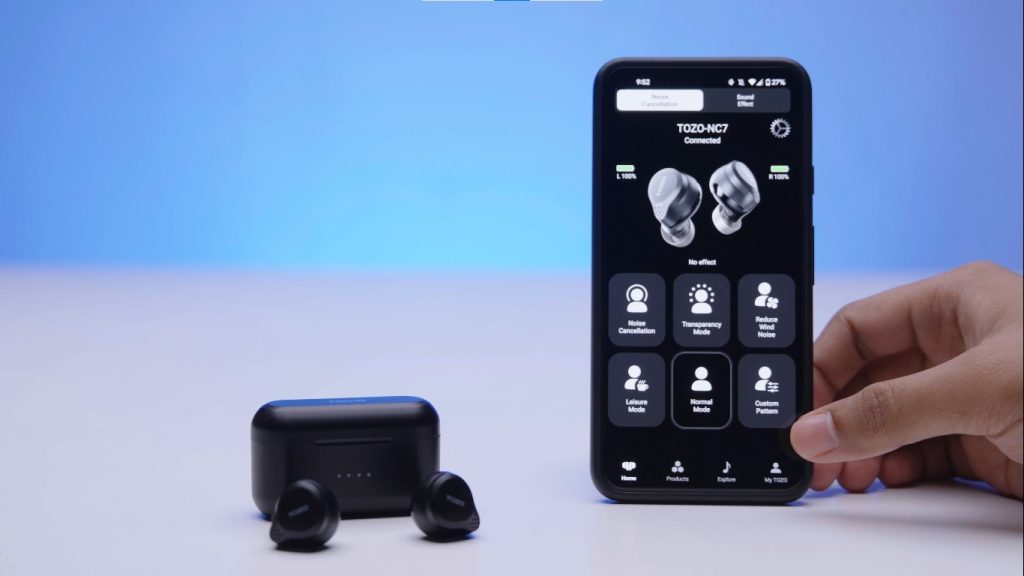 Call Quality
Thanks to the 4 total microphones, the call quality on the Tozo NC7 earbuds is quite decent.
Voices sound clear with minimal background noise. The earbuds do a good job of isolating your voice from ambient sounds.
The "Reduce Wind Noise" mode works well for outdoor calls on breezy days. It filters out the whooshing sound from the wind.
For indoors, calls come through very cleanly. You can certainly use the NC7s for business or personal calls without issue. Clarity lags just behind top premium earbuds for calls though.
Gaming Performance
The NC7 earbuds also work great for mobile gaming. The super low latency over Bluetooth 5.3 keeps audio in perfect sync with the visuals.
I noticed no delay whatsoever while gaming. Explosions and actions happened instantly as they appeared on screen.
The v-shaped sound profile brings games to life with punchy effects. Directional audio in stereo games also came through clearly.
The only limitation is the lack of surround sound support you get on higher-end gaming earbuds. But for casual mobile games, the NC7s excel.
Battery Life
The Tozo NC7 earbuds have outstanding battery life, especially considering their tiny size.
Here are the estimated runtimes:
Earbuds – Up to 8 hours of continuous playback per charge
Charging case – Provides an additional 3 charges, so 24 hours extra.
Total runtime – About 32 hours combined before you need to charge the case.
In real-world use, I got very close to the claimed 8-hour playback time with ANC on. That's impressive endurance.
The case charges via USB-C or any Qi wireless charger. A 15-minute quick charge gives you around 2 extra hours of playtime.
Few true wireless earbuds can match the NC7's battery prowess. You could feasibly go weeks between full charges. It's a major advantage.
Durability
With an IPX6 rating, the NC7 earbuds can withstand heavy sprays of water from any direction.
I doused them under a faucet and they continued playing just fine. The water resistance makes them suitable for workouts and runs in the rain.
Aside from liquids, the plastic body feels somewhat fragile. The hinge on the charging case lid seems like a weak point prone to breaking if dropped or bent the wrong way.
The earbuds likely won't survive being crushed or sat on either. So take care not to abuse them too badly, and they should hold up okay.
Drawbacks to Consider
The Tozo NC7s deliver tremendous value at their affordable price point. However, there are some disadvantages compared to premium true wireless earbuds:
No wireless charging case – You must plug in the case to charge instead of setting it on a Qi pad.
No wear detection sensors – The earbuds can't auto-pause when you remove one from your ear.
No multi-point pairing – You can only connect to one device at a time, not two simultaneously.
No high-end codecs like aptX or LDAC – Just standard SBC and AAC codecs are supported.
Lower IP water resistance rating – IPX6 is decent but not quite as robust as IPX7 or IPX8 on pricier models.
Plastic construction – The earbuds and case don't feel as luxe or durable as metal/leather designs.
These limitations aren't dealbreakers by any means. But worth keeping in mind if you want the ultimate feature set.
Tozo NC7 Earbuds Pricing
Okay, let's talk dollars and cents. How much do the Tozo NC7 wireless earbuds actually cost?
The MSRP is $79.99 in the US and £75 in the UK.
However, on Amazon, they're often discounted to $49.99 or less. I've seen them as low as $35!
For the price, you get a ton of functionality:
Active noise cancelling
Good battery life
Quality sound and bass
Reliable Bluetooth 5.3
Water resistance rating
Wireless charging case
Mobile app
Considering all that, the Tozo NC7 earbuds are an incredible value at under $50. The compromises are negligible for the discount.
More premium earbuds with similar feature sets often cost $150 and beyond. So the NC7s deliver excellent performance without breaking the bank.
Verdict: Still a Great Budget Buy
Given their low price tag, the Tozo NC7 wireless earbuds are still very appealing even 2+ years after launch.
You get surprisingly advanced features like adjustable ANC, transparency mode, long battery life, and adequate waterproofing.
Music and call quality are both solid for everyday use. The lively sound profile makes tunes engaging across various genres.
Yes, cheaper plastic build and lack of some sensors are drawbacks. But overall, the NC7s remain one of the top picks under $50.
If you want noise canceling and don't need luxury amenities, the Tozo NC7 earbuds offer tremendous value. They punch far above their weight and are worth buying in 2023.