In the world of smartphones, tech giants like Samsung, Apple, and Google are the kings. They have always tried to bring out newer technologies and innovations to match up the ever-growing tech world. And, to give the smartphone companies tough competition, Tesla is rumored to unveil their very own smartphone with mind-blowing features. Besides, companies like Tesla, PayPal, and many others turned out to be pretty successful due to Elon Musk, so it can be a bit of concern for many companies on him joining the phone world. Anyone who knows about tesla is certainly going to expect the phone to be jam-packed with innovative technologies. And, based on rumors, it seems Elon Musk is not going to disappoint us. In this article, we have discussed all the possible features of the upcoming Pi Phone and its release date. 
Earlier this September, a report from de discourse claimed that very day in search engines, people ask the same question every day in search engines – Is Tesla releasing a phone? Yes, we will see Elon Musk's smartphone soon. Moreover, Tesla's smartphone designer Antonio De Rosa shared an exciting concept of the rumored smartphone. The design seems more like an iPhone 12 Pro but with an additional camera lens. However, this is not the primary concern of this smartphone, as it is rumored to come up with some cool tech loaded inside, just like Tesla Cars.
The Tesla Pi phone is going to be exceptional in many aspects. What caught the attention, even more is that it is rumored to have SpaceX's Starlink satellite internet service. Meaning, you will get high-speed internet and network connection even in remote areas. And, with the Starlink connection, you will be able to communicate with people even from space. Another great feature that might come up with the smartphone is the Neuralink. This is certainly going to be a breakthrough in the smartphone industry as with this feature, the phone will be able to read information from human brains and restore them through chips. Imagine your phone receiving signals from your brain.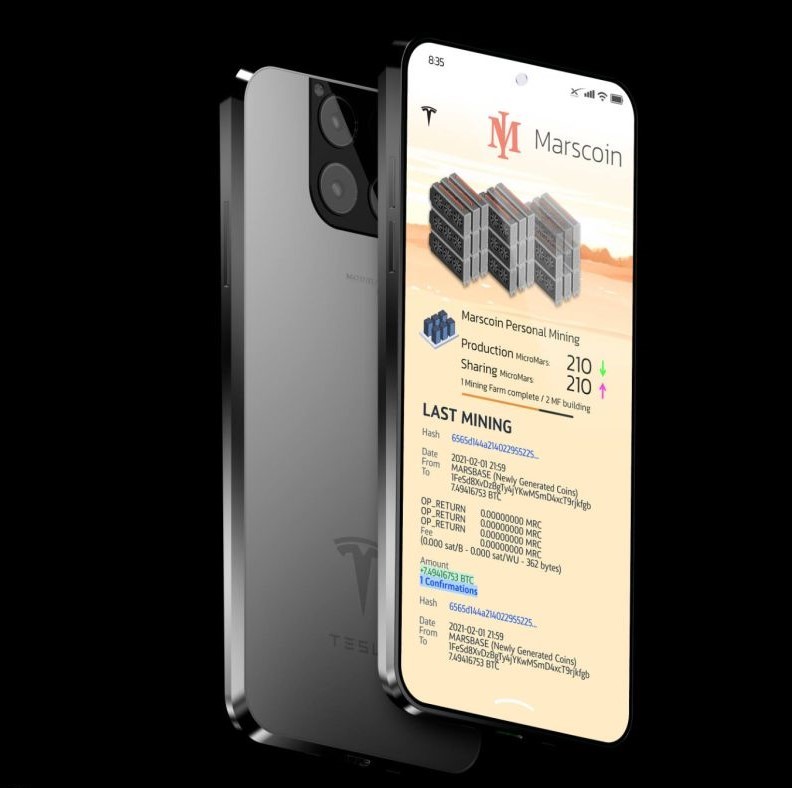 That's not the end, as per the rumors, Elon Musk once said that his Tesla smartphone would also be able to mine cryptocurrencies called Marscoins. Though there's not much news about this technology, as Musk has claimed it, sooner or later, we will be seeing this feature.
Apart from these features, you might be able to control your Tesla car via the Pi smartphone. Once linked with your car, you will have full access right from your phone, and you'll be able to lock and unlock your Electric Vehicle.
Making the Model Pi Phone more efficient and eco-friendly, the phone is rumored to offer built-in solar charging technology. So, once the battery seems low, all you have to do is move your smartphone to a sunny place, and it will be automatically charged. At least, with this technology, you won't have to keep searching for charging ports.
Overall, the Pi phone from Tesla is likely to unveil a whole new era for smartphones. And as we have already seen Elon Musk pulling of tasks that seemed almost impossible, bringing out a phone with all these excellent technologies might not be much difficult for him. And, according to many speculations, Musk is likely to launch this smartphone at the end of this year or in the first quarter of next year.
But what made him think of creating his own smartphone? One of his tweets suggested that he was really unhappy with one of the iOS updates. He mentioned that Apple needs to fix the Auto Correct feature with a sarcastic spelling. Besides, in another interview, he mentioned that his mail kept crashing too often, which frustrated him. So, can these be the reason behind Elon thinking of creating his own phone? What do you think of this new Tesla phone?