A LAN (Local Area Network) messenger is a software application that enables the communication between computers within a local network. It allows users to exchange messages, files, and documents within the network without the need for an internet connection.
LAN messengers are commonly used in offices, schools, and other organizations where multiple users need to communicate with each other quickly and efficiently. Overall, LAN messengers can be an effective way to improve communication and productivity within a local network environment.
If you're looking for a free communication tool for your workplace or office that allows you to stay in contact with all of your employees, conduct office conferences, or engage in instant small chats without an internet connection, then look no further. The Softros LAN Messenger is perfect for your needs.
What Is Softros Messenger?
Softros LAN Messenger is a user-friendly application designed for secure and efficient intra-office communication over a local area network (LAN). This messaging software does not require a server to operate, making it easy to install and use.
Is Softros LAN Messenger Safe?
With Softros LAN chat software, your company network communication is secured with AES-256 encryption, ensuring all data exchanged between employees is protected. The chat software is designed to operate solely within the company network, which discourages staff from chatting with individuals outside the organization, thereby ensuring privacy and confidentiality.
Furthermore, using Softros LAN chat software reduces the amount of internet bandwidth used and limits the number of firewall ports opened, minimizing the risk of external security breaches and IM worms.
Softros LAN Messenger Review
Softros LAN Messenger offers a range of useful features, including PC-to-PC messaging, group LAN chat rooms, broadcast messaging for quick notification of selected individuals or groups about an event, and drag-and-drop file transfer to exchange files and folders among staff members. So, let's analyze this trending messenger and share some findings including its features, and benefits. So, let's dive into the details of Softros LAN Messenger.
Easy To Install and Use
Softros' instant messenger has a user-friendly and intuitive interface, making it simple to use without any additional training. With its simple and straightforward design, users can quickly become familiar with the platform's features and functionalities.
The installation process is also effortless, as all you need to do is install and run the program on each network computer. This ensures that every user in the network can access messenger and take advantage of its benefits.
Moreover, this instant messaging tool operates as a stand-alone peer-to-peer application, eliminating the need for setting up and maintaining a dedicated messaging server. Thanks to its serverless architecture, it offers a hassle-free experience for users and ensures that communication within the network is fast and efficient.
Ease of Sharing and Connectivity
You can effortlessly share documents with your coworkers by simply dragging and dropping a file or folder onto the recipient's icon in the user list or within the conversation. It's also possible to send files and folders to multiple users simultaneously from within a group conversation or broadcast message. Organize your colleagues into groups by department or job title and add users to multiple groups simultaneously. You can keep track of your messages by saving them locally or to a network share. 
You can use LAN Messenger to request remote assistance from a colleague, who can then securely connect to your desktop to help you configure Windows, install applications, or resolve technical issues. Microsoft's Remote Assistance technology powers the desktop sharing feature.
Messaging and Video Conferencing
Among all that we loved most about this communication tool is its multiuser conversation feature, the process of creating and managing different user groups became hassle-free and just a matter of seconds. From sending a broadcast message to starting a conversation will all members of a group, everything becomes just a couple of clicks away from us.
You can utilize the built-in command line tool to send messages to individual recipients such as a user, computer, or IP address, as well as send broadcast messages to groups or all users. Additionally, you can send offline messages to users, which will be delivered once they reconnect to the network. The built-in History Viewer allows you to view, search through, and print out your conversations with other employees.
This messenger guarantees maximum security for your video meetings within your company's network or across its branches, without relying on a server, third-party internet service, or even an internet connection. There are no call limits and no risk of confidential information leaks.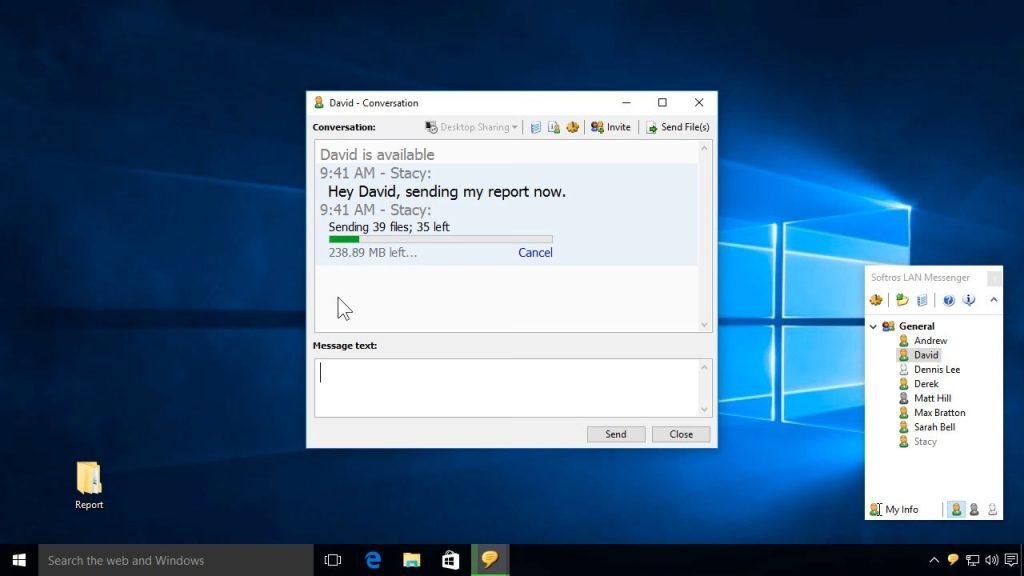 Advanced Features 
Along with those basic messaging features, it covers advanced features like automatic deployment of the application, custom corporate domain settings, and terminal service support of Microsoft and Citrix, which encompasses full coverage of application virtualization technologies such as RemoteApp and XenApp. Moreover, If your company lacks a domain controller with Active Directory, Softros LAN Messenger offers you the capability to automate the distribution of its settings, including network settings, user groups, license files, and administrative restrictions, through its built-in features. This essential communication tool comes with a 30-day free trial offering almost every necessary feature. Moreover, it offers different per-person licenses or corporate license kits, to continue using this simple yet effective application.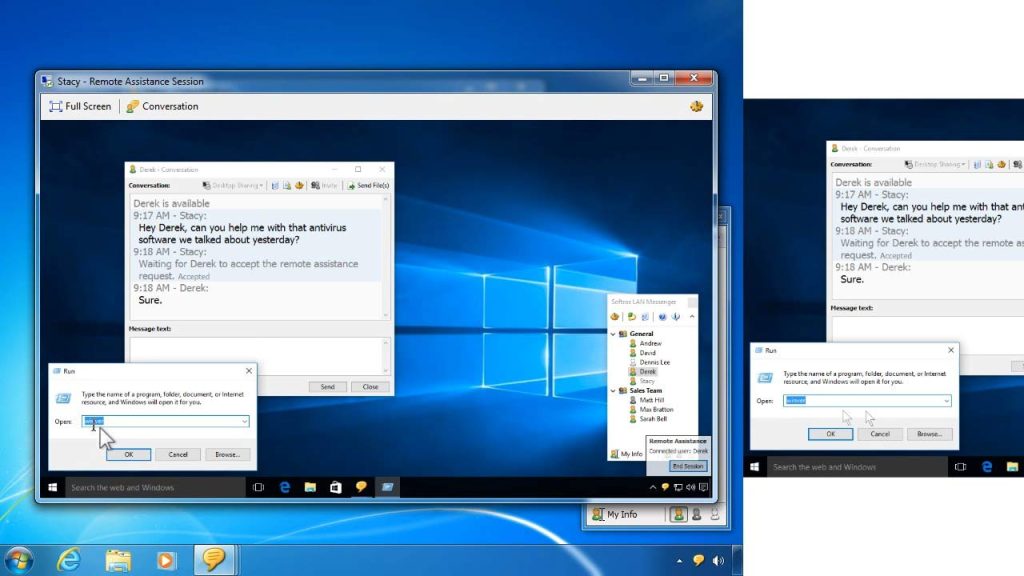 Wrapping Up
Overall, Softros instant messenger provides a convenient and efficient communication solution for offices and workplaces. Its user-friendly interface, easy installation process, and simple configuration make it an ideal choice for organizations looking to improve their communication and collaboration among employees.