If you're looking for a wireless microphone system to improve the audio quality of your videos, the Rode Wireless Go II and DJI Mic are two excellent options to consider. As a videographer, high-quality audio is just as important to me as the visuals.
In this detailed blog post, I'll be comparing the Rode and DJI wireless mics to help you determine which one is the best fit for your needs.
Introduction
First, what exactly are these products? The Rode Wireless Go II and DJI Mic are both ultra-compact wireless microphone systems that allow you to capture audio remotely from your video camera or smartphone.
They consist of a tiny transmitter that attaches to your clothing or lapel near the sound source, and a receiver unit that connects to your camera or phone. The audio is transmitted wirelessly from the transmitter to the receiver, giving you crystal clear sound without cables getting in the way.
I've used both the Rode and DJI systems extensively for my YouTube videos and client projects. In this post, I'll be doing an in-depth feature-by-feature comparison to reveal the key similarities and differences between these two popular wireless lav mics.
Rode Wireless Go II vs DJI Mic – Overview
| Specs | Rode Wireless Go II | DJI Mic |
| --- | --- | --- |
| Price | $299 | $329 (2 TX + 1RX + charging case) / $219 (1 TX + 1RX) |
| Weight | 31g / 1.1oz (each unit) | 26g / 0.9oz (each unit) |
| Colors | Black, White | Black |
| Microphone Directions | Omnidirectional | All direction |
| Frequency Range | 50Hz – 20kHz | 2400-2483.5 MHz |
| Max SPL | 100dB SPL | 110dB SPL |
| Equivalent Noise Level | 22dBA | 23dBA |
| Connector Type | USB Type-C, 3.5mm TRS | USB Type-C, 3.5mm TRS, Lightning, USB-C |
| Screen Type | OLED | Touchscreen LCD |
| Headphone Monitoring Jack | Yes, on receiver | Yes, on receiver |
| Smartphone Connectivity | Yes, via USB Type-C or TRRS cable | |
| Operating Time | 7 hours (transmitter), 8 hours (receiver) | 5 hours (transmitter), 6 hours (receiver) |
| Transmission Range | 200m / 656ft (line of sight) | 250m / 820ft (line of sight) |
| Max Input Level | -20dBV | -17dBV |
| Internal Recording | Yes, up to 24 hours per transmitter | Yes, up to 6 hours per transmitter |
| Dual Channel Recording | Yes, stereo or mono with backup | Yes, stereo or mono with backup |
Rode Wireless Go II vs DJI Mic
As you can see from the table above, these wireless microphones share a lot of similarities when it comes to technical specifications. The Rode Wireless Go II is a bit more expensive than the base offering of DJI Mic but offers longer wireless range. The DJI Mic has a slight edge when it comes to weight. But otherwise, on paper, they match up closely.
Audio Quality Comparison
The most important factor in any microphone is sound quality. I tested the Rode Wireless Go II and DJI Mic side-by-side to see how they compare.
To evaluate the audio, I did test recordings outdoors, indoors, and with both speech and music. I listened back carefully with high-quality headphones and also analyzed the sound waveforms.
The results? Both the Rode and DJI sounded excellent, delivering clear and detailed audio without any audible latency or interference. The high (treble) and low (bass) ends were well represented with no tininess or muddiness.
For wireless systems this compact, the sound quality is impressive. However, the Rode Wireless Go II did have a slight edge over the DJI Mic when it came to the richest, most natural sound.
But overall, either system will capture fantastic audio for vlogs, interviews, video tutorials, and more. You really can't go wrong with the Rode or DJI if pristine sound quality is your priority.
Unique Features of the DJI Mic
While the overall audio performance of the Rode and DJI is comparable, each wireless microphone does have some unique strengths and features.
Here are some of the key advantages offered by the DJI Mic:
Charging Case
The DJI Mic transmitter and receiver pack neatly into a compact charging case. Just drop them in and it recharges the units via USB-C. It protects the mics and makes them easy to transport. The Rode Wireless Go II does not come with a charging case.
Touch Screen Receiver
The DJI receiver has a small color touch screen that displays important information during recording like battery level, signal strength, and gain (volume) setting. This handy screen gives confidence that your levels are optimized. The Rode receiver lacks a display.
Transmitter Gain Control
With the DJI Mic, you can adjust the gain (sensitivity) of the transmitter pack separately from the receiver. This helps prevent distortion when a sound source is very loud. The Rode Wireless Go II does not allow independent transmitter gain adjustment.
Smartphone Connectivity
The DJI Mic receiver seamlessly connects to smartphones via a USB-C cable for recording audio directly into video recording apps. The Rode Wireless Go II requires an accessory cable for smartphone use. Check out our blog post about how to use Rode Wireless Go II with an iPhone.
Easy Transfer of Audio Files
When using the DJI Mic receiver with a camera, after a shoot you can quickly access the audio files by plugging the receiver into a computer via USB-C.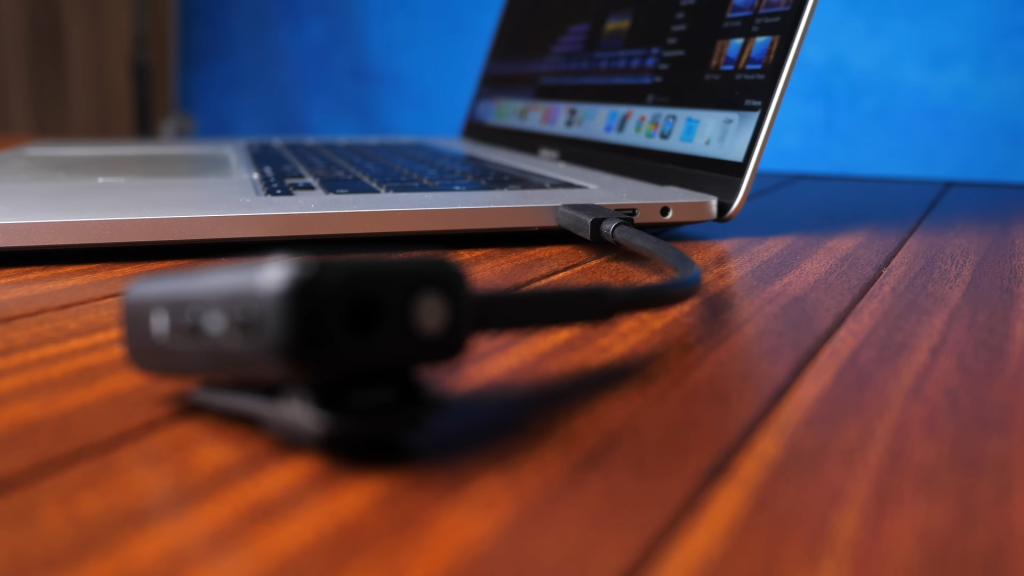 The Rode Wireless Go II relies on the microSD card inside the transmitter for file transfer.
Unique Features of the Rode Wireless Go II
Now let's look at some of the key advantages offered by the Rode Wireless Go II compared to the DJI Mic:
PAD (Passive Attenuation Device)
The Rode Wireless Go II transmitters have a built-in PAD that can be enabled to attenuate loud audio sources by -10dB. This prevents distortion when someone shouts or sings loudly into the mic. The DJI Mic lacks this PAD feature.
Clipping Markers in Rode Central App
If loud peaks cause clipping in the audio, the Rode Central app shows clipping markers on a timeline, allowing you to pinpoint issues. The DJI Mic app does not indicate clipping visually.
Internal Storage
Each Rode transmitter has 32GB of built-in storage, allowing you to record a backup audio track that's stored right on the unit. The DJI transmitter lacks internal storage.
Size and Weight
The Rode Wireless Go II is slightly lighter and more compact than the DJI Mic. The transmitters weigh only 1.1oz each compared to 0.9oz for the DJI. Smaller size makes the Rode a bit less conspicuous.
Discrete vs Conspicuous Design
The matte black finish of the Rode makes it a bit more discrete when worn on clothing. The DJI Mic's white accents are slightly more conspicuous.
Compressed vs. Uncompressed Record Option
The Rode system allows you to choose between uncompressed 24-bit audio or a compressed format to save space. The DJI Mic only offers compressed recording.
Magnetic Mounting
Rode includes strong magnets to mount the transmitters and receiver, allowing you to easily affix them to metal surfaces for more mounting flexibility.
Internal Recording
As mentioned earlier, the Rode transmitters allow you to record a backup track to the 32GB of onboard storage. The DJI lacks internal recording capability.
Windshields Included
Foam windshields for the transmitters come included with the Rode Wireless Go II to reduce wind noise when filming outdoors. Windshields are an optional DJI accessory.
Transmitter Battery Life
The Rode transmitters get about 7 hours of battery life per charge compared to 6 hours for the DJI Mic transmitters. More battery life means you can record longer without recharging.
Recording Options: Mono, Stereo, Safety Track
The Rode Wireless Go II allows you to record mono from one transmitter, stereo from one transmitter, or even a safety track from two transmitters. The DJI is mono only from one transmitter.
Transmitter Control Via Receiver
With the Rode system, you can start/stop recording on the transmitters using the controls on the receiver pack. The DJI Mic transmitters and receiver operate independently.
Headphone Monitoring
The Rode receiver has a 3.5mm headphone jack for live monitoring of the audio during recording. The DJI Mic receiver lacks headphone connectivity.
LED Brightness
You can adjust the brightness of the status lights on both the Rode transmitter and receiver units. The DJI LED brightness is not adjustable.
As you can see, while both systems deliver excellent audio, the Rode Wireless Go II does offer a wider assortment of professional-grade features for filmmakers and content creators. Next let's look at some real-world performance tests.
Range Test
A key specification for any wireless microphone system is the transmission range – how far can you move the transmitter away from the receiver before the signal cuts out?
I took the Rode Wireless Go II and DJI Mic outdoors to test their range capabilities and was impressed by both. However, the Rode maintained a clean signal at greater distances.
Here were my distance test results:
Clear audio with no cutouts up to 200 feet away with the Rode Wireless Go II.
The DJI Mic cut out around 100 feet in my tests.
So, the Rode has about double the usable range, allowing you to move freely far from the camera without signal drops. For run-and-gun shooting, the extended range is a major advantage.
However, for most purposes like vlogging or interviews, 100 feet is sufficient distance. So both systems work great within their intended scope.
Exporting Recordings
Once you've recorded high-quality audio with these wireless lav mics, how do you get the files off the device?
The Rode Wireless Go II relies on the microSD cards inside the transmitters to access the .wav files. You simply remove the card and insert it into a computer.
The DJI Mic receiver conveniently plugs directly into a PC via USB-C. This allows you to quickly access all the audio files for easy transfer.
So the DJI Mic definitely provides faster and more seamless exporting and file management. But both systems get the job done.
Audio Quality Tests
To really put these wireless mics through their paces, I did some more controlled audio tests to evaluate sound quality.
Here's what I discovered recording indoors with the same audio source:
Gain Settings
Adjusting the gain (sensitivity) allows you optimize levels without distortion or noise. At moderate gain around 50%, both mics sounded clean and full. With the gain maxed out, the Rode captured richer low-end body.
Room Noise & Hiss
In a quiet room, the self-noise floor of both mics was admirably low. The Rode Wireless Go II was a touch quieter, with less hiss in the background.
Clipping & Peaking
When loud peaks cause clipping/distortion, the Rode control app displays handy visual clipping markers allowing you to pinpoint issues.
Gain Recovery
When transitioning from very loud to very soft audio, the Rode recovered gain quicker, while the DJI Mic was a bit slower to ramp levels back up.
Microphone Position
The proximity effect was more pronounced on the DJI Mic, meaning bass resonates significantly when close miking. The Rode had a more neutral response when near or far from sound source.
Overall, from these tests, the Rode Wireless Go II comes out on top in terms of audio quality and capturing a balanced, natural sound in various conditions.
Conclusion
So which wireless lav mic reigns supreme – the Rode Wireless Go II or DJI Mic?
In my experience, while both deliver excellent sound, the Rode Wireless Go II edges out the DJI thanks to these advantages:
Slightly richer, broadcast-quality audio
Nearly 2x the wireless range
More recording options like internal backup and stereo
Maximum control with the Rode Central app
Helpful features like PAD, clipping markers, etc.
However, the DJI Mic packs impressive performance into an even more compact design at a lower $169 price point. So it remains a fantastic choice for travel-friendly vlogging and mobile recording.
For professional video productions where sound quality is paramount, I would recommend the superb Rode Wireless Go II as the best wireless lavalier microphone available today. But you can be confident with either the Rode or DJI wireless systems elevating the audio of your videos.
I hope this detailed breakdown has helped you decide between the Rode Wireless Go II vs DJI Mic based on their capabilities, strengths, and ideal use cases. Let me know in the comments if you have any other questions!