Imagine you are an avid gamer but you are young and do not have enough money to buy gaming equipment specially, headsets which are one of the crucial parts of gaming. On the other hand, In today's fast-paced world headsets are needed for music, watching content, social media communication, and even for professional use. Whether it is immersing ourselves in the melodies of enchanting songs or engaging in intense gaming battles, the right pair of headsets can elevate our experience to a different level. However, for many consumers, the obstacle of affordability often stands in the way of accessing top-notch audio technology.
Enter EKSA, a rising star in the headphone industry that is revolutionizing the market with its commitment to providing quality headphones at an affordable price. EKSA has emerged as a breath of fresh air, bridging the gap between superior audio performance and reasonable pricing. With a mission to make high-quality headphones accessible to all, EKSA has swiftly garnered attention and admiration from music enthusiasts, gamers, and tech-savvy individuals alike.
History of EKSA
Eksa is owned by Wanzhao Acoustics Technology (Shenzhen) Co., Ltd, a Chinese audio technology company that specializes in the design, development, and manufacturing of high-quality audio products. The company was founded in 2017 and began as an OEM or original equipment manufacturer headphones company, producing headphones and audio equipment for other brands. Headquartered in Guangdong, China, they have an expert team of more than 200 people who output a production value of 100 million dollars. Their customer base extends far and wide, with North America accounting for 60%, Eastern Asia for 20%, and South America for 5% of their main markets.
About Eksa
EKSA is a rising brand in the world of audio technology, offering top-quality headphones at affordable prices. Experience immersive sound and comfort without breaking the bank. Let's have an overview of the brand:
Overview
In recent years, Wanzhao Acoustics has expanded its portfolio with the launch of Eksa and Oneodio in 2018. They also own Oneodio. OneOdio headphones are designed to meet the needs of professional DJs and music enthusiasts alike. They are engineered to deliver exceptional sound quality, with a focus on clarity, balance, and accuracy. Whether you're a professional DJ, a music producer, or just a casual listener, OneOdio headphones provide an immersive and enjoyable listening experience. Overall, It was born for music and is committed to providing good-quality DJ headphones at a cost-effective price.
On the other hand, With a vision to become one of the world's leading esports brands. EKSA focuses on the gaming field, specializing in researching and production of high-quality gaming headphones and accessories to enhance game players' acoustic experience.
To cater to the ever-evolving needs of consumers, they launched another brand, "Super EQ". This brand is designed to provide noise-canceling headphones that are not only beautiful and youthful but also tailored to suit the majority of young people, particularly young women. Super EQ has revolutionized the traditional business style by breaking away from the mundane black or gray headphones and introducing the Macaron series – a range full of vitality and youth. 
In addition to audio gadgets, EKSA Telecom also offers gaming keyboards and mice. The EKSA Glimmer keyboard stands out as one of the best low-profile mechanical keyboards in the market, with a sleek form factor and responsive switches. It blends seamlessly into any setup with its cool aesthetics.
Lastly, the EKSA EM 100 and EM 200 gaming mice are affordable options with impressive performance and RGB aesthetics that are sure to catch the attention of gamers. EKSA is committed to providing a range of gaming peripherals that meet the needs of gamers at various price points.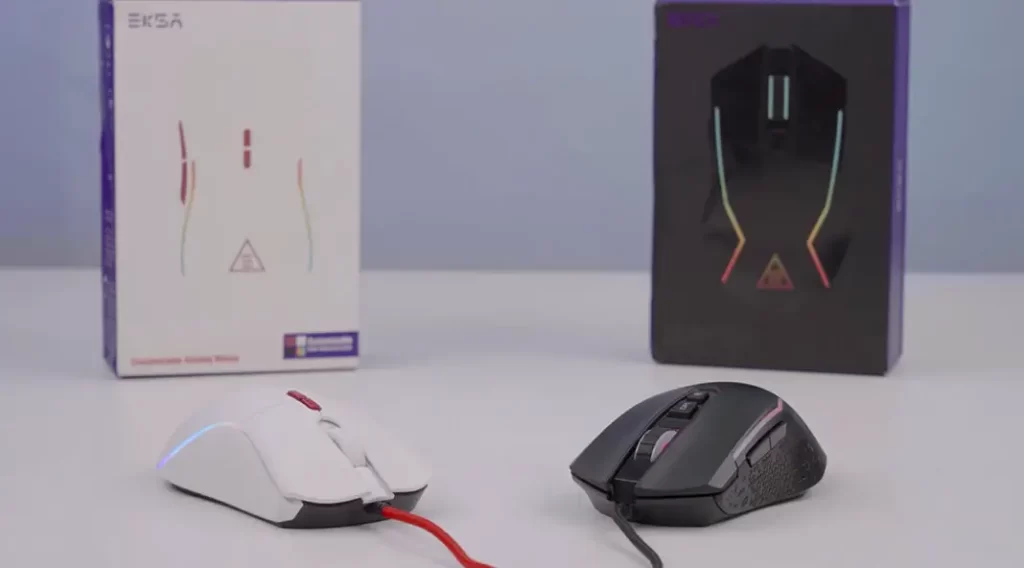 Sound Quality
EKSA places a strong emphasis on audio performance, ensuring that their headsets deliver an immersive sound experience. They employ advanced audio technology, including high-quality drivers and optimized frequency response, to reproduce accurate and rich sound. EKSA headsets often have a wide frequency range, typically spanning from 20Hz to 20kHz, allowing users to enjoy a full spectrum of sound with crisp highs, balanced mids, and deep bass.
Customer reviews and feedback consistently highlight the impressive sound quality of EKSA headsets, praising their ability to provide an immersive audio experience for music, gaming, and other multimedia applications. EKSA gaming headset has 7.1 surround sound and a built-in USB audio sound chip. You can create an amazing gaming experience with stereo surround sound in the game by combining it with a 50mm magnetic neodymium driver. There is no need for a driver, and it is extremely simple and convenient to use. 
Ergonomics
Eksa can recognize the importance of comfort especially, for users who wear the headset for a longer period. Their designs prioritize ergonomic considerations, featuring adjustable headbands, cushioned ear cups, and lightweight materials to minimize strain and maximize comfort. The headsets are made of breathable materials, such as memory foam or plush padding, to enhance comfort during prolonged use. Customer feedback consistently emphasizes the comfortable fit of EKSA headsets, allowing for extended gaming sessions or extended listening without discomfort.
Durability 
Despite the low price, EKSA headsets are durable and long-lasting. The brand focuses on using durable materials, such as robust plastic or metal alloys, for the construction of their headsets.EKSA employs rigorous quality control measures during the manufacturing process to ensure that each headset meets stringent standards. This attention to detail contributes to their reputation for durability and longevity. Customer reviews and testimonials frequently mention the sturdiness and durability of EKSA headsets, highlighting their ability to withstand daily wear and tear.
Market Analysis 
Market analysis of EKSA headsets involves assessing the current trends, competitive landscape, and consumer demand for the brand's products. While I don't have access to real-time data, I can provide you with a general overview based on the information available up until September 2021. It's important to note that market conditions may have evolved since then.
Market Trends
Growing Demand: The headset market has been experiencing significant growth due to the increasing popularity of gaming, streaming, remote work, and digital entertainment. Consumers are seeking high-quality audio solutions to enhance their experiences in these domains.
Gaming Focus: EKSA has positioned itself as a prominent player in the gaming headset segment. The gaming industry's rapid expansion and the rising demand for immersive gaming experiences have created a favorable market environment for EKSA's gaming-focused headsets.
Affordable Solutions: EKSA addresses the market need for affordable options without compromising quality. The demand for cost-effective audio products has been rising, as consumers seek value for their money without sacrificing performance.
Competitive Landscape
Established Competitors: EKSA competes with well-established brands in the headset market, such as Logitech, HyperX, Razer, and SteelSeries. These brands have a strong presence, extensive product portfolios, and loyal customer bases.
Niche Focus: It has positioned itself as a brand catering to mid-range and budget-conscious consumers. By offering competitive pricing and focusing on specific segments, such as gaming, EKSA has carved out a niche market for itself.
Consumer Demand
Affordability: The demand for affordable headsets has been increasing as consumers look for cost-effective options that offer good performance and features.
Quality Audio: Consumers increasingly value high-quality sound reproduction and immersive audio experiences across various applications, such as gaming, music, and multimedia content consumption.
Comfort and Durability: Consumers seek headsets that prioritize comfort for long-term use and durability to withstand daily wear and tear.
Gaming-Specific Features: The gaming community represents a significant portion of the headset market. Gamers often seek headsets with features like virtual surround sound, noise cancellation, and clear communication capabilities.
Quality and Affordability of EKSA Headset 
EKSA has emerged as a game-changer in the headphone industry, providing consumers with quality headphones at an affordable price. By delivering superior sound, durable construction, and ergonomic designs, EKSA has captured the attention of music enthusiasts and gamers alike. With a focus on value for money, EKSA has redefined the standards of affordability without compromising on quality, making high-quality audio experiences accessible to all.