Logitech G Cloud is the new Android cloud gaming handheld introduced by Logitech. And, to compete in this cloud gaming handheld market, Razer has also announced their first ever cloud gaming handheld the Razer Edge. But which one do you think will live up to the potential of cloud gaming handheld?
Razer Edge vs Logitech G Handheld Review
Even though Google Stadia just stepped down from their cloud gaming business, it seems that companies like Razer and Logitech are trying to bring back life to cloud gaming platforms. And to express our thoughts on this, we made a comparison of both Logitech G Cloud vs Razer Edge gaming handheld. Let's dive into it.
| | | |
| --- | --- | --- |
| Specification | Razer Edge | Logitech G Handheld |
| CHIP | Qualcomm Snapdragon G3x Gen 1(WiFi)Qualcomm Snapdragon G3x Gen 1(Founders Edition)Qualcomm Snapdragon G3x Gen 1(5G) | Qualcomm Snapdragon 720G (SD720G)Octa-core CPU up to 2.3GHz |
| Display | 6.8" FHD+ (2400×1080) AMOLED 144Hz | 1920 x 1080 FHD IPS LCD |
| Memory | 128GB  | 64GB |
| Audio | 2-way speakers with 2 digital microphonesTHX Spatial Audio | Stereo Speakers, Dual microphones, 3.5mm stereo headphone |
| Battery | 5,000mAh | 23.1 Watt-Hr |
| Controller | Powered via USB-C2 analog sticks8 buttons1 D-pad2 triggers2 bumpers2 programmable buttonsRazer HyperSense haptics | A / B / X / Y buttonsD-PadL & R analog joysticksL & R bumpersL & R analog triggersL & R option buttonsG button and Home buttonsVolume control buttonsPower switch |
Design 
If you are familiar with Razer Kishi V2, then the Razer Edge's design is nothing new to you. Because, the new Edge is basically an android device with the Kishi V2 controller, and, it looks amazing with a slim gaming aesthetic. The Kishi controller looks really comfortable here, with smooth curves and rounded edges. And from what we have seen so far, it looks like you can also put other devices onto your Kishi V2 controller, which seems more versatile and user-friendly.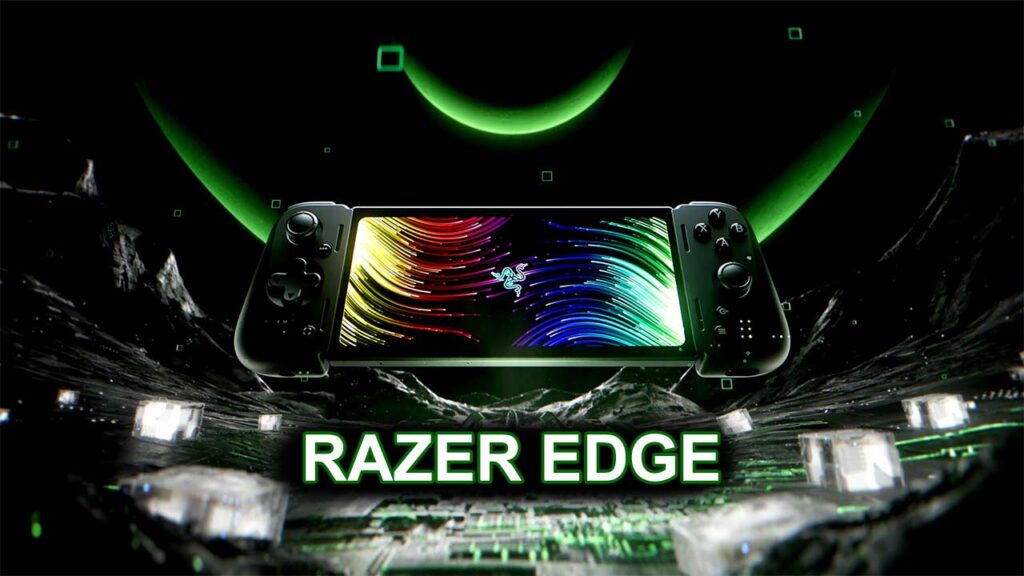 On the other hand, the Logitech G Cloud followed the traditional style, by bringing its own mark to its latest cloud gaming handheld. It comes with a clean and minimalist design with a white aesthetic. They also did a pretty good job with the ergonomics here and it definitely feels comfortable for a long gaming session. And when it comes to button placement, the analog stick, D-Pad, including all the other buttons and triggers, seems just in the right place. 
So ergonomically and in design, both devices look pretty great as they brought some new changes to the cloud gaming industry. But, we have to say that, Razer brought more versatility in their design compared to Logitech's G Cloud. 
Specs
Even though these two are mainly could gaming devices, both Logitech G and Razer Edge are packed with some really great internal components. That being said, let's take a look at the internal specs of both of these devices.
Starting with the Razer Edge, they have announced three separate versions for their Razer Edge line-up- Razer Edge Wi-Fi, Founders Edition, and the 5G version. Although, you won't find any internal differences between them. What is impressive is that they got the Snapdragon G3X Gen 1 processor, which is exclusively built for the Razer Edge. Besides that, it got 8GB LPDDR5 RAM, up to 2TB of microSD support, including a 1080P 5-Megapixel camera, and a 5000-milliampere battery. Additionally, it also supports Wi-Fi 6E, Bluetooth 5.2, and Type-C port for connectivity. 
In comparison, the Logitech G Cloud is equipped with Snapdragon 720G processor with up to 2.3 Gigahertz boosted frequency, delivering a fast and smooth gaming experience. As for the internal storage, it has 8GB LPDDR4 RAM, and up to 1 terabyte of internal storage support. It also supports Dual-band Wi-fi connectivity, Bluetooth 5.1, and USB-C port for connectivity. And it promises to deliver up to 12 hours of total playtime.
It seems that Razer Edge pretty much dominates the Logitech G Cloud when it comes to better internal components. But as a cloud gaming handheld, G Cloud does come with pretty decent specs. Other than that, both devices are powered by Android, and you can stream your games from any platform, including X-Box Cloud, Steam Link, and a few more. 
Display
Now that we have seen the internal difference, it is time we take a closer look at the display of both these devices. 
The Razer Edge has a 6.8-inch Full HD Plus touchscreen display with 1080p resolution and 144-hertz refresh rate, ensuring both rich visuals and crisp colors.
The Logitech G Cloud, however, also comes with a 7-inch Full HD touchscreen display with 1080P resolution, including 450 nits of brightness and 60-hertz of refresh rate. 
Judging by the display, compared to the Logitech G Cloud, Razer Edge got a really nice display with a really impressive refresh rate. 
Which One To Get?
In short, Razer Edge clearly comes with strong internal hardware, including a better display. But Logitech G Cloud, on the other hand, is also a great-looking cloud gaming handheld with a slightly lower price tag. So, if the price tag is something that you are concerned about, then Logitech G Cloud is surely the affordable option here. But, if you don't mind spending a bit little more than your budget, then getting the Razer Edge would be the best possible choice. So that was all about our discussion on Razer Edge Vs Logitech G Handheld.