Since the exodus of marquee firms such as Oracle Corp., Hewlett-Packard Enterprise Co., Tesla Inc.'s Space-X, and many more tech giants, the topic of whether Texas is a true rival to Silicon Valley as tech capital has surfaced recently. Being the global center of technology and innovation, Silicon Valley established a very high standard, so no wonder why so many cities across the world are striving to imitate its success. It's not that simple to become the next Silicon Valley, many cities have gone down that road and failed miserably.
In this article, we are going to discuss whether Texas has the potential to replicate the unprecedented success of Silicon Valley or not.
How Silicon Valley Became the Gold Standard of Tech Hub?
The rise of Silicon Valley as the world's leading tech hub didn't happen overnight. So, when and how did this little area of California become the ultimate technological epicenter? The success of Silicon Valley started with the people and their ideas from science fiction about what technology could enable. Many of those ideas, like the personal computer and iPhone that Steve Jobs envisioned, have now come true. 
The transistor was first created and developed in Silicon Valley, giving the region a competitive advantage in the radio and telegraph sectors. The country's earliest radio station was situated in San José in 1909. The Navy bought Moffett Field in 1933 to dock and upkeep the USS Macon. As a result, Moffett Field became a key hub for the aerospace industry. In Palo Alto, California, William Hewlett and Dave Packard established Hewlett-Packard in 1939.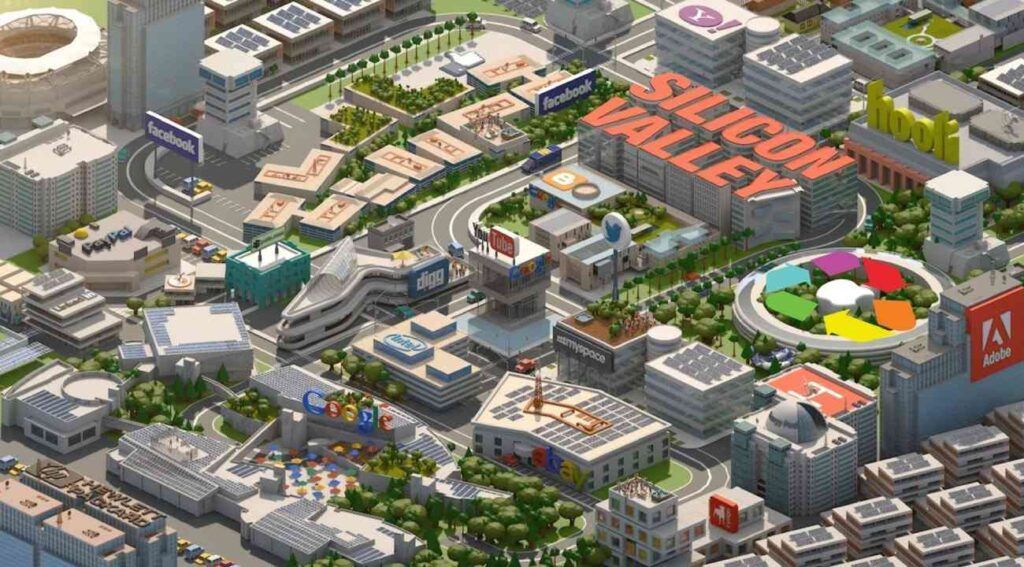 Frederick Terman, the renowned dean of Stanford Engineering during the 1940s and 1950s, encouraged the Stanford faculty to found their own businesses. Hewlett Packard and Varian Associates are among those companies.
William Shockley, the converter of the transistor, founded his own company named Shockley Semiconductor near  Mountain View, California, in 1955. However, eight Shockley Semiconductor employees left the company in 1957 because they were tired of Shockley's disrespectful demeanor. Shockley named the group "Traitorous Eight". Thus, the eight researchers partnered with Sherman Fairchild and Arther Rock, who is the co-founder of Fairchild Semiconductor. Later, the eight researchers left Fairchild Semiconductor to found their own companies. Gordon Moore and Robert Noyce, two of these researchers, founded Intel in 1968 in Santa Clara, California. Fairchild workers were inspired by the "Traitorous Eight' group and left the firm to start something of their own, which led to the growth of the local computer chip sector. Along with ex-Fairchild employees, the "Traitorous Eight" members helped create AMD, Nvidia.
Silicon Valley became the home for many companies like Atari, Apple, Oracle, eBay, Yahoo, PayPal, and Google between the 1970s and 1980s. Consequently, in 1990 Facebook, Twitter, Uber, and Tesla were founded in the area and the rest was history. The history of Silicon Valley showed us that, successful businesses or entrepreneurs have the ability to influence their entire community by fostering small businesses, mentoring other creators, and acting as early-stage investors.
How is Silicon Valley Losing Its Tech Grip?
Despite the fact, Silicon Valley rose to prominence as a successful leader in computing technology, some of America's most innovative companies are pulling up stakes and departing. Companies like Hewlett Packard Enterprise,  software giant Oracle, data-analytics company Palantir, Tesla Inc.'s Space-X, Uber, and many more are moving from Silicon Valley. Long before it became a stampede, many economic analysts had noted this exodus. There are reasonable causes for these changes, one of which being high state-level taxation. California has the highest marginal tax rate in the country. The state of California imposes a maximum personal income tax rate of 13.3% plus the corporate tax rate is 8.84 percent. Moreover, California yields a 7.25 percent state sales tax, whereas Texas has a 6.25 percent tax.
The exodus of Silicon Valley is also influenced by regulatory disparities. Worker insurance, housing shortage, occupational license, the minimum wage, the absence of right-to-work legislation, obligatory medical benefits, unemployment compensation are some of the greatest obstacles for small start-ups in Silicon Valley. With legislators failing to address the rising problem of homelessness in San Francisco, or even the burning forest fires across the state, California's capacity to provide a good quality of life is almost jeopardized. If these problems are not addressed with the proper solutions, Silicon Valley could lose its edge among business leaders, as well as prestigious employees.
Texas Emerges as Silicon Valley's Primary Competitor 
There is no doubt that Texas is attempting to become America's technological epicenter. The increasing departure of major corporations like Oracle Corp,  Tesla Inc.'s Space-X, Charles Schwab Corp, and others raised the question, is Texas a genuine competitor to Silicon Valley as a tech capital? 
After the gain of Tesla, a long-standing renewable energy company that elevated the automobile sector and contributed a large portion of the state's economy. The tax situation of Texas plays a vital role, why many entrepreneurs think there are more opportunities for companies to grow in Texas. Texas has neither personal income tax nor corporate tax, rather o they charge a franchise tax of around 1 percent, on average. Even the state sales tax of Texas is lower than California. Similarly for, Hewlett-Packard Company, the major reason behind their departure from their roots in Silicon Valley was the lower real estate costs in Texas. 
So, If Silicon Valley manages to lose its marquee status, it may be possible for Texas to become the next technology hub.  
Final Thoughts
Despite claims of mass exodus, Silicon Valley remains the world's tech hub with a higher concentration of venture capital businesses and investment funds. Texas may have established a technical cluster, but it never came close to the standard of Silicon Valley. Thus, It seems quite far-fetched to think that Texas would overtake Silicon Valley as the destination for high-tech. However, to halt the outgoing stampede, California's state and local governments have to take some steps regarding excessive taxes, regulations, and other impediments.