Handheld gaming PCs have exploded onto the scene, offering powerful performance that rivals desktop rigs in a portable form factor. Two of the most advanced options come from gaming giants Asus and One Netbook – the ROG Ally vs. OneXPlayer Mini Pro. Both pack impressive specs and high-end designs, but they have key differences that will appeal to different users. 
In this in-depth comparison, we'll look at every aspect from hardware and features to real-world gaming performance, to help you decide which premium handheld is the right choice.
ROG Ally vs. OneXPlayer Mini Pro: Hardware Specs and Configurations
The internal hardware largely determines how well these devices can play games on the go. Let's closely examine what powers the ROG Ally and OneXPlayer Mini Pro.
CPU and GPU
The OneXPlayer Mini Pro offers three CPU configurations:
AMD Ryzen 7 6800U – 8 cores, 16 threads, up to 4.7GHz boost. With RDNA 2 integrated graphics.
Intel Core i7-1260P – 12 cores (4 performance + 8 efficient), 16 threads, up to 4.7GHz boost. With Xe integrated graphics.
AMD Ryzen 9 6900U – 8 cores, 16 threads, up to 4.9GHz boost. With RDNA 2 integrated graphics.
The 6800U model provides the best balance of performance and efficiency. The Intel 1260P trades some multi-threaded speed for more cores. The 6900U is extremely fast but power-hungry.
The ROG Ally uses exclusive AMD Ryzen 7 Z1 and Z1 Extreme processors built specifically for handheld gaming. Details are scarce, but they are likely based on AMD's Zen 4 architecture combined with next-gen RDNA 3 graphics.
The Z1 Extreme is clocked higher than the standard Z1 for extra performance. The Ally's custom silicon could give it an edge over the Mini Pro's mobile chips.
Memory and Storage
Both devices come equipped with 16GB of fast LPDDR5 RAM clocked at 6400MHz. This ensures ample memory for modern games and multitasking.
For storage, the OneXPlayer Mini Pro uses PCIe 3.0 NVMe SSDs up to 2TB. The ROG Ally utilizes even faster PCIe 4.0 drives, though limited to just 512GB for now.
Display
The Mini Pro sports a 7-inch 16:10 IPS display with Full HD+ 1920 x 1200 resolution, 120Hz refresh rate, and OCA optical bonding.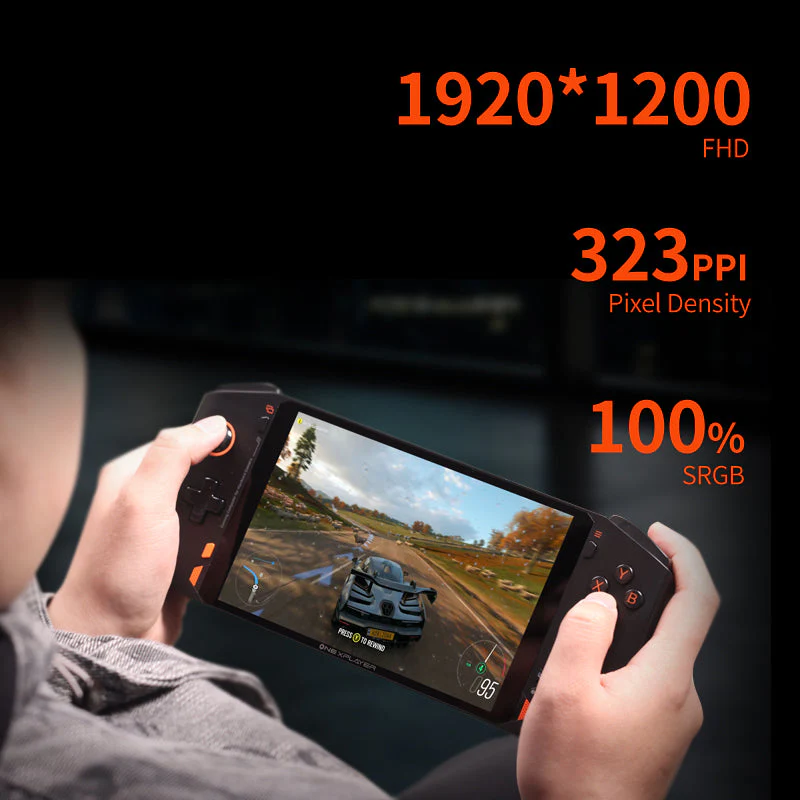 Despite packing premium specs, both Asus and One Netbook managed to create impressively sleek and compact chassis designs for their handhelds.
Meanwhile, the Ally has a 7-inch 16:9 IPS screen at 1920 x 1080 resolution with a high 500 nit peak brightness. It also uses Corning Gorilla Glass protection and anti-reflective coating.
The Mini Pro's taller 16:10 ratio is better suited for retro gaming by reducing black bars. The Ally's 16:9 display matches modern AAA games well.
Design and Ergonomics
The OneXPlayer Mini Pro measures 260 x 106 x 23mm and weighs around 599g. The ROG Ally is slightly larger at 280 x 113 x 39mm but weighs only 9g more at 608g.
For controls, both feature well-spaced analog sticks with pressable L3/R3 buttons along with the usual ABXY keys and triggers. The Mini Pro adds gyroscope motion controls which are useful in some games.
The Ally stands out with more advanced haptics, backlit RGB keys, and an in-screen fingerprint scanner for quick login. It also uses more premium plastics in its construction compared to the plastic feel of the Mini Pro.
Overall, while not as compact as the Mini Pro, the ROG Ally still has an excellent handheld form factor with some bonus features and sleek styling. The OneXPlayer Mini Pro keeps things simpler while optimizing for maximum portability.
ROG Ally vs. OneXPlayer Mini Pro: Gaming Performance and Benchmarks
Of course, raw specs can only tell so much. We need to see how these devices perform when actually playing games. Let's break down the gaming prowess and benchmarks of the OneXPlayer Mini Pro and ROG Ally.
AAA Games
Both devices utilize similar Zen 3 / Zen 4 processors combined with advanced RDNA 2 / RDNA 3 graphics. This allows them to comfortably run demanding AAA games that would normally require a high-end gaming laptop or desktop PC.
In AAA titles like Elden Ring, Horizon Forbidden West, Cyberpunk 2077, and God of War, the ROG Ally and OneXPlayer Mini Pro deliver excellent frame rates at 1080p resolution with graphics settings tuned down slightly. The Ally's brand-new silicon could give it a minor performance edge, but generally, they are quite close.
To maximize battery life, FSR 2.0 / XeSS upscaling can be used to render games at 720p or 900p then upscale sharply to 1080p while preserving image quality. This allows 1-3 hours of gameplay depending on the power settings.
Emulation
Thanks to their fast x86 CPUs with integrated graphics, the Ally and Mini Pro handle emulation fantastically.
Nintendo Wii, GameCube, PS2, and older 2D systems can be emulated flawlessly at 4K resolution if desired. Even PS3 and Switch games are very playable at 1080p in many titles.
Dolphin, RPCS3, Yuzu, Ryujinx, PCSX2, and other emulators run smooth and snappy on these handhelds. The Mini Pro's 16:10 screen especially shines by reducing black bars for retro consoles.
Synthetic Benchmarks
Synthetic benchmarks like 3DMark provide an indication of raw graphics power in an ideal test setting. In 3DMark's Time Spy test, the ROG Ally scores around 3100 points.
The Radeon 680M model of the OneXPlayer Mini Pro scores approximately 2900. While not directly comparable due to different drivers, this does suggest that Ally's newer GPU architecture provides a small performance boost.
Both achieve excellent Time Spy results that match mid-range gaming laptops, affirming their high-end gaming capabilities in a handheld form.
ROG Ally vs. OneXPlayer Mini Pro: Ports, Connectivity, and Expandability
While gaming performance is critical, the I/O and connectivity options also make a big difference in usability. There are some key differences in how the Mini Pro and Ally handle ports and expandability.
Ports
The OneXPlayer Mini Pro is well equipped with:
2x USB 4 ports
1x USB 3.2 Gen 1 Type-A
3.5mm audio jack
microSD card reader
It can output video over the USB-C ports. Having multiple USB4 ports allows connecting multiple accessories easily.
The ROG Ally takes a more minimalist approach with:
1x USB 3.2 Gen 2 Type-C
1x XG Mobile Interface
No USB-A or microSD slot
The Ally positions its XG Mobile port as the main expansion option, while the Mini Pro favors versatility with its dual USB-C and USB-A connectivity.
Expandability
Asus created the XG Mobile ecosystem specifically for the ROG devices like the Ally. The XG Mobile is an external GPU that provides desktop-class graphics performance by linking with the Ally through its custom port. It uses a full-power RTX 3080 GPU and has its own battery.
There are currently no first-party external GPU options for the OneXPlayer Mini Pro. It relies on generic eGPU enclosures connected via the USB4 ports. These are more affordable but offer less seamless integration compared to Ally's proprietary dock.
Wireless
Both handhelds contain Wi-Fi 6 for fast networking speeds. The Mini Pro uses standard Wi-Fi 6 while the ROG Ally implements Wi-Fi 6E for wider bandwidth on supported routers.
They both also have Bluetooth 5.2 for connecting wireless peripherals. The Ally does use a slightly newer revision with Bluetooth 5.2.
Battery Life
Battery life is critical for a portable gaming experience. Let's compare how the Mini Pro and Ally compare when gaming untethered.
The OneXPlayer Mini Pro packs an impressively large 12,450mAh 55Wh battery. Combined with the efficiency of the 6800U, it achieves 5-7 hours of actual gaming at 30 fps caps. More intense unlimited gameplay around 60 fps still yields 2.5-3 hours.
The ROG Ally has a smaller 40Wh battery. Despite the lower power Z1 processor, thin and light AAA games generally last 1-2 hours at 30 fps. Demanding titles drain the battery in under an hour.
Clearly, the OneXPlayer Mini Pro has a major advantage in battery capacity and real-world runtimes. The Ally's battery is designed more for short portable sessions rather than long trips away from an outlet.
Unique Features
Aside from core specs and performance, various extra features add bonus functionality. Here are some of the standout traits of each device.
ROG Ally
Fancy lighting – RGB backlit keys and a colorful rear logo provide flair
Advanced haptics – Elaborate haptic engine with precise vibration feedback
Fingerprint login – In-screen fingerprint reader for fast secure unlocking
Quad DAC audio – High fidelity audio enhancement powered by ESS Sabre
AirTriggers – Ultrasonic shoulder buttons for customizable controls
OneXPlayer Mini Pro
Gyro aiming – Motion controls for intuitive aiming or steering in supported titles
Tall 16:10 display – Reduces black bars in retro games and media
Dual USB4 ports – Easily connect multiple accessories and peripherals
Hall sensor sticks – Precise analog sticks with adjustable dead zones
Excellent battery life – Around 6 hours of gameplay makes it very travel-friendly
While not necessarily vital, these extra features add bonus ways to enhance the user experience.
Software
Both the OneXPlayer Mini Pro and ROG Ally ship with Windows 11 Home pre-installed. This provides access to all Windows apps and PC gaming platforms like Steam, Epic Games Store, and Xbox Game Pass.
Asus includes some additional software like the Armoury Crate app for managing devices and Aurora Sync for controlling lighting effects. But otherwise, it's a stock Windows 11 experience.
One Netbook doesn't add much on the software side besides basic driver utilities. Again, general Windows 11 intake without heavy customizations.
For either device, Windows 11 handles the handheld form factor well. The OS is designed for touch, and gaming mode provides optimizations for play. The open nature of Windows allows installing emulators easily too.
Price and Availability
The OneXPlayer Mini Pro is available to purchase now directly from One Netbook or import sites like AliExpress. The ROG Ally was released in July 2023.
Here are the MSRP prices announced for each model:
OneXPlayer Mini Pro
$1199 (Ryzen 7 6800U, 16GB RAM, 512GB SSD)
$1299 (Ryzen 7 6800U, 16GB RAM, 1TB SSD)
$1450 (Ryzen 7 6800U, 16GB RAM, 2TB SSD)
$1549 (Ryzen 7 6800U, 32GB RAM, 2TB SSD)
ROG Ally
$599 (AMD Ryzen Z1, 16GB RAM, 256GB SSD)
$699 (AMD Ryzen Z1 Extreme, 16GB RAM, 512GB SSD)
The Ally is more affordable, especially at its base Z1 model. But storage is upgradable in the Mini Pro. Overall pricing is quite reasonable and competitive for the premium specs.
In Summary: Mini Pro or Ally?
Now that we've covered them in detail, should you choose the ROG Ally or OneXPlayer Mini Pro? Here is a quick rundown of which device may suit you best:
Get the ROG Ally if you:
Prioritize maximum AAA gaming performance
Plan to use the XG Mobile eGPU accessory
Want the latest RDNA 3 graphics architecture
Prefer a wider 16:9 display for modern games
Like RGB lighting and advanced haptic feedback
Get the OneXPlayer Mini Pro if you:
Value long battery life and portability
Regularly play retro games or watch media
Want multiple USB4 ports for accessory connectivity
Appreciate motion controls in supported titles
Are on a stricter budget but still want great specs
In the end – "Both the Asus ROG Ally and One Netbook Mini Pro represent the cutting edge of handheld PCs. With their compact designs yet staggering performance, these devices let you experience true PC gaming anywhere."
We hope this detailed comparison helps you pick the right premium option for your needs and budget!