Samsung just unveiled their latest galaxy S23 ultra with some powerful specs, iconic cameras, superb performance, and of course a gorgeous display. To maintain its beauty anyone would definitely want to protect the screen from any sort of external scratches or bumps. And, that's where a screen protector comes in. 
Today we are going to review the screen protector from AACL that promises excellent protection for your precious Galaxy S23 ultra. 
AACL Samsung Galaxy S23 Ultra Screen Protector
Over the past 10+ years, AACL has dedicated itself to producing high-quality screen protectors. And till now they continuously upgrade their products to improve customer experience. This AACL Samsung Galaxy S23 Ultra Screen Protector is a perfect example of that. The AACL Tempered Glass is a high-quality screen protector for the Samsung Galaxy S23 Ultra and it comes with 9H tempered glass, smoothness, and high touchscreen sensitivity. Along with the protectors, you'll find an Installation tool, wipes, a cleaning cloth, three dust removers, and an installation guide inside the box. So, let's check out its ability and also how you install it precisely on your smartphone.
Brand: AACL
Compatible Devices: For Samsung Galaxy S23 Ultra
Material: Glass
Item Hardness: 9H
Compatible Phone Models: For Samsung Galaxy S23 Ultra 5G
Special Feature: Scratch Resistant
Finish Type: Glossy
Easy To Install
The AACL protector is easy to install without creating bubbles on the screen. The installation process is straightforward and easy, all you have to do is clean your smartphone's display properly with the given cleaning cloth, and place the precise frame on top of your smartphone. And, finally, pill off the protective cover from the adhesive side of the protector and align it on your phone from top to bottom gently with the help of the applicator. Then just remove it and you are ready to use. The protector is very strong and sticky and doesn't fall off that easily.
9H Tempered Glass
One of the standout features of this screen protector is its 9H hardness rating. This means that it is extremely durable and can withstand even the most severe impacts without cracking or shattering. The 3D tempered glass also maintains the original clarity of the display, ensuring that you won't notice any loss of quality or resolution when using your smartphone. We were able to watch movies and other content without any distortion in colors. Moreover, this 3D curved tempered glass has a fingerprint circle mark.
In terms of overall protection, the AACL Galaxy S23 Ultra Screen Protector Tempered Glass is an excellent choice. It is thick enough to provide optimal protection without adding any bulk to your device. The screen protector also has a slim profile and is only 0.26mm thick, which means it won't interfere with the overall design of your device.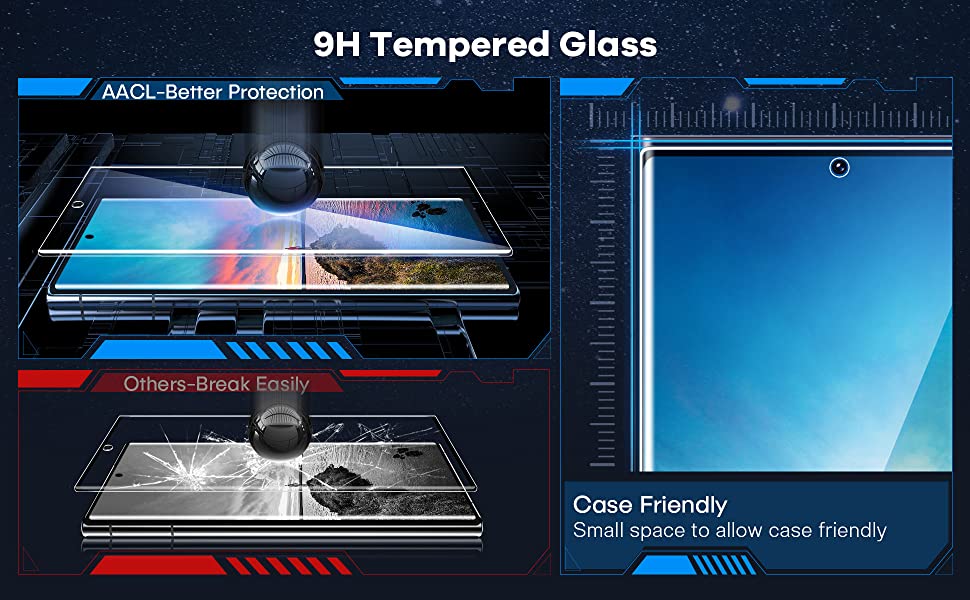 Touchscreen Sensitivity
The screen protector also has a smooth surface that ensures the touch screen sensitivity remains intact. The surface of the protector is also oleophobic coated, which repels fingerprints and smudges, making it easy to clean. What might be an issue is the fingerprint sensor not working every time. And, there's a solution too. First, you have to remove all the existing fingerprints, and then go to the display settings and turn on the touch sensitivity. Then record your fingerprint again, and all problems should be solved. Besides, you will get a scratch card to squeeze the bubble of the screen recognition area, so that it's visible every time.
Wrapping Up
Overall, the AACL Galaxy S23 Ultra Screen Protector Tempered Glass is an excellent choice for anyone looking for high-quality screen protection for their Samsung Galaxy S23 Ultra. Its durable construction, easy installation, and convenience make it a heart choice for your galaxy s23 ultra.
There are two variants that you can get right now. If you want to get the 2-pack variant, then apply code: H7AY97DX at checkout to get a discount.
On the other hand, if you want to get the 3-pack variant, then use code: EK4J2465 to receive a discount on your purchase.